Traveling to distant locations and encountering different cultures can be an enriching experience if you're open to learning about new ways of life and appreciating your differences. If you're not able to feel comfortable blending in quickly with your surroundings, you may feel more vulnerable to danger and uncomfortable situations (read our travel safety tips). To increase your comfort level when traveling abroad, consider using travel accessories that women who love culture use during their travels abroad. Here are some great ideas:
1. Travel Blanket Scarf
Scarves are a traveler's best friend. They look great and keep you warm, but they also double as blankets or pillowcases if you don't have any clean sheets to sleep on when necessary (at the airport when your flight is delayed, for example). Just knot one end in a loose donut shape around your neck, pull it over your head, and slip your arms through the loops. Voilà!
A quality travel blanket scarf will show off your style, functionality, and creativity while keeping you cozy. These scarves are so lightweight that they won't weigh down your luggage—no matter how many of them you bring. You can also be creative in tying your scarf, allowing you to create multiple looks without packing more than one scarf. You can contact a reliable store dealing with travel accessories for women where you'll probably find all the latest modern designs.
2. Jewelry Travel Case
Many women love to wear their favorite jewelry when they travel but end up with a tangled mess of chains and earrings when they arrive at their destination. To avoid being messy and ensure your favorite pieces are clean when you arrive, store them in an acrylic jewelry case specifically designed to protect jewelry during travel.
Wearing jewelry is a great way to show your style while traveling, but it can also be a pain if you aren't careful. These cases will keep everything organized and easy to find so you can look good without worrying about tangles or spills.
Some even come with small drawers to keep small items like rings separate from necklaces or bracelets. Here are some more tips about traveling with jewelry.
3. Stylish and Functional Bangles
Bangles are fun accessories that you can wear with just about any outfit. They're easy to add to your look, and they go with everything. They also come in all shapes and sizes, from simple silver bangles with turquoise accents to delicate gold chains with diamonds.
However, it's crucial to find a stylish and functional bangle. Luckily, a few brands out there have mastered both fashion and function.
What about hair tie bangles? These nifty little jewelry pieces double as an attractive bracelet and a convenient way to keep your hair tied back while traveling. These incredible little jewelry pieces double as a gorgeous bracelet and a convenient way to keep your ponytail together.
Hence, you don't have to worry about pulling your hair up into a messy bun or haphazard ponytail when you want to run errands or hit up happy hour after a busy day.
4. Stylish Gift Cards
Gifting is a culture all on its own. It's also a great way to get new travelers started on their adventure. You can quickly take care of your friends and family, from handmade gifts to thoughtful cards.
However, when giving gifts internationally, things can get tricky. If you're traveling abroad with friends or family members who don't speak your language, gift cards are an easy way to ensure they get something they want. Even if you have no idea what store they prefer, there are plenty of online options that will allow them to shop in their native tongue.
You can choose from gift cards that cover travel necessities like flights, hotels, rental cars, or more fun things like day trips or spa treatments. There are also gift cards that showcase local cultures, such as tickets to museums, festivals, and events.
When buying these travel gift cards, make sure you check out any restrictions or expiration dates so that your recipient can use them when it is most convenient for them. Also, make sure there is enough money on the card so they won't have to worry about using it all at once!
5. Gorgeous Hats
A hat protects your hair from damage and sun exposure and can instantly make you look stylish. Look for a hat that matches your destination and color scheme, like a Panama hat in an island setting or a cowboy hat in Texas.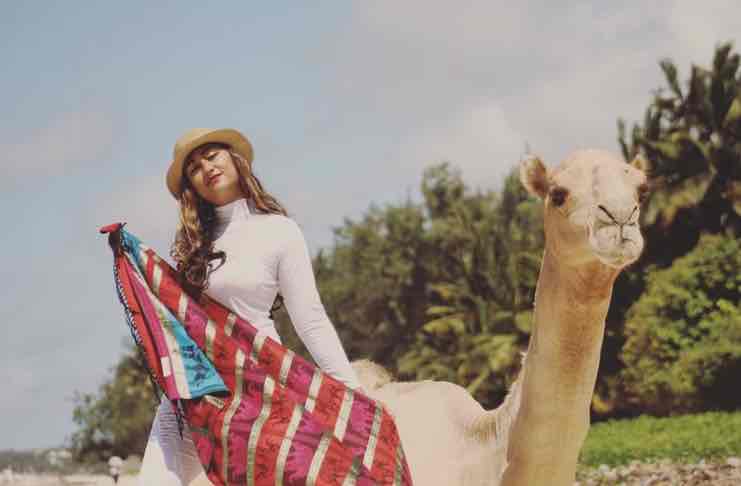 If you're going to be visiting several countries on your trip, consider buying several hats so you have options when it comes to packing.
While there are many different styles of hats available, it's crucial to find one that will keep your head cool (and not too hot) during high temperatures and protect against UV rays if needed.
Here's a great video to get some more tips about hats for travel:
Conclusion
If you're a traveler, you know how much culture plays a role in one's vacation. And, if you want to get into local culture, it helps to have some nifty accessories.
These five travel gadgets will help women explore foreign lands and fully appreciate local customs. A trip can become much more fun than expected by preparing ahead of time! Hopefully, these items will come in handy when planning your next adventure.
Identifying a store with a good collection of travel accessories for women will make all the difference between an unforgettable experience and a disappointing journey. So make sure to do your research before buying anything. Good luck on your travels!