When the temperature drops and daylight disappears in a blink, it's all the more reason to head to Park City, Utah. The  destination with "the greatest snow on earth" replaces Manhattan's gray skyscrapers and dirty slush with soaring vistas, pure mountain air and an eclectic range of local eco-luxury haunts.
Park City has transformed from a 19th century silver mining town to a premier winter playground that attracts everyone from competitive winter athletes and family vacationers to Hollywood's elite, who descend on Park City each winter for the Sundance Film Festival.
Where to Stay
Park City has a range of lodging and hotel options, but you'll feel most at home at St. Regis Deer Valley, a 12-acre property that owns unobstructed views of the Wasatch and Uinta Mountains. Steeped in luxury, St. Regis is incorporating environmentally-friendly elements while still maintaining its grand traditions.
The hotel boasts the only funicular in a North American ski resort. The Swiss-crafted architectural marvel transports guests 230 vertical feet from the property's base point to the upper building, which houses the majority of St. Regis's amenities as well as slope-side access to the Deer Hollow ski run, greatly reducing mountainside car traffic—and carbon footprints.
Once inside, you may never want to leave. Michelin-starred Chef Jean-Georges Vongerichten's signature restaurant, J&G Grill, offers classics from his culinary repertoire while incorporating an abundance of local food sourcing. As a proponent of the slow food movement and farm-to-table philosophy, Chef de Cuisine Matt Harris has meticulously researched and developed relationships with farmers and ranchers, including meats from Snake River Farms, Niman Ranch and Christiansen Family Farm and a surprising amount of local produce from the tenacious folks at High Star Farms.
Where to Ski
Outfitted with the latest gear from Jans, which is situated on the lower level of the resort and with direct slope access, you're set to enjoy the perfectly light, fluffy, powder and varied terrain. Deer Valley Resort has been rated the #1 ski resort in North America for four consecutive years by the readers of SKI Magazine. And their environmental commitment is equally as impressive.
"All ski resorts, whether on public or private land, are charged with being stewards of the land. It's a responsibility that should not be taken lightly and we at Deer Valley certainly do not," says resort President and General Manager Bob Wheaton. Sustainable practices include running off-road vehicles such as snowcats and snow removal equipment on bio-diesel; an on-mountain, 20-million gallon snowmaking lake that converts storage water to snow and subsequently retains spring melt off; and dining practices that include fair trade coffee, sustainable fish products and 90 percent of reusable food service items such as flatware and china.
Where to Shop
Hit historic Main Street to find shops that feature local artisans and capture the flavors of the West. Visit the JGO Gallery for a variety of accessible, attainable and collectible art from locally and nationally renowned painters, sculptors and glassblowers. Dating back to 1876, be sure to visit Burns Cowboy Shop, where you can custom-design a pair of cowboy boots or other hand-crafted western wear. And don't miss The Crosby Collection, a premier dealer in Native American collectibles.
Where to Dine
While Park City has its share of requisite pub food, a little digging unearths some great finds featuring up and coming chefs and dishes unique to the area. Talisker on Main features a menu that changes daily and top-notch ingredients like Mountain Valley Utah trout, Slide Ridge honey and Rockhill Creamery gruyère; Powder, located in the beautiful Waldorf Astoria, offers up a locally sourced, seasonal menu; and for breakfast with the locals, don't miss The Eating Establishment, Park City's oldest continuously operating restaurant.
Whether you're an avid skier ready to traverse a black diamond run, on the lookout for the next great indie film or hungry for innovative cuisine in a setting that is Oscar-worthy, Park City offers it all with snowcapped mountains and a green-friendly attitude.
Local Intel: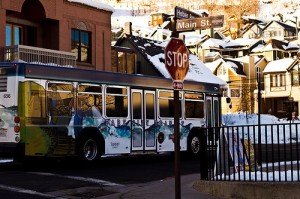 Get Around
Take advantage of Park City Transit, a free bus system fueled by biodiesel that runs daily from 6:10am until 2:10am.
Don't Miss
High West Distillery—Utah's first legal distillery since 1870.
Utah Olympic Park—Tour the grounds and take a ride on the Comet Bobsled, reaching speeds up to 80 mph.
Watch In
The Park City Film Series is a weekly occurrence with tickets costing $8 per person.
Walk the Art Line
The Park City Gallery Association hosts a free gallery stroll on the last Friday of each month, featuring local artists, special exhibits, and refreshments.
Drink Up
Get warm with a  one hour wine class at the Fox School of Wine, where their Weekend Wine Series includes tastings of five $30 and under wines, and revelatory facts about how to label, pair, critique, and of course, drink the wine.
How to get there:  From the airport, catch a shared van service from Park City Transportation to your final destination.
Photos: Courtesy of the author and Park City Chamber of Commerce & Visitors Bureau