From Honolulu's budget-friendly island-wide bus system to the Oahu natives' efforts to keep Hawaii's landscape lush and protected, visitors to the islands will discover the beauty and benefits of an environmentally-aware vacation.
Here are three eco outdoor activities in Oahu to help you explore the many elements of Hawaiian culture that are deeply-rooted in nature.
Kapiolani Community College Farmers' Market
Picture this: It's 7 A.M. Pacific Time on a Saturday morning, but you're still stuck on Eastern Standard time and your larger-than-usual hotel room refrigerator is completely empty. Luckily, the Kapiolani Community College (KCC) Farmers' Market opens in thirty minutes, complete with local fruits, vegetables, chocolate, pastries and freshly cooked items like hot polenta, fried green tomatoes and sausages.
In addition to the delectable, edible stops, representatives from Slow Food Oahu and the Hawaii Farm Bureau are always present to answer questions about agricultural practices and other places on the island to find local, sustainable food.
The KCC Farmers' Market is open every Saturday, 7:30-11:00 AM at 4303 Diamond Head Road, Honolulu. For information on all of Hawaii's farmers' markets, visit hfbf.org/markets.
North Shore Ecotours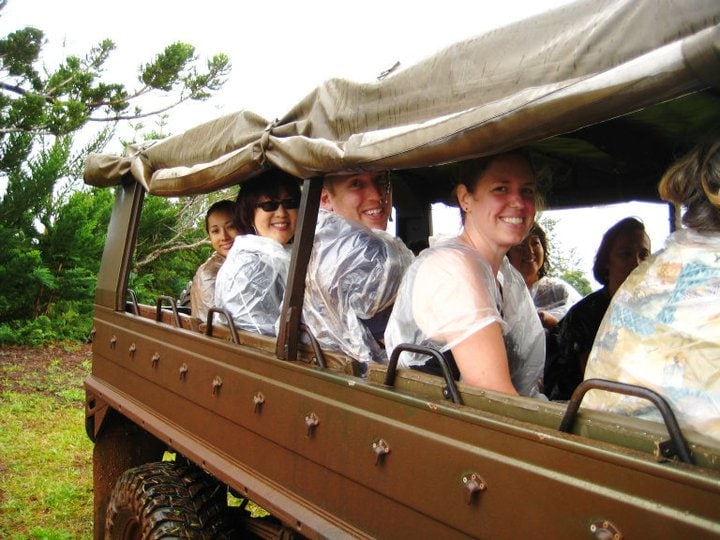 Spending a day with Noah Ryan will turn anyone into the most popular person at a party. That's because fewer things excite the University of Honolulu professor-turned-entrepreneur more than Hawaiian culture and imparting his wealth of knowledge onto those he meets. Just a few months ago, Ryan used that expertise and passion for his heritage to build North Shore Ecotours, an adventure tour company that provides visitors with a look at rarely seen sections of Oahu's natural landscape. From the beautiful scenery of Pa'ala'a Uka, a vast expanse of farmland owned by Kamehameha Schools Bishop Estate, to the Kawailoa Watershed and pae'ula Reservoir, the tours provide a very entertaining education on little known Hawaiian history and nature. (For example, few of the fruits typically associated with Hawaii, such as pineapples, mangoes, and coconuts, are indigenous.) Every aspect of Hawaiian culture is somehow rooted in nature, says Noah at the end of trip cocktail party, a Laka, goddess of Hula, is also goddess of the forest.
In addition to hikes, North Shore Ecotours also provides off-road and other adventures. For more information, visit northshoreecotours.com.
Rainbow Watersports
Some credit Jennifer Anniston for its fame. Others say it was Camille Grammer. Either way, Stand Up Paddle Boarding (SUP) is one of Hawaii's favorite and fittest pastimes. Enter Heidi Burgoyne, a long-time board sport aficionado who poured her passion into founding Rainbow Watersports, the ultimate SUP school. The idea for the business came only a few years ago when SUP was nearly unheard of. Today, Burgoyne and her team offer a full schedule of four lesson types, from one-on-one introductory excursions to open ocean "coastal adventures."
It was her love of being near the water since childhood that Burgoyne says is largely responsible for her career path. Living and working on the nature-rich island of Oahu, however, amplified her appreciation of life within the waters and its coexistence with humans: A guiding principle to the way most Hawaiians approach the outdoors.
"One day I was surfing, when I saw a mother whale with her calf," she recalled during a lesson. "I could hear them communicating. They were talking to each other. It made me realize that we're not alone out here."
Rainbow Watersports also offer a fitness-focused SUP class, which is sure to yield positive results; after all, just look at Jen. For lesson times, pricing (starting at $89) and more, visit rainbowwatersports.com.
Photos in order: Courtesy of Kanaka Menehune, Bionikk1, Bruce Tetten, North Shore EcoTours, Rainbow Watersports