It may be a cliché to say that the South is a hospitable place, but truth bears repeating. In Columbia, South Carolina you will find an intoxicating mix of old-world charm and a vibrant cultural scene. Urban pleasures thrive here, and its riverfront location provides appealing recreational choices. Just steps from the State Capital complex lies a pristine natural world that feels miles away from civilization. While better-known Southern cities bask in the tourist limelight, cordial Columbia still makes a fuss over its visitors. The dimensions here are big enough so that most everyone will find something pleasing, yet small-town friendliness is the rule. Best of all, this moderate-sized city is contained enough to make car-free travel as smooth as a mint julep on a steamy afternoon.
What's on the plate

Culinary traditions are revered here, and slow-cooked barbecue is the undisputed king. Columbia is known for its pungent mustard-based barbecue sauce, locally known as Carolina Gold. At the bargain-priced Palmetto Pig, you will discover that eating barbecue is a social event. Select what appeals to you from a down-home assortment of regional classics; finely shredded pulled pork; fried chicken so moist you may suspect (rightfully) that the chicken was brined; creamy yet crusty baked macaroni and collards laced with white vinegar. Pour a glass of sweet tea from the pitcher and find a seat next to a friendly local at one of the communal tables, and you may be saying "y'all" before you finish your peach cobbler.
If you're craving something more refined, look no further than Mr. Friendly's New Southern Café. The menu takes southern cooking to a palate-pleasing level, with sophisticated reinterpretations of comfort food. Order South Carolina specialty shrimp and grits and you'll marvel at the smoothness of this locally ground staple, prepared with chicken stock. Buttermilk fried pickles will keep your taste buds buzzing with their tangy crispness. Don't leave the premises without sampling the barbecue vinaigrette, served on a bed of local greens with an accent of candied pecans. The wine list is thankfully heavy on fairly priced, by-the-glass selections.
Ride the rapids

Tradition doesn't add up to stuffy.  The functional air of this state capital marries well with the collegiate moxy that infuses this university town. All those University of South Carolina students keep things youthful and energetic. Geography plays to Columbia's favor. Three rivers converge here, so a variety of aquatic activities are within a few steps of downtown. Each river is surrounded by vegetation so lush, it provides a natural canopy that will keep you cool despite the sultry weather. To gain insight into the local flora and fauna, walk over to Adventure Carolina and book a guided kayak or canoe trip down the calm Congaree River. The three-mile trip costs $30. If you are a more experienced paddler, try a trip down the Saluda River for $50, which has some challenging class III and IV rapids. If you are craving independence, they will gladly rent you a kayak, tube or canoe and lead you to a put-in spot. If you don't feel the need to get your feet wet, the West Columbia Riverwalk offers a shady, paved path for biking, jogging or strolling, with scenic views. Bikes can be rented at Outspokin on Devine Street for $35 per day.
History

In common with many cities of the American South, Columbia's heritage as part of the Confederacy has influenced its past and continues to weigh on its present. One of the most thought-provoking moments may come when you visit the Senator Strom Thurmond Monument, located on the landscaped grounds of the State House. Born and raised in South Carolina, he was infamous as a staunch opponent of integration, while he had "secretly" fathered a child with an African-American woman. After his death, his four legitimate children insisted that their half sister's name appear on the monument along with their own, so Essie Mae's has been added. On the same grounds you can view the Confederate Monument and Flag, paradoxically located not far from the African American History Monument. Twelve powerful scenes trace over 300 years of African American history, depicting mighty images spanning from the days of slavery to the struggle for civil rights. A few hours spent at the South Carolina State Museum's Cultural History collections may help you further explore these complex issues.
The Historic Columbia Foundation has a variety of walking tours, including a creepy-yet-informative Moonlight Cemetery Tour. Stop by one of the many historic antebellum mansions that once housed families whose grand scale lifestyles could only exist because of slavery.
The Arts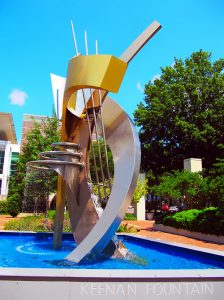 The Columbia Museum of Art has a small but noteworthy permanent collection, starring a giant, flame-colored Dale Chihuly sculpture. This summer's temporary exhibit of Rembrandt's etchings should draw crowds. Admission is free all day on Sunday, $10 at other times. To watch art being created, head over to One Eared Cow, where you can view passionate professional glass blowers create functional and artistic works. They offer hands-on workshops where they will guide you through creating your own blown glass. If live theater is your thing, Trustus is an innovative local theater company housed in a newly renovated space on Lady Street. They present eight productions each year, including original works, often with a Southern twist.  Their cozy space simulates a living room, with comfortable chairs and free popcorn. One of the town's several dance companies, the Borenya West African Drum and Dance, honors traditional West African art forms. They perform around town and host periodic workshops.
Shopping is a genteel experience

For a dash of contagious courtesy, head over to the upscale shops on leafy Devine Street and mingle with well-heeled locals. Brittons has been dressing dapper gentlemen and southern belles since 1946. They sell South Carolina made bowties, and gracious owner Lucky Levinson will teach you how to properly tie one.  If you forget, never fear, his instructional how-to-tie video has over a million hits on You Tube.
Annabelle LaRoque is a homegrown couturière, whose shop sells frothy cocktail dresses and custom made gowns that will give you an instant infusion of elegance. If you are looking to get your Lily Pulitzer groove back, Pink Sorbet sells nothing but, and has some especially cute styles for little girls.

How to get around town
Columbia's manageable size and compact core means that you can walk pretty much anywhere. If the steamy weather has you feeling fatigued, hail a Capital Pedicab, a human powered, three-wheeled vehicle that can efficiently transport up to three passengers. These athletic drivers are polite too, accepting tips only for short hauls, and flexible rates for longer rides.
Where to stay

The Sheraton Columbia Downtown is located in a skyscraper, assuring that the roof top bar has the city's best view. The centrally-located hotel has a handy shuttle that caters to guests without cars, transporting you anywhere within a two-mile radius of the hotel. The Inn at USC will position you in the center of collegiate life. You will be a few steps from the Horseshoe, the tree-fringed open-air oval where students congregate. The Inn at Claussen's is a stylish 28-room property that once housed a bakery and gives you easy access to the trendy Five Points district.
How to get here: Delta flies non-stop each day from LaGuardia in under two hours.  If you have time to spare, Amtrak will get you to Columbia from Penn Station in just under fifteen hours. The official tourism website for Columbia can provide you with a wealth of information that will help you plan your visit.
Museum photo by David