A road trip from Salt Lake City to Las Vegas is an extraordinary opportunity to create unforgettable memories. The ever-changing panorama along the approximately 420-mile route via I-15 S unfolds like a captivating story.
While Salt Lake City to Las Vegas flights are popular and efficient, a road trip offers a charm and sense of adventure that can't be matched. The picturesque beauty and intriguing pitstops along the way invite a leisurely pace, turning the journey itself into an adventure. The drive typically takes 6-7 hours without stops, but taking the time to explore the attractions is well worth it.
Stop 1: Provo
Just under an hour's drive from Salt Lake City, your first stop might be the city of Provo, renowned for its stunning natural beauty and abundant outdoor adventures. The Provo River Parkway, a picturesque trail that winds along the Provo River, is perfect for a leisurely walk or bike ride.
The Provo Canyon, with its majestic waterfalls and rugged cliffs, offers an idyllic spot for a picnic amidst nature. If you have extra time, don't miss the Monte L. Bean Life Science Museum, which boasts an impressive collection of taxidermy and live animals.
Watch this video by Adventures by tcs to get a glimpse:
Stop 2: Fillmore
As you continue south on I-15, your next stop is Fillmore. Once the capital of Utah Territory, this small town is a goldmine for history buffs. The Territorial Statehouse State Park Museum is the star attraction here, preserving the rich history and culture of the region.
The museum is housed in the original Statehouse building, Utah's oldest existing governmental building. It exhibits tell the story of the town's significant past.
Watch this video to get a glimpse:
Stop 3: Beaver
Further along, Beaver, a quaint town nestled in the shadow of the Tushar Mountains, is an ideal place to relax and stretch your legs. Famous for its award-winning creamy cheese, Beaver is also a hub for outdoor activities.
Take a break at the Eagle Point ski resort, which offers a range of winter sports, or explore the stunning Mineral Mountains renowned for rockhounding. Don't forget to taste the local cheeses while you're here!
Watch this to see what you can do in Beaver:
Stop 4: Cedar City
Next up is Cedar City, fondly known as 'Festival City.' It serves as a gateway to the scenic wonders of southwestern Utah. One of the must-visits is the Cedar Breaks National Monument, an enormous natural amphitheater stretching three miles wide and over half a mile deep.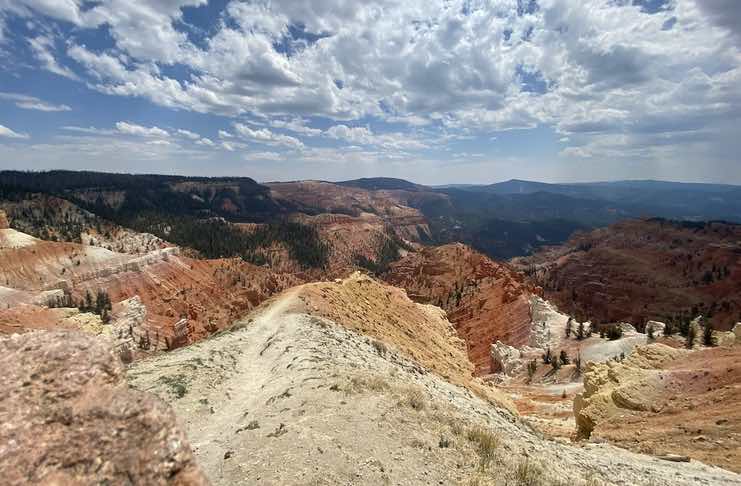 The cliffs and canyons, painted in vibrant hues of orange, red, and purple, offer a breathtaking sight. Cedar City also hosts the renowned Utah Shakespeare Festival annually, attracting theater lovers from all over.
Watch this video to see what you can do in Cedar city:
Stop 5: Zion National Park
A slight deviation from I-15 will guide you to Zion National Park, an absolute must-visit destination renowned for its breathtaking magnificence. The park boasts towering red sandstone cliffs, captivating waterfalls, and an extensive network of hiking trails, providing an immersive and awe-inspiring natural experience.
Don't miss The Narrows. It's a remarkable gorge with walls reaching a thousand feet in height and a river that narrows down to just twenty to thirty feet wide.
Watch this video to get a glimpse of this amazing park:
Stop 6: Valley of Fire State Park
As you approach Las Vegas, consider making a stop at the Valley of Fire State Park. This enchanting park derives its name from its vibrant red sandstone formations and serves as a sanctuary for both photographers and nature enthusiasts.
The park boasts an impressive collection of petrified trees and petroglyphs, which are over 2,000 years old. These fascinating artifacts add a captivating layer of historical intrigue to the park's natural beauty. Don't miss the opportunity to witness a breathtaking sunset here, as the rocks light up with fiery colors, creating a truly unforgettable experience.
Watch this video to get a glimpse:
End: Las Vegas
Finally, you'll arrive in Las Vegas, a city pulsating with energy and excitement. Known as 'The Entertainment Capital of the World,' Las Vegas offers vibrant nightlife, world-class dining, and an array of shows and concerts that cater to every taste.
Of course, the iconic Las Vegas Strip awaits with its dazzling display of neon lights, luxurious hotels, and bustling casinos. Take a walk along the strip, visit the famous Bellagio Fountains, and if you're feeling lucky, try your hand at one of the many casinos.
Just off the Strip, the Fremont Street Experience offers a glimpse into the classic Las Vegas with its vintage casinos and the impressive Viva Vision light show. For art enthusiasts, the Neon Museum, where old neon signs are preserved and displayed, offers an intriguing journey through the city's vibrant history.
For a different perspective of the city, consider a visit to the Stratosphere Tower, the tallest freestanding observation tower in the U.S. Its observation deck provides a panoramic view of the city that's truly unbeatable. Thrill-seekers can also try the tower's adrenaline-pumping rides.
From the culinary delights of world-renowned chefs to the unique shopping experiences, Las Vegas is a city that never sleeps and always entertains. It's the perfect end to a road trip that not only feeds your wanderlust but also provides a rich tapestry of experiences and memories that will last a lifetime.
See You On The Road
The journey from Salt Lake City to Las Vegas is more than just a means of getting to your destination. Along the way, you'll discover hidden gems that offer a unique blend of nature, history, culture, and adventure. This road trip invites you to slow down, explore, and truly take in the beauty of the journey.