From Brussels to Ghent to Antwerp, Belgium packs an array of experiences for the inquisitive traveler, with each city proudly displaying its unique identity while embracing innovation in gastronomy, design and architecture. From robust public transportation systems and affordable bike rentals to century-old culinary traditions that honor local artisans, Belgium pays tribute to its past while keeping a keen eye on the future.

Brussels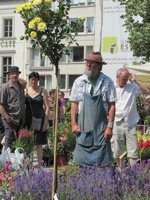 Brussels is easily accessible from NYC with many direct flights and a quick train ride to the city center. Once settled in, it is pedestrian-friendly—but if you'd rather be spending more time drinking in the sights than walking to them, Villo! bike rentals are conveniently positioned at 180 stations city wide for a nominal tariff plus hourly rate.
Virtually any pub or restaurant will serve an array of Belgian beers, but there is none with as much character as A la Mort Subite, named after a bar game created by employees of the National Bank of Belgium in the early 20th century. The bar features an array of bottled and draught beers including the house brews along with Abbey and Trappist varieties.
Brussels also boasts the Royal Museums of Fine Arts of Belgium, 20,000+ paintings, sculptures, and drawings categorized into five unique collections. Admission to all of the museums is 13€ and free on the first Wednesday of each month. Highlights include the Rubens collection and the Margritte Museum, where the world's largest collection of the artist's work is housed. Near the museums is the Place du Grand Sablon, full of cafés, chocolatiers and shops.
Antwerp
While Brussels feels more insular with its winding cobblestone streets and historic charm, Antwerp has proclaimed itself as the fashion capital of Europe and has enough boutiques and flagship stores to earn the title. There are seven major shopping districts, all within walking distance of one another. An afternoon could be spent on the Meir, the most important commercial shopping street in Antwerp, followed by the ModeMuseum (Fashion Museum), and a stroll down the Nationalestraat or Kammenstraat to discover local designers.
A day of shopping wouldn't be complete without the indulgence of local cuisine and libations. The historic center, anchored by the Grote Markt (a series of guild houses showcasing Flemish Renaissance architecture), is the perfect landing spot. Brasserie Appelmans sources local ingredients to create classic Belgian dishes best enjoyed at an outdoor table, a popular drink in hand—consider the Absinthe cocktail or De Koninck, Antwerp's ale, dating back to 1823.
Ghent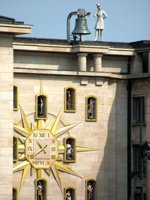 Ghent is just a short train ride from Brussels or Antwerp and has the quaint appeal of a university town while embracing its local traditions. One of the best ways to explore the city is by purchasing a three-day museum pass (20€) at the Ghent Tourist office, which includes admission to 20 attractions plus free bus and tram service. If you'd rather see Ghent from its winding rivers and channels, boat tours (from 6€) offer a leisurely perspective of the city at large. On foot, you'll find Belgium's largest pedestrian area in the city center, with a variety of farm stands, flower vendors, books and other curiosities.
Ghent residents are known for their headstrong, creative spirit and embrace their nickname as "Stroppendragers" in reference to a 16th century order from Emperor Charles V for residents to walk the streets barefoot and in nooses because of insubordination. Modern self-expression can be discovered in a number of venues in the arts quarter: the Vooruit Arts Centre features political debates, book releases, concerts and more; Capitole, a 1,500-seat auditorium, showcases fully staged musicals and operas; and Studio Skoop is the city's oldest working cinema. All are accessible by tram or bus.
How to get there: Direct flights from NYC on Delta or American Airlines and a quick train ride to Brussels' city center.
Matthew Wexler is a NYC-based freelance writer and chef whose writing has appeared in EDGE Publications and Endless Simmer, along with his blog, roodeloo.com. His cuisine can be enjoyed at Good Commons, a boutique retreat center/vacation home in Plymouth, VT.
Things to Do in Belgium

View Things to Do in Belgium in a larger map