We've all heard of New Zealand's Great Walks, but what about their Great Trails? A new initiative to bring contiguous long distance bike trails to New Zealand, NZ Cycle Trail, now supports adventurers ready to explore the gorgeous countryside by pedal power. The gem of the new Great Trails initiative is the Alps2Ocean (A2O) route in New Zealand's South Island. This 306 kilometer trail offers the intrepid cyclist a dedicated route from the country's highest peak, Mt. Cook, to the seaside village of Oamaru. And with shuttles, e-bikes and a network of support from tour providers (we recommend Cycle Journeys), even less athletic cyclists can participate in the multi-day ride and have just as much fun.
Day 1 on the Alps2Ocean Trail: Cycling from Tekapo to Twizel, 54 kilometers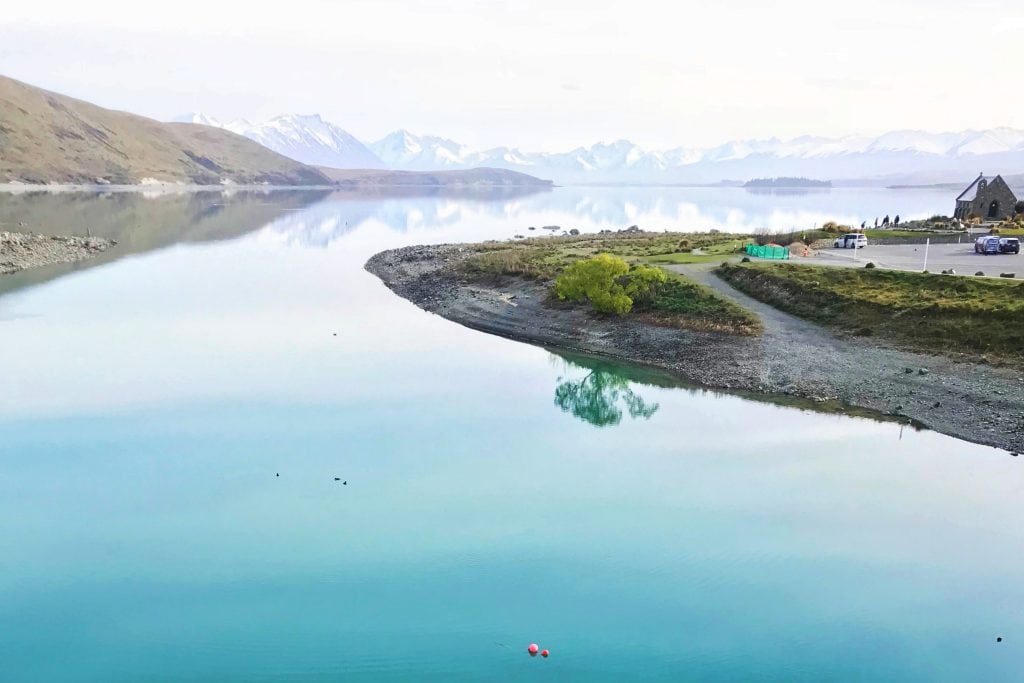 Though this is the alternate route to the official trail, starting at Lake Tepako is just as beautiful and about $200 cheaper as there's no helicopter ride required. Pick up your bike in Twizel then hop on the shuttle to Lake Tepako. We recommend a morning warm-up to Church of the Good Shepherd, which, though often overflowing with tourists, is one of the most instagrammed locales in all of New Zealand. Take a moment on the bridge going over to look down at the aqua blue water and across the lake at the Southern Alps.
Once you're on the A20 trail on your way back to Twizel you'll pedal alongside flat canals, through grassland, and beside the beautiful Lake Pukaki.
As you pass the salmon farms you may notice stray fisherman on the shores poaching the fresh fish that have slipped through the industrial nets. Rod-less riders need not fret though, you too can have your own taste of the unbelievably fresh catch if you swing by the Mt. Cook Alpine Salmon Shop. The shop is attached to a small visitor center on the south side of Lake Pukaki, affording the tired rider a rest, a snack and expansive views of Mt. Cook.
Highlight: The rest stop looking out towards Mount Cook and the Southern Alps
Tip: Stop at the Mt. Cook Alpine Salmon Shop and try their fresh salmon sashimi.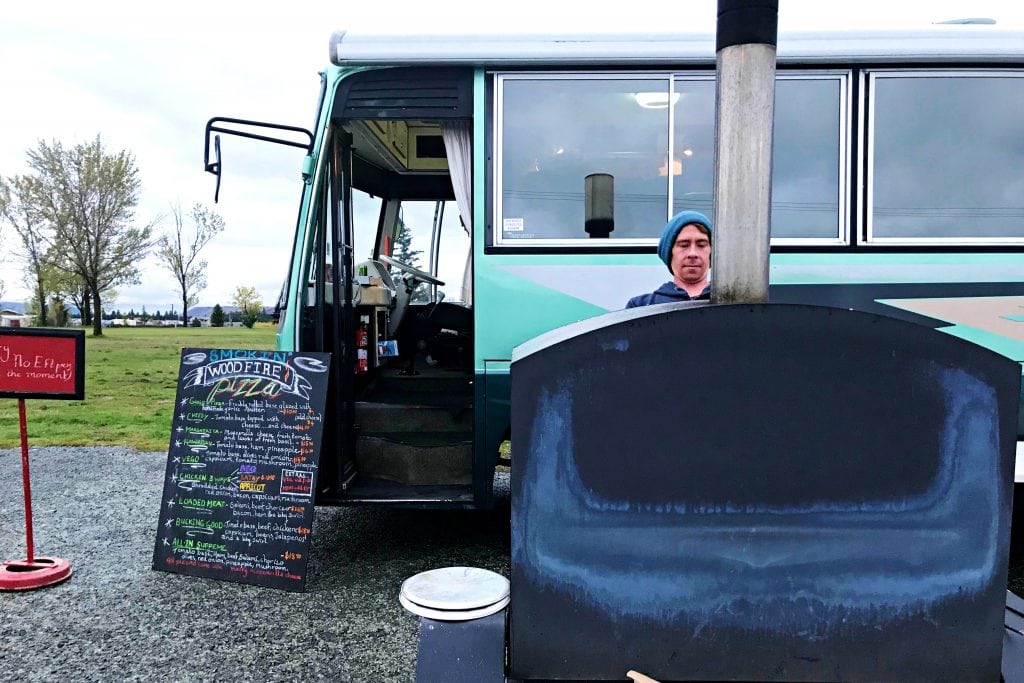 Stay & dine: Twizel is vacation home central for New Zealanders based in Christchurch. Shop around on Airbnb for everything from a single room to an entire villa. Once you've settled in, bike or walk into the petite downtown for excellent fish and chips and local brews at Ministry of Works Bar or during the summer, stop by the Smokin' Woodfire Pizza Bus.
Day 2 on the Alps2Ocean Trail: Cycling from Twizel to Lake Ohau Lodge, 38 kilometers
More lake views (can you ever have enough?), colorful terrain and a mostly downhill route make today one of the easier days on the trail. The beginning of the day is uneventful with a road ride out of town to a canal path. Yet, after crossing the impressive Ohau Weir, you'll find yourself in a completely new environment, where the gorgeous views (and subsequent need to take photos) make it hard to move quickly.
Highlight: Being welcomed into the Ohau Lodge with a cool drink in the summer or warm tea in the fall or spring
Tip: Check the A20 website in advance of the trip as the Ohau Weir does sometimes get flooded. Don't worry, there's an alternate route in case.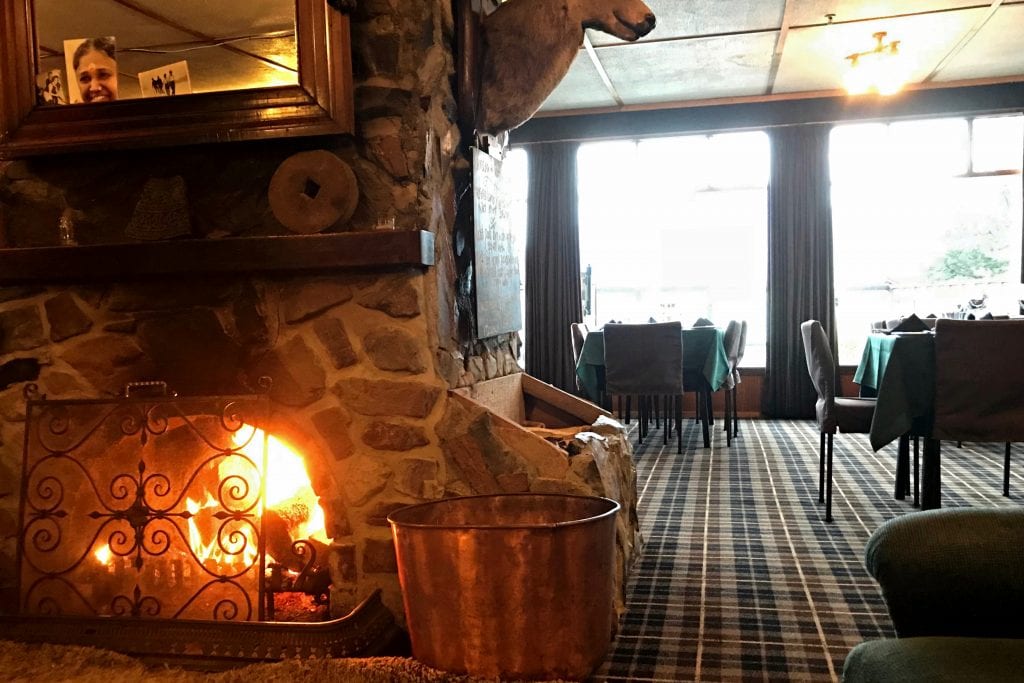 Stay and dine: The Lake Ohau Lodge is one of the gems of this adventure. A cozy place with a hot tub, pool tables, and communal dining set-up make it clear that the lodge is all about bringing people together. Relax with a bath, take in the mountain views or indulge with a glass of wine on the deck. At 7:00pm, everyone gathers for an elegantly prepared dinner starting with soup and finishing up with a well plated dessert. After 3 courses, you'll be ready to tuck in for the night.
Day 3 on the Alps2Ocean Trail: Cycling Lake Ohau Lodge to Omarama, 45 kilometers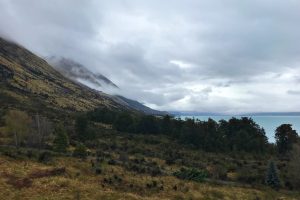 Make sure to eat a hearty breakfast (included when you stay at the lodge) because this section of the trail starts with a heart pounding incline of about 1000 feet to the highest point on the trail. You're rewarded with stunning views looking back down on to the lake, the lodge and the mountains of the Ben Ohau Range. After your break, enjoy a speedy downhill adventure as the scenery becomes a bit more green with beech forest.
Tip: After your ride, head to the Omarama pools to forget your morning woes.
Highlight: Completing the hardest section of the trail will make you feel accomplished.
Stay & dine: Omarama is a popular stopping point in the area so there are a few options for accommodations. For a true New Zealand experience, book a spot at the Holiday Park, a motel like atmosphere that is popular with road trippers in RV's and families. On the opposite side of the spectrum is the Heritage Gateway, a luxury spot where you'll enjoy a bit more solitude.
Day 4 on the Alps2Ocean Trail: Cycling from Omarama to Duntroon, 92 kilometers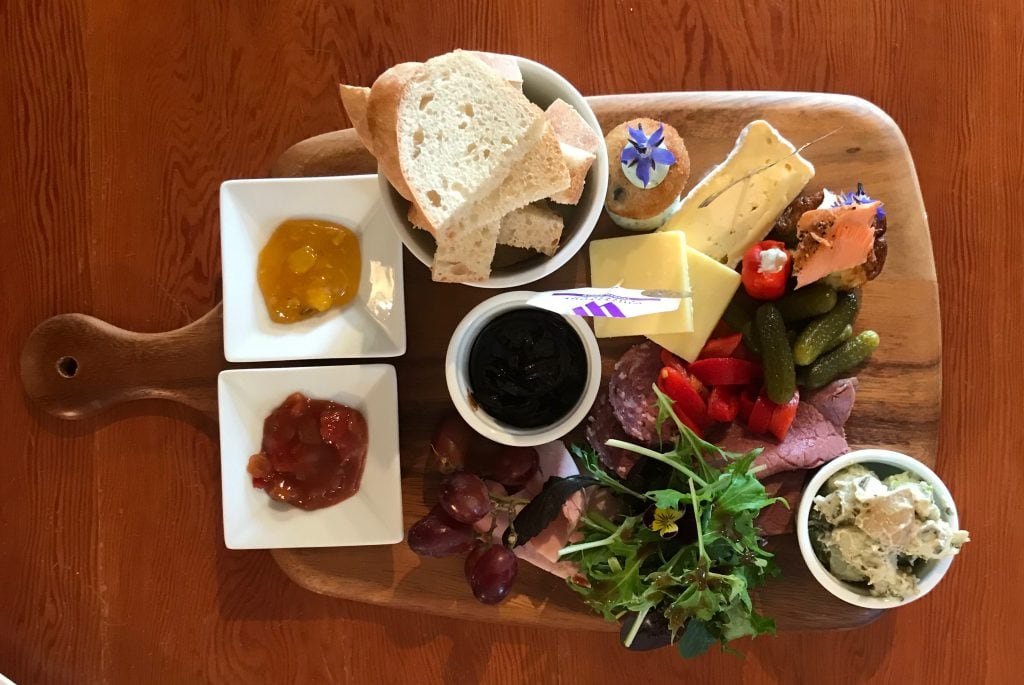 Instead of biking this entire stretch (or breaking it into two days) we rode closer to 40 kilometers with intermittent shuttle runs by the knowledgeable tour guides at Cycle Journeys. We hopped in and out of the shuttle at various spots, spinning through farmlands with exotic looking trees, crossing the Benmore Dam and even getting pictures with the famous New Zealand sheep. On a hot summer day, hop off your bike at Sailors Cutting, a spot on the southern edge of Lake Benmore where you can jump into the water for a refreshing swim. For happy hour, swing by the Pasquale Kurow Winery where you can enjoy a 3 or 5 wine tasting and even pair your wines with an impressive spread of local cheeses and meats.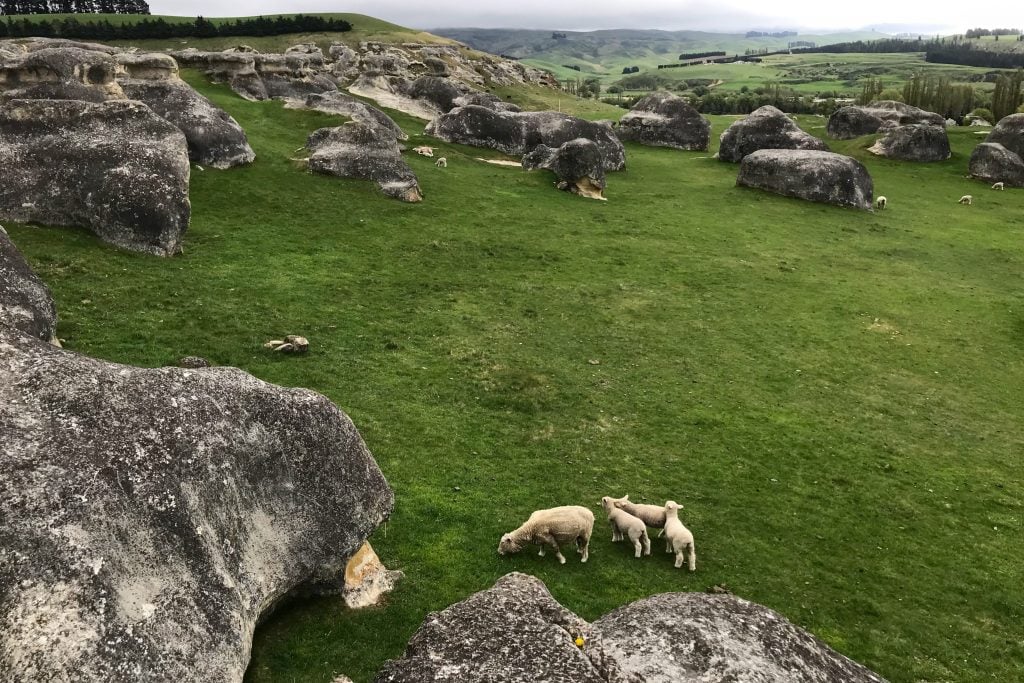 Highlight: Finish off your day at the famous Elephant Rocks, unique limestone formations notable for their resemblance to elephants.
Stay: Tonight is one of the most unique accommodations at the Anatini Farmstay as you'll be staying on a true sheep farm with owners John and Margaret. Along with being incredibly nice, John and Margaret have years worth of stories of shearing and farming that will really help you understand the lives of locals. Plus, you'll be able to explore a former film set in a limestone gully and they'll even pack your lunch for the next day on the trail.
Day 5 on the Alps2Ocean Trail: Cycling from Duntroon to Oamaru, 54 kilometers
Your final day on the trail takes you through more farmland and past=small rural towns until you finish in the quaint yet quirky ocean town of Oamaru. While in town, don't miss Steampunk HQ where you'll find "retro-futuristic sci fi art, movies, sculpture, immersive light and sound experiences" that are challenging to describe but enchanting to behold. Perhaps even more famous then the town's Steampunk aesthetic is its blue penguin colony where visitors can observe and learn about these small penguins in their native habitat.
Tip: Make sure to pack lunch and snacks today, there are no places to stop to purchase food during this leg of the trip.
Highlight: Take a walk through the local park, sponsored by Steampunk HQ, where you'll find an industrial revolution themed zipline and a Victorian-era unicycle themed swing set.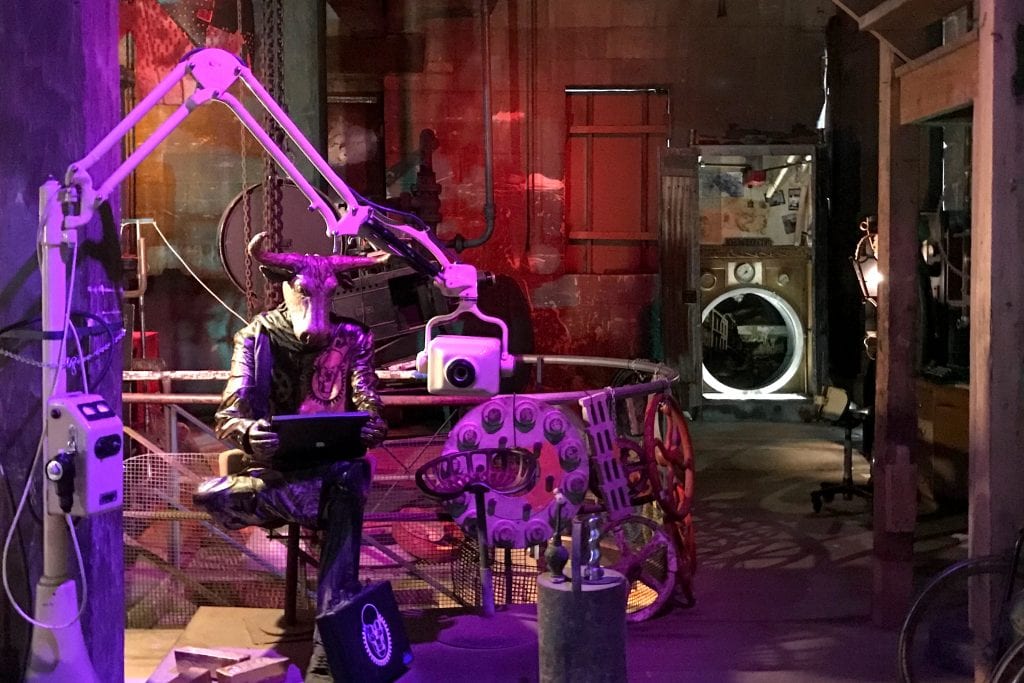 Stay and dine: Finish your ride with relaxed comfort at the Oamaru Creek Bed & Breakfast. Housed in a beautiful Victorian villa walking distance from town, you'll find their sunny parlor the perfect place to decompress with a book before heading out to Cucina for a dinner of handmade pasta whipped up by Argentinian chef Pablo Tacchini. With your stomach full, your ride complete and the ultra comfy beds at Oamaru Creek, you're sure to sleep well. The next day enjoy their incredible breakfast, homemade with local ingredients, and sip your coffee out on their back porch before hopping on a shuttle back to Twizel.
For trip planning ranging from bike rentals to lodging to shuttles check out Cycle Journeys. For general information on the trail check out the official Alps 2 Ocean website.