Bermuda is known for it's pink-sand beaches, fabulous coastline and British-infused traditions, all just a speedy 90-minute plane ride from NYC.
This Atlantic island is a playground for travelers seeking adventures with an eco-edge. The lush and lovely setting offers an impressive array of exciting outdoor activities. Get ready to explore Bermuda's unbeatable scenery and quirky charm from the seat of a bike, stern of a boat or back of a horse.
Cycling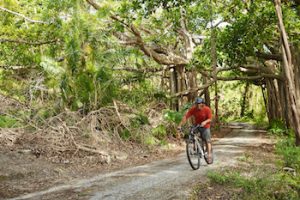 Bicycles are called pedal bikes in Bermuda. If you request a bike, you'll probably get a moped, so be specific. Rent or borrow wheels from your hotel and sightsee along the historic Railway Trail. Spanning the island and crossing all nine parishes, the 22-mile trail (18 miles are publicly accessible) follows an abandoned rail bed. Wind past backcountry greenery and tranquil towns while soaking in the ocean views.
Sailing
Seasoned sailors are on a first-name basis with the maritime challenges Bermuda presents. Reefs, low-lying geography and unpredictable winds are an exhilarating test for even top competitors. It's a sailor's heaven, so it's no surprise that the island recently hosted the 35th America's Cup, the most renowned race in all of sailing.
Sailing roots run deep; the distinguished Bermuda sloop, with a raked mast and triangular sails, was invented here. Plus, those whimsical knee-length Bermuda shorts are just begging to be worn with Topsiders.
You don't need to be a professional mariner to harness wind power. Bermuda's Great Sound is a natural harbor bordered by land on three sides and open to the North Atlantic Ocean. A coral reef forms a barrier that buffers the waves, creating protection and relative calm.
Horseback Riding
Private motor vehicles were not permitted on the island until 1946. Horseback riding was the main mode of transportation and the perch of a saddle remains a favored way to view the landscape.
Consider a gallop along the Railway Trail or the scenic shoreline. Moran Meadows offers guided trail rides to suit all levels.
Jet Skiing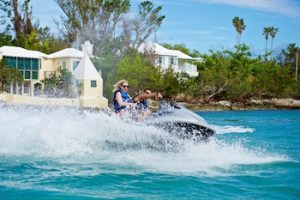 For an adrenaline buzz with aquatic overtones try a jet-ski tour. You'll zoom around the turquoise waters and glimpse hidden coves and sunken ships. H20 Sports Jet Ski Safaris are escorted experiences suited for first-timers and experts alike.
Cliff Jumping
Plunge into a bona fide adventure when you partake in a little cliff jumping. The water is deep and the cliffs towering at Admiralty House Park, making it a popular spot to engage in this heart-racing hobby.
After splashdown, explore the caves carved into the rocks by the British military back in the 1800s.
For the more cautious, watching the action is acceptable.
Parasailing
Crave additional altitude? Consider parasailing. You'll be towed behind a motorboat while hooked up to a parachute-style sail. As the boat picks up speed, get ready to float like a cloud. K.S. Watersports will prep you for this hair-raising adventure.
Kayaking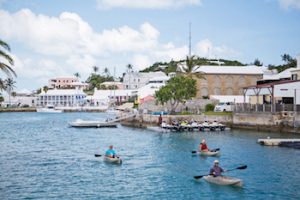 Paddle a kayak along Bermuda's glistening waters. Island Tour Centre offers guided eco-adventures with plenty of sea life viewing.
Crystal Clear Kayaks rent clear-bottom kayaks so you may see turtles, colorful fish and assorted crustaceans directly beneath you.
Snorkeling
Bermuda offers a wealth of snorkeling possibilities. Snorkel Park Beach's shallow reef is teaming with fish and undersea vegetation. They rent all the gear you will need. When the sun goes down, it's transformed into a nightlife venue.
Explore Crystal Caves
Above ground Bermuda is so beautiful, you may find yourself posting dozens of images that will annoy your (jealous) friends. Subterranean Bermuda might be even more scenic. Descend into the otherworldly Crystal Caves and see for yourself.
The zillions of stalactites are crystal formations that look like hanging icicles. Some are as white as powdered sugar and wouldn't be out of place in a Tim Burton film. Enjoy the underground scenery during a 30-minute guided tour.
Get Cozy With Nature
Spittal Pond is a rustic 64-acre nature reserve. The diverse habitat provides a home for a wide variety of flora and fauna. It's known for its unparalleled bird-watching opportunities, so binoculars wouldn't be a bad idea.
As you walk the winding footpath, keep your eyes open for the island's national flower, the endemic Bermudiana. This perky posy, with striking purple-blue petals surrounding a cheerful yellow center, is natural eye-candy of the sweetest sort.
Beachcombing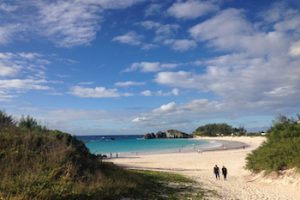 If the sea is balm for your soul, you've struck gold. Bermuda's beaches present a double whammy of world-class beauty with a laid-back vibe.
Popular Horseshoe Bay Beach may not offer solitude, but it consistently ranks among the world's top beaches. The crescent-shaped stretch of perfect pink sand is long enough to find a quiet spot to lay down your towel and jump in.
Getting Around
Visitors are not permitted to rent cars on the island but they may now rent a snazzy 2-seat electric vehicle, the Renault Twizy. With charging stations dotting the island, it's an eco-conscious way to get around. Driving one is fun and easy.
Rent a Twizy at Current Vehicles, located on the premises of the regal Hamilton Princess.
With a dizzying variety of public transportation options available, you won't be missing the four wheels.
Stay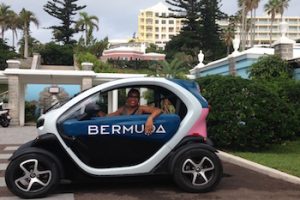 Bermuda's range of hotel options dazzles; for a local experience, consider Airbnb.
Generations of Bermudians have hosted travelers in their homes, so guesthouses are a time-tested island tradition. Book a guesthouse rental property with a Twizy charging station onsite and you'll be set.
For additional information, visit www.gotobermuda.com
Featured image:© ACEA 2017 _ Photo Ricardo Pinto
Additional images: Bermuda Tourism Authority and the author