Bermuda's year-round mild climate, miles of secluded coves, pink sandy beaches, and close proximity to New York, make it a perfect long-weekend retreat. So it was a pleasure to discover Bermuda's naturally green-leaning laws and lifestyle. We learned every roof is required to have a rainwater catchment system for the building's portable water and all homes are allowed just one car.
To make my vacation even more environmentally friendly, my trip to Bermuda began with a visit to terrapass.com to offset my flight's carbon emissions. TerraPass funds 22 projects throughout the US including clean energy wind farms, landfill gas capture, and proper animal waste destruction. Using their CO2 calculator, I input the airport codes and–voila!–discovered that my fellow traveler and I were going to use about 1300 lbs of CO2. Rounding it up, I purchased 2000 lbs. for $11.90 and got a refrigerator magnet to boot.
Getting around: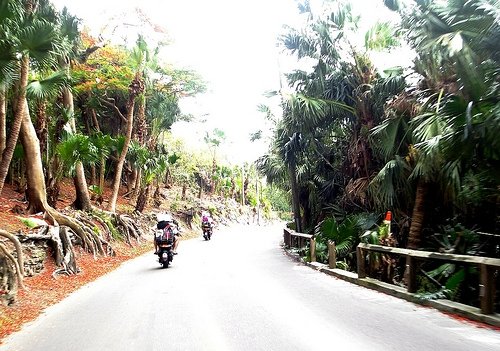 Getting to the Island is easy, direct flights from New York take about 90 minutes. Book a shuttle service from the airport to your hotel or resort and you'll never have to get into a car your entire stay.
The Island has a well-run public transportation system of buses and ferries that can get you just about anywhere. You can buy tickets and tokens for individual trips or a transportation pass that allows unlimited access at visitor's information centers, post offices, the main bus and ferry terminals in Hamilton and some hotels as well.
At only 22 miles long and two miles at its widest point, it's easy to explore the island in just a few days. Visitors aren't allowed to rent or drive a car (You go, Bermuda!) so bike and scooter rentals are just about everywhere, including many resorts. Elbow Beach Cycles (www.elbowbeachcycles.com) offers bikes and scooters from $5 a day and will meet you with your new ride at the airport or deliver and pick them up from the hotels listed below. Maps are well marked with interesting cultural and natural attractions making it easy to choose points of interest.
Where to eat: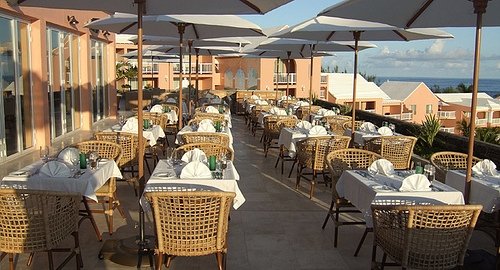 Since most everything must be imported, reclaimed or reused, and farm land is tight, it's not possible for Bermuda's restaurants to be sustainably locavore, but there are several restaurants that are committed to sourcing from local farmers and fisherman whenever possible.
These include Café Ten (10 Dundonald St., Hamilton; portocall.bm); Tribe Road Kitchen (corner of King & Reid St., Hamilton; www.trk.bm); and Barracuda Grill (Burnaby St., Hamilton; www.barracuda-grill.com).
Restaurants at The Fairmont Southampton (www.fairmont.com) also source locally (their Italian restaurant Bacci grows its own herb garden) as does the Ocean Echo restaurant at The Reefs (www.thereefs.com). When local fisherman snag a great catch, you may just find it on plates here later that evening.
Don't miss:
South Shore Park boasts five of the most beautiful beaches on the Island (Horseshoe Bay and Jobson's Cove among them) and a lovely hiking trail that includes many surprise discoveries, such as an old rope and wood swing we found hanging from a tree along the path.
On a rainy day, visit the town of Hamilton for some shopping and a collection of locavore-conscious restaurants. For a bit of history, head to St George. In this charming port town and UNESCO heritage sight, you'll find a smattering of fun historic and cultural sights including the remains of an unfinished church, the replica of a ship from 1610, and a fort built on a rocky outcropping.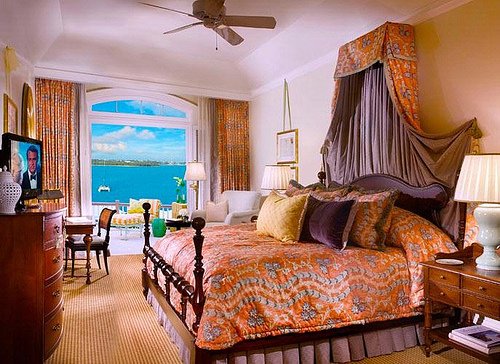 Where to sleep:
Two resorts lead the pack when it comes to the environment; the Fairmont Southampton (from $259/night) and Tucker's Point Club.
In conjunction with the Bermuda Environmental Alliance, The Fairmont Southampton's green team has implemented such eco-friendly initiatives such as an on-site beehive and comprehensive recycling program to reduce their waste by doing things like composting kitchen refuse. The property is already working towards the goal of converting their cooking oil into biodiesel.
The Fairmont neighbors South Shore Park, making it a great location if you like active outdoor adventures, offers a free ferry between both of their locations and private beach access, among other amenities.
In the same eco-conscious vein, Tucker's Point Club (from $375/night, www.rosewoodhotels.com) has an innovative monitoring system for their utilities that aids in conserving energy, using solar panels to heat hot water in the golf clubhouse, LED lighting, and solar powered guest shuttles and golf carts. It offers a dive center, free-wifi, and private beach access as well.
Where to find a deal:
The Bermuda Tourism Board consistently offers fabulous deals at a wide range of participating properties throughout the island. Visit www.gotobermuda.com's travel deals page, which lists events like restaurant week, free nights, and more.
The hotels were running at 30% capacity when we were there recently, so it was easy to get a room upgrade at no extra cost. Want an ocean view? (Often an extra $60 or more.) Just ask for one!
View
Romantic Getaway to Bermuda
in a larger map
KPICASA_GALLERY(WinterGetawayToBermuda)