Beautiful beach towns are a dime a dozen in Florida. In Sarasota, you will find a coastal haven coupled with an artist's soul. You can spend the morning seaside, basking in the sunshine, before you ditch the bikini and view a world-class collection of paintings by the Old Masters. When the sun goes down, continue your cultural refresher course as you choose between a night at the opera, ballet, symphony or theater. In Sarasota, a city filled with car-free options, the beach vibe blends with an artistic sensibility that will have New Yorkers feeling right at home.
The beaches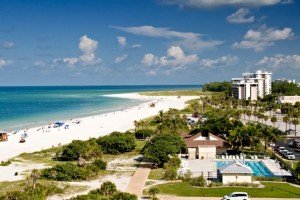 The sandy keys off Sarasota are some of the most scenic beaches along the Gulf Coast. Lido Beach is the easiest to reach by bike from downtown. It's just a few miles ride over the Ringling Bridge, past the upscale shops at St. Armands Circle. Siesta Key Beach was recently named the #1 beach in America by Dr. Beach himself. The sugar-white sand is made of 99 % ground quartz, so it's as soft as talcum powder. Ditch the flip-flops and sink your tootsies into the cool grains. The tranquil surf makes Sarasota's beaches perfect for families, and you will see lots of kids frolicking in the gentle waves. Golf and tennis haven Longboat Key boasts 12 miles of narrow bike paths that run parallel to the Gulf, providing excellent views and a variety of beach opportunities.
The arts

The arts' prominent position in this town is largely due to the influence of one man, John Ringling. The man whose name is synonymous with Ringling Brothers and Barnum and Bailey Circus poured his multi-millions into this area. Visitors can reap the benefits of his legacy with a visit to the Ringling Museum of Art. The vast collection of 17th- century Baroque paintings is magnificent and includes numerous Rubens canvases that are a treasure-trove of plump maidens and cherubic tots. There are two other worthwhile museums on these massive grounds. Ca' d'Zan (meaning House of John in Venetian dialect) was once the winter estate of Ringling and his wife, Mabel. This Venetian-style palazzo is all bling, with its over-the-top marble and gold-edged grandeur. If you have long-harbored dreams of joining the circus, you will be captivated by the Circus Museum's giant collection of memorabilia, including an intricate miniature circus replica, parade wagons, costumes and posters. If you are traveling with kids in tow, this is a must-see. The Towles Court Arts District, just a short stroll from downtown, is a laid-back stop for art lovers. It's a budding SoHo-by-the–sea, where artists live and work in their candy-colored clapboard bungalows. There are regularly scheduled art walks and exhibits, and the individual studios are open daily, encouraging visitors to come on in and watch the creative process.
Few cities Sarasota's size can support such a sophisticated array of entertainment choices, but the culture vultures that reside here keep the performing arts scene energized. Whether you choose to see Madame Butterfly, Swan Lake or listen to Mahler, the quality of Sarasota's homegrown opera and ballet companies and two symphonies is high and the ticket prices are low. The Van Wenzel Performing Arts Hall's bay front location is striking, and you will certainly have an opinion on the structure's distinct lavender and purple façade. The compelling lineup of national and international performing artists keeps audiences satisfied. There are lots of opportunities to see live theater in a more intimate setting, with the respected Florida Studio Theatre showing original as well as previously produced plays plus a toe-tapping cabaret that will have you singing along. If movies are your thing, the Sarasota Film Festival takes place each April. Foreign and domestic films, both narrative and non-fiction are screened, with a special section showcasing the work of Florida filmmakers.
Outdoor adventures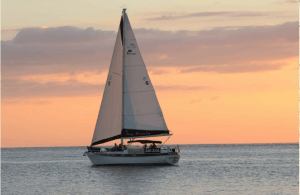 Whether you're in town with your first mate or solo, you will want to get out and explore the water. Key Sailing is run by vivacious husband-and-wife team Jan and Tim, who will make you feel like a welcomed guest aboard their 41-foot Morgan Classic. They will let you do as much hands-on sailing as you like, or they will do it all for you if relaxing on deck better suits your mood. They do small group sails as well as private charters. (Captain Tim can even perform your wedding on board.) If you are interested in renting kayaks, paddleboats or surf bikes, Marina Jack's rents them at their downtown marina.
If you want to get your fill of natural beauty on land, Selby Botanical Gardens is home to 20,000 tropical plants and exotic flora on the bay, a few minutes walk from downtown.  There are over 6,000 orchids, as well as a bamboo pavilion and a hibiscus garden. When the salt air gets you thirsty, Local Coffee and Tea has a cafe at the garden. Tea expert and Yorkshire lass Glynis offers complimentary tea tastings and occasional seminars on the art of the brew.
The culinary scene

There are dozens of independently owned restaurants that are committed to serving you the freshest foods available, just look for the Sarasota Originals sign. Stone crab season runs from mid-October until mid-May, and these crustaceans are cherished for their sweet, meaty flesh hiding under a hard-to-crack shell. Local fishermen catch grouper, and you'll often find it served in a tasty sandwich. Gulf shrimp and snapper are also prominent on local menus. Southern barbecue is not usually associated with Florida, but Sarasota boasts an authentic North Carolina-style one, Nancy's Bar-B-Q. Brisket, pulled pork and ribs rule the menu at this super-casual and inexpensive eatery. The side orders run from Southern classics like baked macaroni and cheese and Brunswick stew to a trendy twist on succotash that is spiked with edamame. Save room for dessert, because St. Armands Circle is where you will find Le Macaron, selling those dainty and delicious French treats that are as colorful as an artist's palette. The annual Savor Sarasota Restaurant Week is a two-week event each June, a great opportunity to savor the city's high-end eateries on a budget.
Saturday morning is the weekly Sarasota Farmers Market smack in the center of downtown. Local produce, flowers and honey will provide you with provisions for a delicious beach picnic.
The transportation scoop
Sarasota County Area Transit diesel-electric hybrid buses, known as SCAT, run regularly to nearly all the barrier island beaches, as well as nearly all tourist-worthy sites and a ride costs only $1.25. They offer a pedal-and-ride program, so you can secure your bike on the bus's bike rack, free of charge. For bicycle rentals, try Siesta Sports Rentals. They will deliver your bike anywhere in the area. The Green Hopper is a novel way to traverse Sarasota. Each hopper is a 100% electric, zero-emissions, six-passenger vehicle that you may flag down or schedule an advance pick up. The service is free, but you are expected to tip the driver. They regularly cruise St. Armands Circle as well as downtown.
Where to stay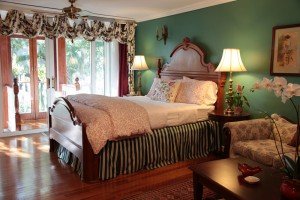 The Cypress Bed and Breakfast has five uniquely furnished rooms. It is situated in downtown Sarasota, in a lush private garden awash with sheltering oaks and tropical vegetation, overlooking the bay. If the TLC that the three full time innkeepers provide is not enough, a few minutes in the hammock will melt any tension away. The scene-stealing, multi-course breakfast starts at a civilized 9am, and the casually elegant cocktail hour is at 6pm. Don't miss sipping the intoxicating house specialty, the Mango Fandango. Lovers of locally grown produce will appreciate its potent recipe, Caribbean rum mixed with the freshly pressed juice from the Inn's very own dozen mango trees. The Cypress Inn's location is only a short walk from numerous restaurants and downtown attractions. The Ritz-Carlton offers a luxurious atmosphere in a downtown location. The spa provides the ultimate in pampering and the attentive staff seems to know exactly what you need even before you do. When you crave sand between your toes the hotel shuttles you out to their private beach club on Lido Key, where the sun, sea and a gorgeous pool await you. Hotel Indigo presents a boutique-style atmosphere and a perfect location in the heart of the downtown arts district, walking distance to many attractions. oM readers will be attracted to the hotel's commitment to environmentally-conscious practices. Guests can conveniently borrow a bike and pedal out to the beach.
How to get there: Jet Blue flies non-stop from JFK to Sarasota-Bradenton Airport in two and ½ hours, making Sarasota an easy weekend getaway. The airport is a convenient three miles from downtown. Many hotels offer airport shuttle service, SCAT buses serve the airport or a waiting taxi will bring you to your hotel in minutes. The official Sarasota website has loads of vacation planning tips and information.
KPICASA_GALLERY(CarFreeGetawayToSarasotaFL)