Thailand's "City of Angels" packs over nine million residents into 600 square miles. Side saddling high schoolers and entire families moped through the streets, weaving past taxis, trucks and tuk-tuks. It's a chaotic town, yet somewhere between the traffic, mega-malls and sleepless street vendors, Bangkok can offer serenity, a vibrant arts scene, and flashes of an eco-conscious culture.
From where to eat, cook, sleep, shop, bike for free, and be enlightened, here are the best things to do in Bangkok.

Eat, Cook, Eat

Wander in Bangkok for five minutes, and there's a good chance you'll stumble upon a local market. With constant turnover and mind-blowing agricultural assets to draw from, Bangkok is teeming with fresh, local produce. Eating food from the local markets is a good way to avoid the pesticides that cover much of the food in the country's supermarkets and restaurants. If finding your way by getting lost isn't your favorite game, set your sights on these farmers markets, which boast a strong selection of organic produce.
It's worth the ride out of central Bangkok for a taste of the fruits, veggies and river prawns at Talat Sam Yan (Chulalongkorn Soi 6). Bonne Marche (Prachaneiwet 1) carries some of Bangkok's best produce, but you'll pay a little extra for the quality (though still reasonable by Western standards). Expect to pay even more at Talat Aw Taw Kaw (Kamphaeng Phet Road), the city's most high-end market, and be rewarded with the city's best fruit and seafood. (Balance out the extra expense of that organic chicken and lychee by bargaining across the street at the famous Chatujak Weekend Market.) Navigate your way around the market under the guidance of the pros with Blue Elephant Cooking School. After learning about (and sampling) essential Thai snacks and ingredients, you'll return to Blue Elephant's elegant headquarters to prepare four dishes. For each course, you'll watch a classroom demo before heading to the kitchen to try your hand at the likes of green curry and spicy long eggplant salad. Class ends with a celebratory meal when the restaurant's wait staff serves you the fruits of your labor. For something more casual and less pricey, but decidedly spirited (there may be dancing) and always fresh, check out May Kaidee's vegan and vegetarian cooking school. For morning classes, the eponymous chef, restaurant owner and cookbook author and her team will walk you through the market, a spring wrap specialty shop, eight courses and raw recipes like papaya salad. Join an afternoon class for more one-on-one focus.
Other memorable culinary experiences include the Mandarin Oriental's tranquil spa-side cooking school (weeklong courses are also available here), the open air kitchen at Amita Cooking School, or a more forgivingly priced meat eaters' option, the Khao Cooking School. Baang Klang Nam is all about seafood: fresh, simple and authentic. Local families flock to the group-friendly tables at this riverfront spot for just-caught specialties like grilled prawns and whole goby fish with chili and lemon. Inspired by Thailand's street food and farmers markets, American expat and food writer Jarrett Wrisley opened Soul Food Mahanakhon to great acclaim in 2010. Wrisley's seasonal, organic dishes and cocktails certainly aren't Americanized, but they're not traditional Thai, either. Think chicken wings fried with lemongrass, lime leaves, Sriracha and pickled ginger, and a smoky Thai eggplant salad made with soft-cooked duck eggs, mint, coriander and bacon.
Enlightened Travel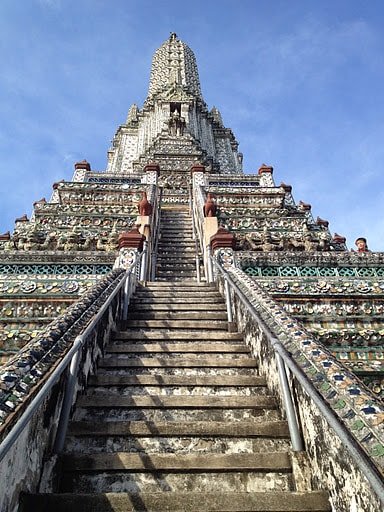 Even an atheist who's never done a downward dog or heard of the Beastie Boys will feel acquainted with Buddhism after a day in the land of 40,000+ wats (Thai for a Buddhist temple and monastery). Saffron robes are as easy to spot as massage parlors in Bangkok, and there's a wat or shrine on most every block. It could take a lifetime to visit them all, so where do you start?
Heavily touristed by farangs and Thais alike, the Temple of the Emerald Buddha (Wat Phra Kaew) at the Grand Palace, the neighboring Temple of the Dawn (Wat Arun) and the Temple of the Reclining Buddha (Wat Pho) are essentials. The ancient Emerald Buddha is as small (26 inches tall) as the Reclining Buddha is tall (50 feet high and 143 feet long). Across the river, a small Buddha rests near the top of the temple's unusual central prang (Khmer-style chedi, a tower marking holy remains). Visitors are free to climb up, surrounded by the prang's striking mosaic of porcelain and seashells.
For something different, visit the Tamil-founded Sri Mariamman, one of Bangkok's two Hindi temples. Even more overwhelming than the open-air temple's colorful architecture is the constant buzz of worshipers, aided by a group of a temple workers armed with a loudspeaker. Most visitors come bearing offerings of flower garlands, bananas, and coconuts, a ritual to which several stands across the street owe their business.
Arts & Culture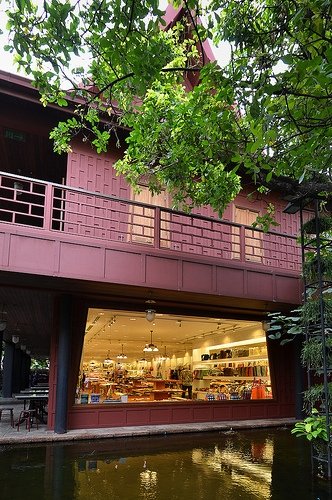 The Bangkok Arts and Culture Centre mimics the Guggenheim's spiraling flow, though with an art library, kids corner, performance spaces and several shops—including a conceptual ice cream shop—leading up to the contemporary galleries of the nine-story space. Recent exhibits included "Water + Empathy," a collection of photographs documenting acts of kindness and unity during the 2011 floods, and "Let's Panic," 15 artists' and designers' ideas for conserving and sustaining Thailand in the face of natural disaster.
Down the block from the Sri Mariamman, Kathmandu Photo Gallery offers more inspiration inside a restored retro shophouse. The works of the gallery owner and famed satirical "Pink Man" Manit Sriwanichpoom dominate the ground floor, alongside a collection of photography and philosophy books, incense, prayer scarves, Thai monk's bags and "various unexpected magical objects." Upstairs, Sriwanichpoom hosts the works of other photographers, weekend performances, community meditation and yoga classes (Sundays at 10am).
Though famous for his silk creations, Jim Thompson was a professionally trained architect, and it's his lovingly designed home that leaves the greatest impression at the Jim Thompson House & Museum. The American expat combined five traditional Thai homes and elements of Eastern and Western design to create his unique abode. Thompson became a true legend, and his house a museum, after his mysterious disappearance on a 1967 trip to Malaysia. The sericulture curious should inquire about a day trip to the Jim Thompson Farm.
Celebrate Bangkok's striking contrast of old and new by popping into a few contemporary art galleries between temples and palaces. A good place to start is the Silom Galleria. Don't let the decidedly uninspiring surroundings (an office building meets jewel dealer district disguised as a mall) deter you. A handful of intriguing galleries, such as A+789, Artery, Thavibu Gallery and the Chinese-owned Tang Gallery, await downstairs.
Eat, drink and be artsy at WTF and Gallery F-Stop, two independent spaces where the creative and culinary arts collide. What's WTF? A three-story smorgasbord: a tapas café, cocktail bar, screening room, international art gallery, concert venue and social club all wrapped into one. Gallery F-Stop is a little more focused: a New York native's photography gallery, exhibiting regional and international works in tasty vegetarian restaurant Tamarind Café.
An Urban Escape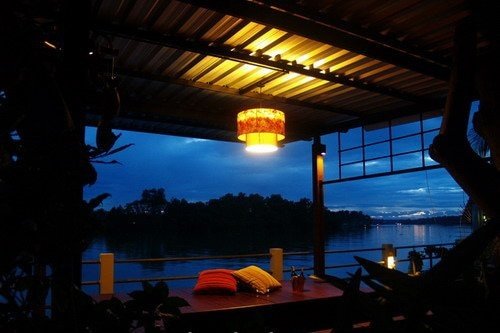 Skip the souvenir-touting Damnoen Saduak floating market and head out to Samut Songkhram, a peaceful province 70 kilometers from Bangkok, where coconuts and canals far outnumber the tourists. The Tha Kha floating market comes to life with produce-packed canoes on weekday mornings. Get back on land and head to the rails for a "train market" that will keep you on your toes. Friday through Sunday nights, it's back to the water for the Amphawa market, which lights up the Mae Klong River. Vendors in boats and stalls leading to the canal sell a myriad of snacks, many of them (like mussel omelets) prepared on the spot. Away from the action, where the land is thick with palm trees and stilted homes, catch an evening canoe ride to float among the fireflies. Samut Songkhram is a non-English, non-commercial area, but there are several overnight options. Try a homestay for an authentic village experience; for greater privacy and creature comforts, consider the private guesthouse at Lazy River House in Amphawa (a two-story house starts at about $110 per night).
Directions: You can travel by bus (leaving from Bangkok's Southern terminal) or train (the Mahachai Shortline, leaving from the Wong Wian Yai station). Songtaews ("buses" that are essentially trucks with bench-lined beds) are a fun way to get around, and many are available for charter, as are tuk-tuks, motorbikes and the occasional taxi. Ask your hotel or a local for help if arranging a private charter.
Thai Style
Bombarded by both Thais and tourists, the sprawling (35 acres) Chatuchak Weekend Market boasts an enormous selection of handicrafts, housewares, clothing, food and more. Not far from Chatuchak, Rod Fai Market is where the thrifty thrifters go. Part open –air and part warehouse, Rod Fai unites crafty kitsch, antiques and secondhand clothes at the site of an abandoned railroad track. Food stalls and makeshift bars give it the hipster gold seal. Looking for something more. . .shrouded? Grab a light and head to Klong Thom Market, aka "Flashlight Market," bordered by Luang, Worachak, Charoenkrung and Suapa roads. Though the market is now open all day Sunday, Saturday night's the time to cruise the haphazard collection of used electronics, media, clothes, toys, car accessories and other vintage finds. BYO flashlight to avoid buying blind.
Perhaps even more overwhelming than Chatuchak are the trendy-stall-filled sidewalks of Siam Square, in front of a giant shopping complex Emporium. Unlike the street shopping along backpacker central Khao San Road, Thais far outnumber foreigners here. The chaos drops a notch when you turn onto Soi 3, a side street whose tented shops and fashionable boutiques offer a few more inches of elbowroom (though still not much). A walk through the rainbow patchwork of Boho-chic It's Happened To Be a Closet's Siam Square shop is a delight, regardless of whether you can afford the pricey garb. Decorated as impeccably as its name is flawed, IHTBC hides The Nero, a tiny Mediterranean-menued café, and a massage nook behind crammed color-coordinated racks and taxidermied walls upstairs.
Room to Breathe
Find a bit of solace from the concrete jungle by floating along the Chao Phraya River. Take a water taxi, or hotel cruise on the complimentary shuttle boats taking off between the Saphan Taskin Skytrain stop and nearby hotels. Cruising Chao Phraya's not only a relaxing way to get around; it also affords you a unique vantage point for viewing the city's traditional stilted homes, many of which were damaged, if not destroyed, by the floods.
Nicknamed the "Green Lungs" of Bangkok, Bang Krachao is Bangkok's agricultural oasis. A 10-minute boat ride across the Chao Phyray River from the Klong Toey dock, the peninsula's nearly 100 acres of breathing, green land are filled with mangroves, palm trees, mango orchards, wildlife and low-rise houses. No cars makes the area a cycling haven for those unafraid of maneuvering the oft-narrow sidewalks surrounded by swamp on either side. Rent a bike at the Bang Krachao pier and spend the afternoon getting lost, or go with a guide from ABC Amazing Bangkok Cyclist. Free bike rentals (with photo ID) are also available in the city through Bangkok Smile Bike.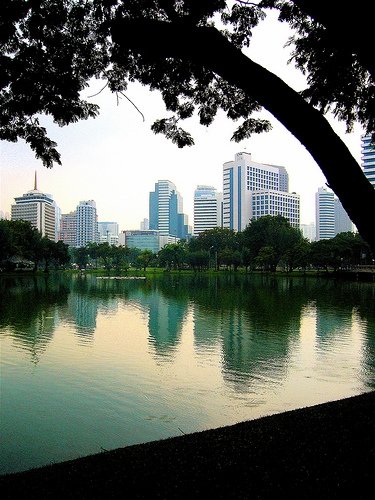 Bangkok's Central Park, the 142-acre Lumphini Park is one of the few places to find joggers in the city. Watch where you walk; wildlife like the monitor lizard also take solace from the adjacent business district in Lumphini.
A true sensory treat, the Pak Khlong Market is Bangkok's always-buzzing wholesale flower market. Enjoy the brilliant colors of fresh flowers and vegetables during the day, but visit extra early (…or late, depending on how the night goes) at 2 or 3a.m. to witness the morning deliveries and get the freshest picks.
The Art of Sleep
You'll feel like royalty (and you just may spot some) at the Mandarin Oriental. The city's oldest hotel, the Mandarin Oriental Bangkok was born 'The Oriental' in 1879. Floor-to-ceiling windows, hanging floral arrangements and temple bell chandeliers create a dramatic lobby, yet there's something refreshingly understated in the hotel's elegance; like the service, it's impeccable, but never overbearing. Warm touches make the rooms feel like your own luxurious home, where a butler is always on call, fresh orchids and pleasant surprises abound (hotel bookmarks seem to magically find their way into overturned books), and everyone knows your name. Top off the indulgence with a waterfront—or poolside—breakfast followed by a treatment across the river at Mandarin's Luxury Bangkok Spa. You can't go wrong here, but when in doubt, head straight up to the Ayurvedic Penthouse, where earthy 'Keraleea' oil and well-trained hands give fluid new meaning. Rooms start at about $400 per night.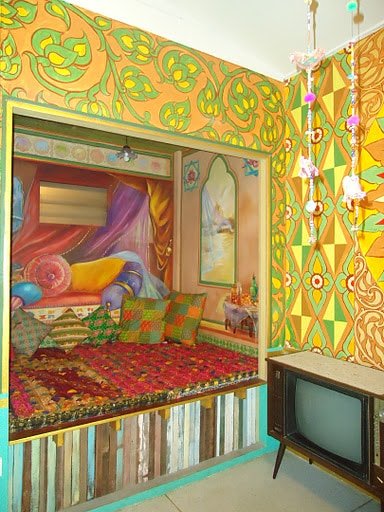 If Brooklyn –well, the Brooklyn that values history while fostering independent artistry, innovation and an eco-minded DIY culture—was a hotel in Bangkok, it would be Phranakorn-Norlen. A "family friendly vintage guest house in Old Bangkok," PN is that rare breed of hip that's driven by genuine creativity and do-goodery rather than the desire to be hip. Faux vintage storefronts line the main wall of the open-air lobby; around one corner, homemade, organic food is for sale at the café; around another, homemade, organic beauty products at the gift shop. Next door, a mini science lab and workshop equipped with sewing machines (vintage, naturally) provide space for community classes, (guests may attend one for free). Each floor has its own theme and each room its own look, replete with hand-painted walls and carefully chosen retro wares. Up top, a bar and rooftop garden push PN's charm off the charts. Rooms (solo available!) start at about $56 per night.
Travel
Getting There
Recognized for its eco-friendly initiatives, Korea's Asiana Airlines flies from several east and west coast US cities to Bangkok, via Seoul. Saudi Arabia's Emirates also services this route via Dubai, with a new green jet service from San Francisco as does All Nipon Airways, stopping in Tokyo. ANA's green efforts include a carbon offset program. Try and avoid monsoon season (generally June-October), but don't let Thailand's recent flooding deter you; Bangkok's smiling as always, dry and ready to be taken by travel storm.
Getting Around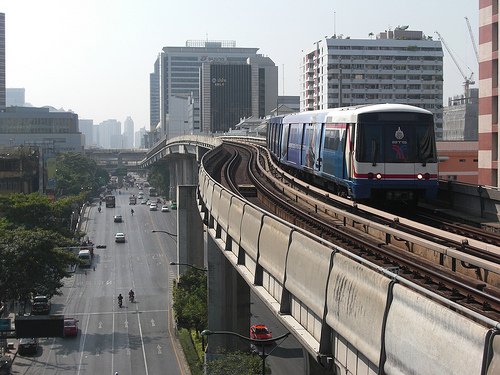 The Skytrain runs through much of central Bangkok. It's clean and generally easy to navigate, and there are plenty of ticket booth workers available for help. Remember to keep your ticket once you enter the station; you'll need it to exit. Where the Skytrain doesn't run, chances are a bus does. Public buses are extremely cheap, but can be crowded and generally a little rough around the edges (the green ones, in particular; the white/blue, yellow/blue, orange and especially pink buses are more modern, comfortable and expensive, though still under $1) and confusing without the help of a bus map or a local. If you're by the river, the Chao Praya Express is a cheap and pleasant way to get around. The public boats charge based on distance traveled (generally between $0.50-$1.00 per ride), while $5 buys you an unlimited ticket on the tour guide-equipped Chao Praya Tourist Boat. Tuk-tuks, doorless mini-taxis, are a fun—if smoggy—way to get around. Make sure you agree on a price ahead of time. Ask a local how much your trip should cost so you're ready to negotiate a reasonable price. For a bigger thrill, you can spot a motorcycle taxi by the drivers' orange vests. They should have a spare helmet for you to use. Regular taxis charge by a forgivingly slow meter (though you can agree on a price beforehand for longer trips, like to the airport).
Photos: Gallery shots, #1,2,3 and #7 courtesy of the author. Others by tiseb, bfick, Jim Thompson House
KPICASA_GALLERY(GetawayToBangkokThailand)