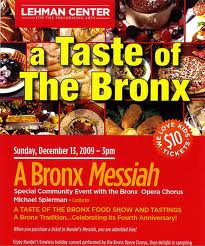 What: Taste of The Bronx Food Show and A Bronx Messiah, performed by the Bronx Opera Chorus

Where: Lehman Center for the Performing Arts

When: Sunday, December 13, at 3:00 p.m.
Why: The New York Philharmonic does a fine job with this masterpiece, but this is a cultur-ulinary opportunity that doesn't come around that often. Flee Manhattan for a matinee of Handel's holiday classic, sponsored by The Bronx Tourism Council, followed by a fantastic local feast.
Your bargain-priced ticket to A Bronx Messiah includes "A Taste of the Bronx Food Show." More than half a dozen top Bronx eateries will be offering free tastes of their specialties, so if you've been craving a cannoli from Arthur Avenue or a knish from Liebman's Deli, this is the place to be.
Cost: Ticket prices range from $10-$25, with under 12 paying $10 for any seat in the house.
How to get there: Take the IRT No. 4 Lexington Avenue line or the IND "D" line to Bedford Park Boulevard station. Walk west (1 block from the No.4 and approximately 3 blocks from the "D" line) to the campus. (Lehman College Campus, 250 Bedford Park Boulevard West, Bronx, NY, 718.960.8000. For ticket info visit lehman.cuny.edu)