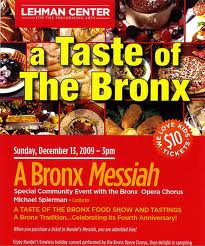 What: Taste of The Bronx Food Show and A Bronx Messiah, performed by the Bronx Opera Chorus

Where: Lehman Center for the Performing Arts

When: Sunday, December 13, at 3:00 p.m.
Why: The New York Philharmonic does a fine job with this masterpiece, but this is a cultur-ulinary opportunity that doesn't come around that often. Flee Manhattan for a matinee of Handel's holiday classic, sponsored by The Bronx Tourism Council, followed by a fantastic local feast.
Your bargain-priced ticket to A Bronx Messiah includes "A Taste of the Bronx Food Show." More than half a dozen top Bronx eateries will be offering free tastes of their specialties, so if you've been craving a cannoli from Arthur Avenue or a knish from Liebman's Deli, this is the place to be.
Cost: Ticket prices range from $10-$25, with under 12 paying $10 for any seat in the house.
How to get there: Take the IRT No. 4 Lexington Avenue line or the IND "D" line to Bedford Park Boulevard station. Walk west (1 block from the No.4 and approximately 3 blocks from the "D" line) to the campus. (Lehman College Campus, 250 Bedford Park Boulevard West, Bronx, NY, 718.960.8000. For ticket info visit lehman.cuny.edu)

Allison is a native New Yorker, who has lived in Rome, Tuscany, Melbourne, Toronto and Los Angeles. She frequently contributes travel pieces to Family Travel Forum, using her own children as guinea pigs as they travel the globe. She is fluent in Italian and Spanish and laughably adequate in French. Her background as an Early Childhood Educator gives her an added understanding of what it takes to travel with kids in tow. She firmly believes that the most important part of education takes place outside of the classroom, on the road, around the world. She never misses a chance to sample local delicacies, as her love for travel goes hand-in-hand with her love for food and wine. Follow Allison at @gourmetrav.