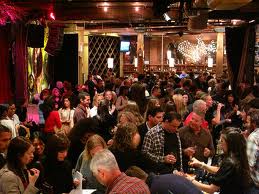 Anyone who's ever waited 12 months for a peppermint mocha knows our yen for some beverages are not only season specific, they are time-sensitive too. We look forward to light cocktails in spring, citrus notes in summer, and the aromas of cider to ease into autumn. On Saturday, we discovered a new wintertime favorite, mulled wine. Determined to recreate the hot, spice-infused drink at home, we were pleased to find ourselves swimming in bottles of red, white, and pink the next day at City Winery to celebrate Empire State grapes at this year's local wine fest, Uncork New York! Sip, Savor and Shop.
Warmed by City Winery's rustic space, which was transformed into one cavernous tasting room for the occasion, guests floated from station to station sipping in-state vinos made from grapes grown a mere train ride away. Over 35 wineries participated, including vendors from Hudson Valley, Finger Lakes, and Long Island. Speaking of which, in the new year, the Long Island Culture & Wine Winterfest will present six weekends of free jazz concerts at Long Island wineries between February and March. (With end-of-year festivities underway, we'll definitely need to replenish our supply by then—especially with all that mulled wine we'll be making.)
The Finger Lakes wineries highlighted their "signature wine" Riesling, while Long Island purveyors, like Bouké Wines left us charmed with creative blends and candy-striped labels. We also met NYC-based winery, Brooklyn Oenology (BOE), which calls the cusp of Greenpoint and Williamsburg home. We especially liked BOE's artist-designed labels that peel away sticker-style so imbibers can enjoy the art beyond the last drop.
Guests welcomed themselves to alcohol-free fare too, like tart cherry juice from greenmarket stalwart Red Jacket Orchards and sweet-and-savory jams courtesy of Katchkie Farms. With patrons lined elbow-to-elbow for a taste of New York, we were not surprised to find Park Slope's Palo Santo, a Latin restaurant-wine bar, clean of anticuchos de puerco (skewered pig liver and kidney marinated in chili paste) by the time we reached their booth.
The four-hour event left attendees in high spirits, and we suspect Silver Stream Winery's Furry Peach Apple Cider—a medley of hot apple cider, peach port, and cinnamon sticks—had something to do with it. It's always bittersweet to leave a good party, but an invitation to the next one often alleviates the wait. See you in Long Island.
Photos: Courtesy of the author