Searching for a shortlist of the best romantic getaways with hot tubs in the room in Long Island? You've reached the right place. Stretching east of New York City, Long Island is filled with natural beauties and charming towns. You can explore the Jones Beach State Park, Fire Island, and Montauk Point State Park, or go to the Hamptons, known for their upscale homes, trendy restaurants, and antique shops. Either way, it's a beautiful place for a romantic vacation.
And to add an extra something to your getaway, stay in a whirlpool suite so you can truly relax with your partner after a long day. To make planning easier for you, we've chosen the best romantic getaways with private hot tubs in Long Island with the help of the experts at this travel blog.
Hot tub rooms and Jacuzzi suites are a great way to celebrate Valentine's Day, birthdays, anniversaries, and other special occasions. Just imagine spending time together relaxing in a hot tub with champagne in your hand, enjoying some fine dining in a romantic setting, or getting pampered at the high-end spa. So choose your getaway wisely and go on a Long Island romantic vacation that you'll never forget.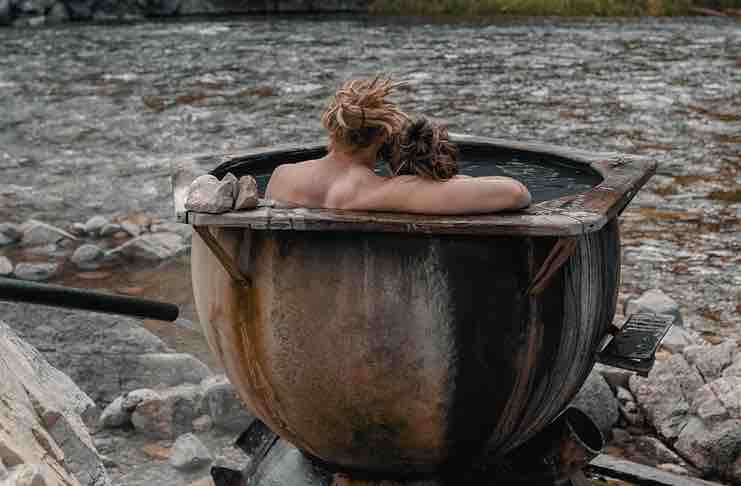 1. Four Points by Sheraton Melville Long Island
First on our list of romantic hotels with jetted tubs in rooms is Four Points' hot tub suite. Set in Plainview, this pet-friendly hotel features an outdoor seasonal pool with a sun terrace and a garden, a fitness center, on-site dining, free parking, and free local shuttle services, which could come in handy for some sightseeing, shopping, and fine dining.
The rooms here come with a cable TV, a microwave, fridge, and coffee facilities, as well as a private whirlpool in rooms in certain suites. Room service and breakfast in the room are available for all guests.
Adventureland and Walt Whitman Mall are a short drive away, so you can be sure that your stay won't be boring. With all these amenities and services, you'll surely have an amazing time here!
Check out this video to get a glimpse:
2. Hilton Garden Inn Riverhead
Next on our list is this lovely Riverhead, Long Island hotel. It features an on-site bar and restaurant, an indoor pool and Jacuzzi, a fitness center, and a 24-hour front desk. While you're here, make sure to enjoy the hotel's amenities, but also to explore the area – there's the Tanger Outlet Mall right across the street and several beaches nearby.
All rooms come equipped with cable TVs, microwaves, refrigerators and coffee makers. We recommend choosing The King Room with Spa Bath for a romantic getaway with a private whirlpool tub.
3. East Hampton Art House B&B
Nestled in the historic artists' community of Clearwater Beach East Hampton, this amazing B&B features lush gardens with outdoor furniture, indoor and outdoor pools, a spa with a waterfall, a 24-hour Butler's Pantry, and free parking.
There's also a gym, games room, and a spacious communal living room with a fireplace and board games, as well as access to a private beach area in Clearwater Bay Beach and Marina. And if you need some help planning a memorable stay, take advantage of their concierge services.
All rooms have a flat-screen TV and a private bathroom with free toiletries, while only some include a seating area. Deluxe Suite with Spa Bath comes with a convenient hot tub in the room, so you and your sweetheart can enjoy a relaxing holiday away from the crowds.
4. Holiday Inn Express Stony Brook-Long Island
Set in Centereach, this Holiday Inn features a large indoor pool, a fitness center, a gift shop, and free parking. Also, a daily breakfast with fresh coffee and barbecue grills are available for guests.
Its spacious cozy rooms include a seating area, flat-screen cable TV, microwave, and a refrigerator. Additionally, select King Rooms and Suites boast a relaxing jetted tub by the bed, perfect for a couple.
And if you want to check out some attractions and activities nearby, you can go to the Heatherwood Golf Club, visit the Long Island Museum of Natural Sciences, or go wine tasting with Long Island Wine Tours.
Check out this video:
5. Beautiful House with Pool in Montauk
Set in Montauk, Long Island, this holiday home is a perfect pick for those who can't afford to leave the fam at home. The newly-renovated house includes 5 bedrooms, 3.5 bathrooms, a fully equipped kitchen, a dining area, and a large living room. There's also a double garage and a cozy seating area with a home theater right above it.
The spacious backyard comes with a private Jacuzzi® tub in the sunroom, an outdoor pool with a slide, an outdoor shower, a four-burner BBQ, 4 bikes you can use, and a beer and wine fridge.
And the best part, the price – It's only $150 USD per night! It's a great alternative to hotels if you have more than a few days for your vacation. With so much going on, you can surely have a few romantic moments with your SO during your stay.
6. Villa Victoria
Next on the list of romantic accommodations in Long Island is this luxurious pet-friendly villa in Bridgehampton. This rental is great for honeymooners and couples, but also for small families and a group of friends as it features 4 bedrooms, 1 bathroom with a luxurious whirlpool tub, a full kitchen, and a spacious living room with a fireplace.
The property also includes a charming secluded patio with a lush garden, a terrace, and a private heated pool –great for relaxation and entertainment. On-site parking is also provided for guests.
If you are looking for a peaceful spot to connect and unwind, this is an ideal place for you!
7. The Baker House 1650
Another gorgeous East Hampton B&B, ideal for a romantic getaway! The Baker House 1650 features a spa center with a sauna, 2 outdoor and 1 indoor pool, an on-site bar, a shared lounge, bike hire, and free parking. It will feel like staying at a high-end resort but way more private.
Each room includes a private bathroom, a refrigerator, a flat-screen TV, a Bartech minibar, and Bose Wave System with CD Player. Some units also boast a seating area, lovely garden views, a cozy fireplace, or a romantic jetted tub.
In addition to all these wonderful amenities, the property is only a 15-minute walk from Main Beach and less than a 10-minute walk from world-class shopping and dining in East Hampton Village.
Check out this beautiful place:
8. Victorian Cottage
This beautiful Victorian vacation home is made for a romantic couple's vacation! Sophistication and comfort are palpable throughout the property. The cottage includes 1 bedroom, a private bathroom, kitchen and dining room, and a living room with a gas fireplace.
There's also a lush backyard offering several seating areas, a private hot tub, an outdoor shower, and a grill. Enjoy these top-notch amenities during hot summer days or while gazing at the starry night sky.
And to make things even better, some of the top-rated restaurants, vineyards, and bay beaches are just a short drive away. Also, private parking is available on site.
9. Long Island/Wading River
Finally, last but not least, this romantic apartment in Long Island is situated in a quiet neighborhood at the start of wine country, AKA Wading River. This place is perfect for couples who are planning to go on a romantic vacation and would love to stay in a place with a cozy, clean, and intimate ambiance.
Also, a lot of activities can be enjoyed in the area, such as skydiving, visiting farms, attending festivals, and more.
This rental offers a queen bedroom, one bathroom, a kitchen, a dining and living room. It also offers access to amenities like an outdoor pool and a fire pit. The hot tub is always available (for your use only) and it might be just what you need to complete your couple's getaway experience.
FAQs
What are some activities for couples in Long Island?
If you're visiting with your partner, we recommend you visit the historic late-1700s Montauk Point Lighthouse, go on romantic walks on some of Long Island's many beaches (e.g. Cooper's Beach, Long Beach,…), explore the nearest state park (e.g. Robert Moses State Park, Montauk Point State Park, Caumsett State Park,…), or go to the aquarium.
Other interesting activities include Wine Tours & Tastings in Mattituck, skydiving at Long Island Skydiving Center, and various activities at the Adventure Park at Long Island.
The one destination that stands out is definitely Jones Beach State Park, a popular summer destination for the city folks that is filled with so much content.
Is Long Island a safe place to visit?
Long Island is a very safe place to visit. The Long Island crime rate is 80% lower than the national average and 59% lower than NYC, so you can really relax during your trip. Nevertheless, we do advise caution when in bigger crowds and on the beach – pickpocketing is always a possibility.
What beach has the clearest water in Long Island?
According to our sources, there are many beaches that claim to have the most pristine coast, including: Hobart Beach (Sand City) Inlet and Hobart Beach Bay, both in Northport; Port Jefferson Beaches, both West and East, and Belle Terre Beach, all in Brookhaven; and Iron Pier Beach and Mattituck Breakwater Beach, both in Riverhead.
Why should I choose Long Island for a vacation?
Long Island is a year-round destination with easy access to New York City. It's a safe place with diverse attractions, ideal for families, as well as for couples. Here you can spend your days on some of the beautiful beaches of the Hamptons, Fire Island and Jones Beach, visit the historic Gold Coast Mansions or award-winning vineyards, and enjoy some eclectic dining and boutique shopping while exploring its charming towns.
Alex is a computer geek, programmer, who loves traveling. Not the usual mix, but Alex is always with his laptop – no matter how high the mountain he's hiking on. On every peak he reaches, he writes a story that captures it all.