Pennsylvania Station, more commonly referred to as Penn Station, is the most active rail hub in North America. Every single day, half a million people travel through the station.
The facility holds three passenger railroad lines: Amtrak, New Jersey Transit, and the Long Island Railroad. It also offers connections to the MTA New York City Transit, Penn Plaza, and Madison Square Garden.
This station acts as a checkpoint for travelers all across the tri-state area. However, Penn Station is more than just a rail hub.
Though tons of people bustle through the station every day, few people take the time to explore the area around Penn Station. There is a myriad of food options in the actual station, as well as around the neighborhood. Many of these restaurants offer quick, convenient meals on-the-go.
There are also many different locations for luggage storage near Penn Station. If you're traveling from afar, it is recommended to drop off your luggage in a secure place before exploring the city.
New to New York? Well, you don't have to act like a tourist. For a complete guide on how to navigate Penn Station, keep reading below!
How to Get To Penn Station
You can find the main entrance to the station on 7th Avenue between 31st and 33rd streets. There are also other entrances via subway stations on 34th Street and 7th Avenue, as well as on 34th Street and 8th Avenue.
Another way to get to the station is to take the 1, 2, or 3 train. These trains will transport you to the station on the 34th street stop. The 7 train will also take you to 34th street, but in Hudson Yards. It's a bit of a walk to get to the station from here.
Alternatively, you can take the N, Q, R, B, D, F or M train to get to the stop on 34th Street and 6th Avenue, right next to Macy's. For underground access to Penn Station, take the A, C, or E train. These trains will take you one avenue west on 34th street and 8th avenue.
The 7 train stops at 34th Street in Hudson Yards, which requires a bit of a walk to get to Penn Station. The M34 Bus Service is the only MTA city bus that connects directly to Penn Station.
If you're wondering when the station closes, well; it doesn't! Penn Station is open 24 hours a day, seven days a week. This is one of the main reasons why it's such a popular rail hub.
If any of these directions confuse you, don't worry. You can always just take a taxi or use a car ride service to get to Penn Station. Any driver in New York City will know how to get there.
Navigating Penn Station
On the upper concourse level, you'll find the New Jersey Transit and Amtrak tracks, as well as a few ticket booths and shops. On the lower concourse level, you'll find the Long Island Rail Road tracks and ticket stations. The 1, 2, 3, A, C, and E subway lines are also located on this level.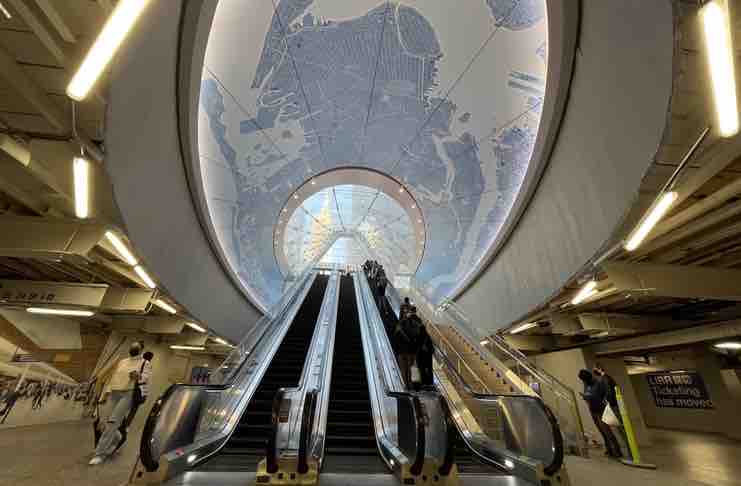 If you're looking for a quick bite, head over to the central corridor of the lower level. Here, you'll find a number of fast-food restaurants, delis, and concession stands. This is the perfect place to snag a bagel or a cup of coffee on your way to work in the morning.
To save yourself some time and trouble, make sure to tell your driver which service you're using so they can drop you off at the closest entrance. Remember; Penn Station is a massive property. If you get dropped off at the wrong entrance, you could spend considerable time finding your train or bus.
Amtrak
Out of all the Amtrak stations, New York's Penn Station is the busiest by far. Every year, over 10 million customers board Amtrak rides from this location.
The most prominent destinations are Philadelphia, Washington D.C., and Boston. However, you can travel as far as Chicago.
The best way to get to Amtrak inside Penn Station is to enter from 8th Avenue between West 31st and West 33rd streets. Look for signs that lead you to Amtrak Hall.
NJ Transit
New Jersey Transit, also known as NJ Transit, is a public transportation line that serves the entire state of New Jersey. It also serves some parts of New York State and Pennsylvania.
Many New Yorkers use NJ Transit to get to Newark Airport or Philadelphia.
To get to the NJTransit trains at Penn Station, enter at Seventh Avenue and 31st Street or Seventh Avenue and 32nd Street. Again, look for signs that direct you there.
Want to read more of our latest posts? Check out these romantic getaways with hot tubs in the room in Long Island.
Karen works for a big hedge fund, she's awesome with numbers and loves what she does, but above all – she loves traveling. Whenever she's on the road, she tries to get into the gritty tiny details of every location she explores.