By Ron Rossi
In New York City you can visit many different restaurants in the city. They are all there. It doesn't matter what you want to eat or when. You might start looking for Italian and then end up with Chinese. It is all open for you to select as you walk along and imagine. It is here for you as the door opens.
But sometimes you need something new and different. Or maybe you want something you had before and plan to head for that once more. It is up to you to choose. And being in New York having a variety of Indian food for dinner this time sounds great. Yet, this time I entered to have a dinner of traditional Indian food. It was different. As soon as I entered the door I stepped into India itself.
Welcome to BADSHAH. This is not what I expected. Located on 52nd and 9th Avenue it was as if I had stepped back to Delhi where I had worked for some time. It was not what you imagined.
BADSHAH is not a large restaurant. It is the size of a normal restaurant, cafe, bistro you would find in Delphi or even Mumbai. Its purpose is to invite you in and serve you a meal that is not what you would find in New York. It can be there. But if you speak with the team you will receive a meal that is more traditional to being in India. For us, we had to take the ride and travel to enjoy ourselves.
START WITH THE APPETIZERS
As we sat down, we were handed the menu. It was extensive and had a good variety. We also had a venue of the menu for take-out. This was slightly different. But it did not matter. What you wanted was more important.
Andrew, the Manager, was very helpful with everything. We asked questions and he told us about special selections and styles. It was interesting to hear as we went through the menu. Of course, the first thing to start with was something to drink.
Naturally, they had a finance selection of wine and beers. But being in a traditional Indian restaurant we wanted something we could only find here. That was a Mango Lassi. This is a richly made yogurt drink filled with a mix of mango. This was perfect. It was sweet and tasty. It would be ideal with a tasty meal.
The first appetizer we decided to order was the Punjabi Somosa. This is a crispy pastry filled with mashed potato and vegetables and served with a fenugreek sauce that compliments it. When it arrived it was slightly warm and filled. The crust was thin but firm. The inside was filled with vegetable stuffing. It was amazing. Having had this before at other locations we knew what to expect. But this time it was as if I was back in India having it for the places in the area. It was authentic and real.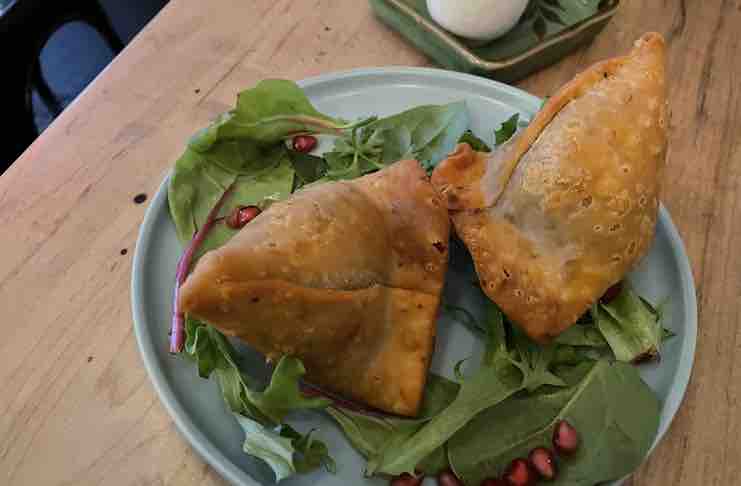 Andrew asked how we liked it and we told him it was perfect. We then requested if he would make the suggestions for the meal we would enjoy. He was glad to help and said he would recommend what he believed would be a good meal to have. We knew this was a good idea and said we would wait to see what arrived.
A VARIETY OF INDIA ON THE MENU
As Andrew made the selection for us we waited to see what would arrive. Next on our list was Badshah Cauliflower. This was a combination of Indo-Chinese style cauliflower that was tossed with sesame, onions, and tomato chili sauce. It is unexpected, but it is more typical in parts of India. It was beautifully presented when it arrived. It is arranged also with some red peppers f and with a little garlic sauce for dipping. There was enough for a little extra flavor.
We took a bit of what was fresh and different. It is slightly warm and tender. It is fresh and has a slightly strong flavor. It was a nice complex with what we already had. It is just the right portion to take and enjoy before you move on.
Next on the list was Palak Paneer. This is a favorite of ours as it is a mixture of baby spinach sauce with tomato, onions, gram masala, and Amul paneer. This is thChef Lala's recipe and it is special. It is not over moist. It is ideal the way presented. There is also an addition of tofu and served along with red and green tomatoes and a few roasted onions.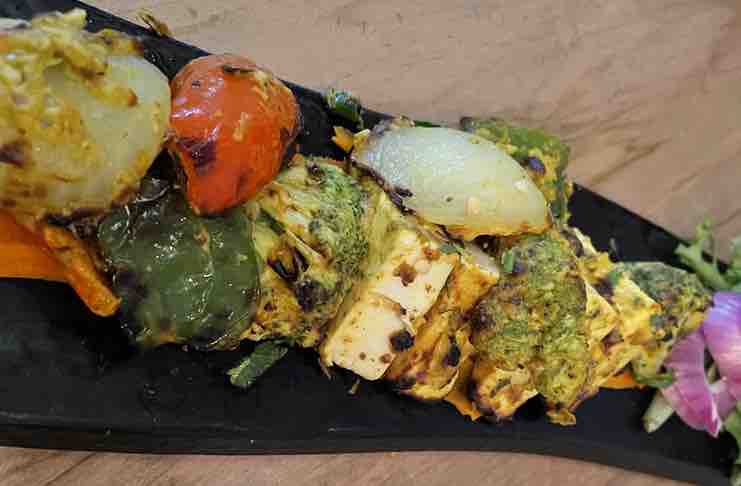 There is a slight dipping sauce to the side if you need it, but you do not. Take a slice and you suddenly know this is not typical paneer. This is definitely a family recipe of what was made for you. Fresh. Tasty. Warm. A little spice and flavor. Each bit is unique as you try. It alone can be an entire meal. But for two people it is enough to share.
MAIN ENTREE
Naturally, we wanted to see what other traditional items were on the menu. We did not have to wait too long. First up was a Boneless Tandoori Chicken. This was marinated chicken with spicy yogurt and roasted with whole spices. That was it. It did have a side dipping dish if you needed it. But you didn't as you sliced it and took a bite. It was firm but soft. Mild and some spice. It was fresh and warm. Not too hot but just right with each bite you will take. It was also served with some peppers and onions to complement it. But when mixed with what else you took it was an ideal.
Finally, we had a special entree made by the Chef. This also was a family recipe. It was the Nilgiri Truffle Lamb Korma. It was a slow-cooked lamb that was combined with fennel, saffron, anise, mint, coconut flakes, and cashew nuts. There was also a combination of family special spices that even created a sauce that the lamb rested on.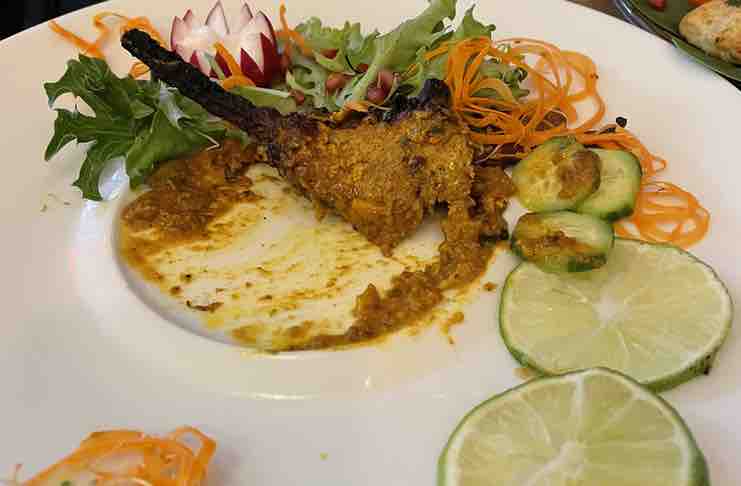 It was a mix of moist lamb with a slightly spicy and creamy truffle cashew sauce that was a perfect complement to it. This was very different and new. It made us wonder what part of India this was from. Having been in India for work I was familiar with some items. But this was different and fresh. It was as if you were at the home of the family which made this for you. It was wonderful to try this.
Naturally, you could not have a meal without the traditional Naan. That is what you received when ordered. It was enough for three people. A freshly made portion to enjoy with each course you had. It was a good mix.
A DESSERT TO FINISH THE MEAL
With everything we enjoyed, it seemed impossible to have a dessert, but Andrew mentioned he would select something to enjoy. That was the way to do this. He knows what you had and can complement what you might want with your meal.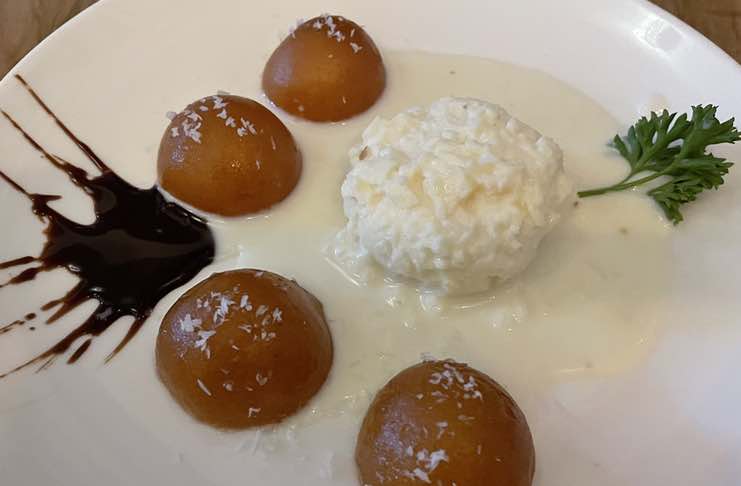 We received a good combination in the end. It was just enough to sample two selection that was enough to enjoy after the meal we had.
First was the Rasmalai. This is a spongy homemade cheese patty that was simmered in milk that was flavored with cardamom and rose water. A little honey was added to have a little more sweetness. It was ideal. Just enough to enjoy each bite you take.
On the same dish, this was complemented with a small portion of traditional Kheer. This is traditional rice pudding. It is sweet and from a select portion in India. So each area is always different even though it is a traditional item. It was ideal for the dessert as we finished.
Naturally, we also had two cups of Indian Teas to end the meal.
BADSHAH IS INDIA AS YOU CAN IMAGINE
Being in Badshah you would imagine you would have a meal of Indian food. And you do. But it is not something you would imagine you would normally have in the restaurant. When you come here you go to a new place and have a meal you would not expect unless you were traveling back to India. This is different and exciting. It is something I remembered from when I was over there.
The variety of items is exceptional. There is spice, flavor, a warm fresh taste. The variety is endless. You Can see it on the menu, or you can see if there is something special you can request. It is all available for you to request. And if you do not see something you might want then you can ask.

Chef /Owner Abishek is excellent. He knows what we might imagine for something new and different. As for the price, it is perfect. It is right for the portion you receive and what you expect. The team is excellent and can help you by answering questions or providing directions. They are there to help you find the meal you might want.
Badshah is a place you will visit and enjoy. Learn something new. Next time you might have to go and step inside a place that brings you back to India. I will go back soon.
LOCATION:
BADSHAH
788 Ninth Avenue (52nd Street)
New York, NY 10019
Phone: 646-649-2407
Website: www.babshahny.com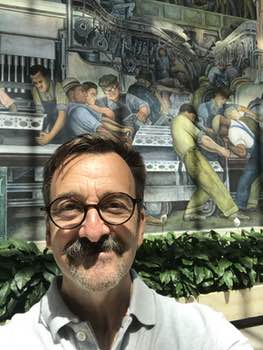 "The Jaded Traveler". Ron Rossi was born and raised in New York. A globalist at heart, Ron is a marketing director by trade, and has lived and worked around the world including Asia, Europe, Africa, and South America. Food is one of the best ways to learn about a country, a people and a culture. So, Ron is always looking for the best in mid-range to budget and street food. He is always on the hunt for a good meal anyone can afford. It is the food of the average citizen that excites him. And with having visited close to 100 countries on 6 continents so far, there have been some pretty good meals.