Planning a day trip to the birthplace of hip-hop culture? Maybe a golf game at the oldest public golf course in the country (Van Cortlandt)? Or is it a family trip to the largest metropolitan zoo in America? If you're looking for a great cup of coffee while you're there, we've selected our list of the 5 best cafes in the Bronx.
Our 5 Recommended Cafes in the Bronx
No matter if you visit the Zoo, play golf, or go watch a game at Yankee Stadium – you'll always appreciate a delicious cup of coffee. So here they are, our top 5 Cafes in the Bronx:
1. Prince Coffee House
This place is my favorite spot to get a strong classic Turkish coffee. Located in the Bronx's Little Italy, Prince Coffee House offers a unique blend of modern and classic drinks and food.
You can enjoy delicious pastries alongside your cup of coffee, and if you crave for another cup – go for something bolder like their Ginger and orange spiced cocoa.
If you're searching for a relaxing getaway to read a book or work, Prince Coffee House has a great quiet workspace downstairs. Combined with their Turkish coffee – it's the perfect place to finish my work on Sundays.
Where? 2306 Arthur Ave, Bronx, NY 10458.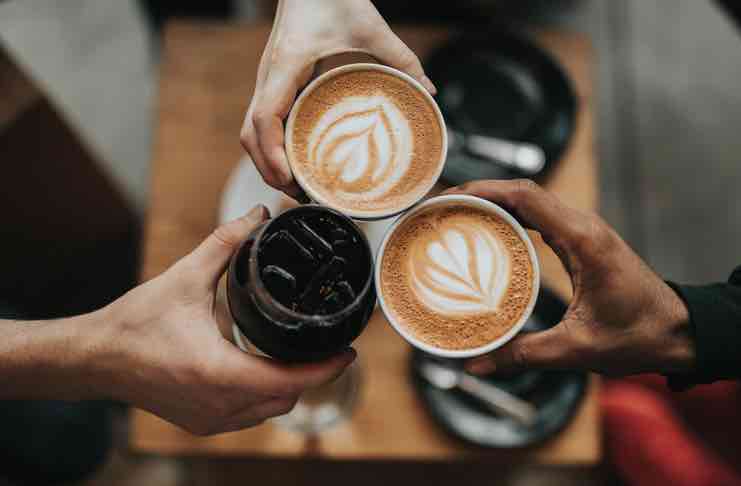 2. Moss Cafe
This cozy Bronx gem focuses on fresh brews and fresh food. Most of their stuff is organic, allergen-free, and all is 100% kosher. You'll find delicious vegetarian and vegan options like paninis filled with fresh veggies, yummy avocado toasts, and house-baked pastries. My favorite? The 'Veganized Shakshuka'. Of course, I'm vegan, so I love this place. But what I really like is that they work closely with local farms to provide the freshest produce.
As for coffee, they make delicious fresh coffee brewed at their full espresso bar. According to experts at MajestyCoffee.com, this sort of machinery produces the highest quality of coffee.
Where? 3260 Johnson Ave, Bronx, NY 10463.
Watch this video to get a glimpse into Moss Cafe:
3. Mon Amour Coffee & Wine
This cool place is the reason I love finding new independent cafes everywhere I go. It's definitely on my list of top 3 favorite cafes in the Bronx. It's not just about the great coffee or the perfect macarons, or the nice ambiance. It's the people who run the place. Everyone here is just super friendly, and it really does make a difference.
On top of the exceptional service, I love the French style of Mon Amour. The brick walls, the Chandeliers, the large communal table, and the high-top seating facing the street. All together makes it adorable.
Last time I was there I had a delicious Mocha latte with coconut milk, together with a heavenly Almond croissant. Perfection.
Established in 2015, Mon Amour Coffee & Wine also provides live music on weekends, and occasionally on a weekday – so you better follow them on Facebook to know when.
Where? 234 W 238th St, Bronx, NY 10463
4. Boogie Down Grind Cafe
This cozy cafe in the Hunts Point neighborhood of the Bronx, offers among others, a free lending library! How cool is that?
The Boogie Down Grind Cafe is a really cool place. Starting from its beautifully designed window, the decor and art on the walls, the nice lighting, the small tables, and the chic bar stools facing the outside.
It's just a beautiful place to relax with a good cup of Cappuccino. My favorite is the one with pumpkin spice flavors. They also have great croissants and pastries. Last time I was there I had a turkey and cheese panini. It was perfectly toasted.
You can check them out on Facebook as well.
Where? 868 Hunts Point Ave, Bronx, NY 10474.
Watch this video to learn more about The Boogie Down Grind Cafe:
5. The Miles Coffee Bar
This cafe gets its coffee shipped from Colombia every week, so it's as fresh as it gets. The Miles Coffee Bar also invested in high-tech European-made coffee machines that make exceptional cups of joe. In addition to all the cafe favorites such as espressos, lattes, macchiatos, cappuccinos, etc, they also offer organic tea.
What I also like is the tons of milk options they offer, from regular types, oat milk, almond, soy, or macadamia. As for food, you can get a light breakfast, lunch, and house-made baked goods. My favorite is their avocado toast.
You can also follow the Miles Coffee Bar here on their Facebook page.
Where? 4039 E Tremont Ave, Bronx
To conclude…
The Bronx is a great place to explore, especially when the weather is good. From the amazing New York Botanical Garden with it's exotic flowers, to Pelham Bay Park which is NYC's largest park (more than 3X the size of Central Park), and down to the public Orchard Beach. All these places require a relaxing stop at a good coffee shop. I hope you'll keep in mind our little list of the best cafes in the Bronx, and give 'em a visit!
Want to read more of our latest posts? Check out the foods and drinks you should try in Queens, or the best live music spots in NYC.
Karen works for a big hedge fund, she's awesome with numbers and loves what she does, but above all – she loves traveling. Whenever she's on the road, she tries to get into the gritty tiny details of every location she explores.