Dumbo, short for "down under the Manhattan Bridge overpass," is one of the hippest and most exciting neighborhoods in NYC right now. It's an area full of brownstones, a gorgeous riverfront park, boutique hotels, art galleries, restaurants, and shops. Plus, the views of Manhattan from Dumbo, at the foot of the Brooklyn and Manhattan Bridges, are incomparable.
All of this makes it even harder to believe that Dumbo used to be both a ferry landing and a warehouse district and was far from exciting. If you had told a New Yorker ten years ago that Dumbo was a neighborhood that would undergo such an extreme transformation, they might not have believed you.
A day in Dumbo is a great day out, and we have the low-down on what to see and where to go.
1. Brooklyn Bridge Park
Many have explored Brooklyn Bridge Park's famous piers in Brooklyn Heights, but did you know the park extends to Dumbo as well? At the northern end of the Brooklyn Bridge Park you'll find the literally named Pebble Beach and rotating art pieces on the Empire Lawn. The area offers a unique a perspective of the New York Harbor, Brooklyn Bridge, and Manhattan Bridge.
"Brooklyn Bridge Park has 6 piers you can visit depending on your favorite activities," says Becky Moore from Global Grasshopper: "Pier 1 with the best panoramic view of Manhattan, Pier 2 with loads of physical activity equipment and games, Pier 3 with vast amounts of greenery for nature lovers, Pier 4 with the beach, Pier 5 with soccer fields and a fishing station, and Pier 6 with volleyball courts, playgrounds, and Governors Island Ferry."
2. Jane's Carousel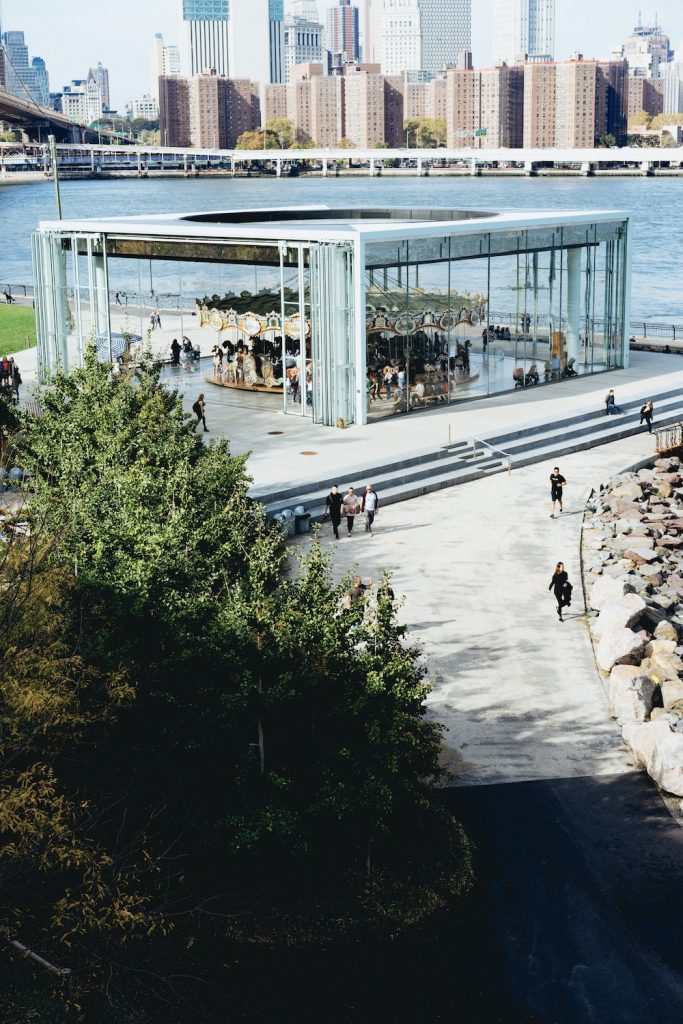 Jane's Carousel, located in the Empire Fulton Ferry Park section of Brooklyn Bridge Park, is a must-do for all ages. Nearly 100 years old, Jane's Carousel was the first carousel placed on the National Register of Historic Places. It features 48 ornate horses in a jewel-box structure originally built by the Philadelphia Toboggan Company. It's since been restored and glistens against the skyline. Tickets are $2 per ride, per person, which makes it a very affordable activity. They even offer package discounts if you plan to go often.
3. Time Out Market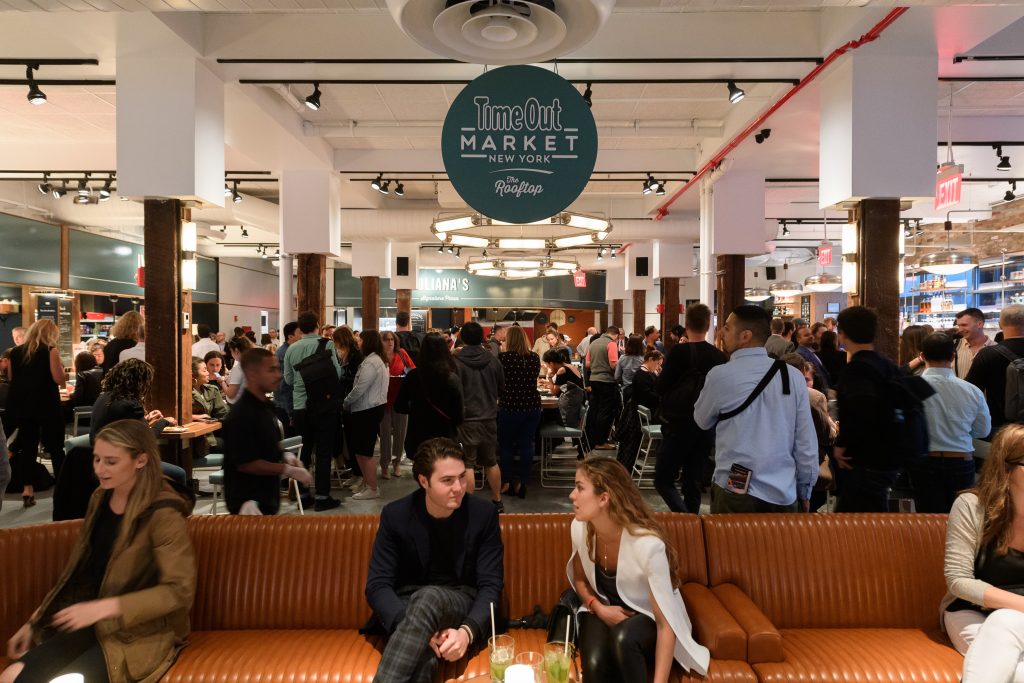 A short walk away, you'll find Time Out Market, a 21,000 square-foot venue with 21 food eateries, several bars, and an outdoor terrace. If you're wondering about its namesake, yes, the market located at 55 Water Street, is the spawn of the trendy city magazine with the same name. If you like the publication's recommendations, you'll appreciate that the chefs and restaurants were all hand-picked and include favorites like Fish Creeks, Mr. Taka, Loco Coco, Juliana's, Breads Bakery, and Clinton Street Baking Co.
4. Jacques Torres Chocolate and Ice Cream
Jacques Torres, the popular chocolatier, started in Dumbo. Specializing in homemade chocolate treats, hot chocolate, ice cream sandwiches, truffles, cookies, bonbons and more, this is the place for chocolate lovers and connoisseurs. Besides, they don't call its owner, Jacques Torres, "Chocolate Executive Officer" for just any reason.
5. AIR Gallery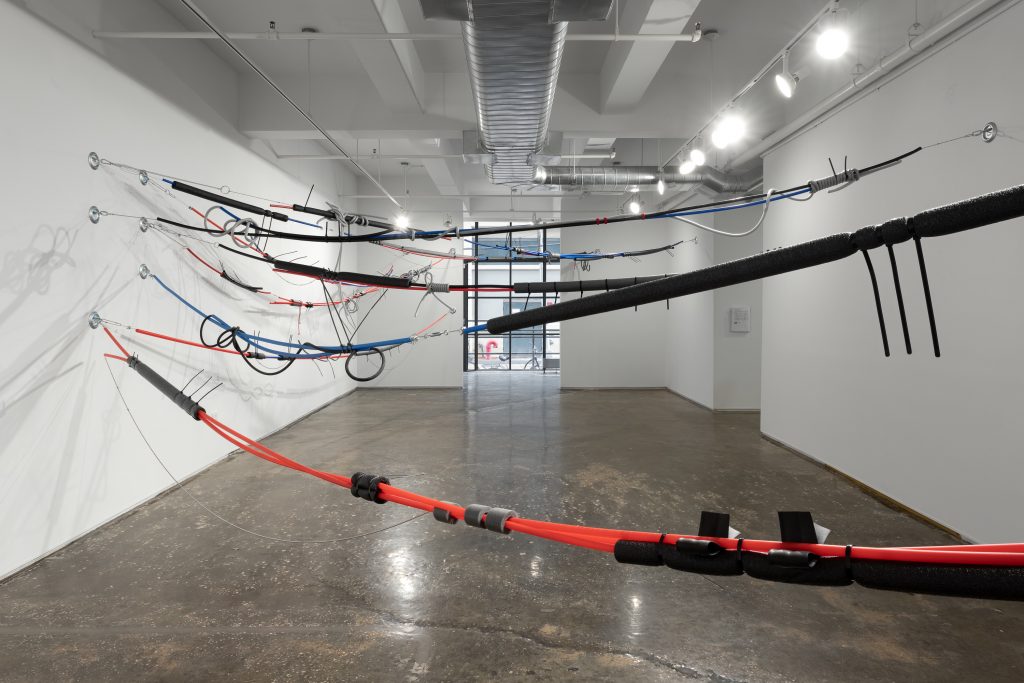 AIR Gallery, at 155 Plymouth Street, is the first all-women artist-directed art gallery in the United States. The gallery consists of 22 New York artists who curate and install their exhibitions. This autonomy gives the artists a sense of control over their media and presentation. AIR Gallery also offers extensive public programming that engages artists of all backgrounds and generations.
6. St. Ann's Warehouse
St. Ann's Warehouse, located in the historic Tobacco Warehouse at 45 Water Street, provides experimental theater and has brought a considerable amount of innovation to the area. In essence, its success has added to the revitalization of the waterfront. They have produced and presented a unique and eclectic body of innovative theater and concert presentations that meet at the intersection of theater and rock and roll, such as Broadway's current and popular version of "Oklahoma!'
How to get to Dumbo: Take the F train to York Street, 4 train to Borough Hall, or the A/C train to High Street. Alternatively, take the B25 bus stops at Fulton Ferry Landing or a water taxi from the South Street Seaport or Pier 6 to Fulton Ferry Landing in Brooklyn Bridge Park, which is a 13-minute walk from Dumbo.
Holly Rosen Fink is a marketing consultant and culture and travel writer living in Larchmont, New York