The rattle of subway trains passing overhead is a constant reminder that Empire Fulton Ferry is city park. While the industrial sites to its East and West and incessant subway noise seal its identity as urban, the swathe of trees and shore of the Hudson River separate it from its surroundings, giving it the feel of a fishbowl at the foot of the city. On a warm breezy day in early September, no one picnicked or tossed Frisbees at the park. Instead, they sat and watched the real gem the park has to offer: an unobstructed view of the Brooklyn Bridge and Manhattan skyline.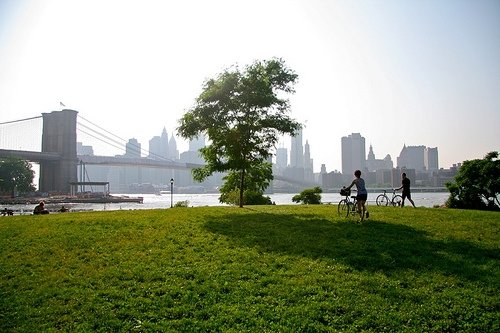 Tucked under the Manhattan Bridge in a corner of Dumbo, Empire Fulton Ferry is a 20-minute walk from the subway. On that same day, the park's shoreline was packed with families, couples taking engagement photos and friends basking in the sun. Kids swarmed the playground and took a ride on the carousel before grabbing an ice cream cone.
One of Empire Fulton's biggest assets is its close-knit relationship with Dumbo. The Empire Fulton area was once famed for being an incubator for artists in spaces such as the former Dumbo Art Center and Galapagos Art Space. Now, you'll find a commercial center at the Empire Stores and Time Out Market. An option for theater still remains at the St Ann's Warehouse and the buildings have also been recognized nationally as historic landmarks, dating back to Brooklyn's seaport days.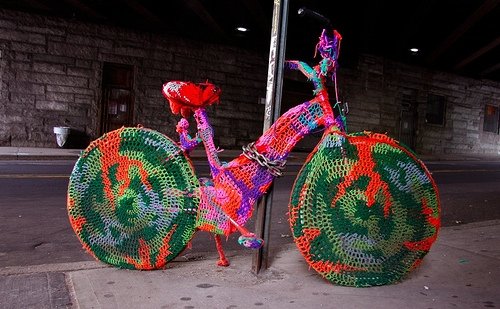 A walk under the Manhattan Bridge and then back to the Brooklyn Bridge yielded a few interesting restaurants, shops, rock climbing and yarn-bombing, making it fair game for a riverside wandering destination in the city.
How to get there: Take the F train to York Street and take a right on Pearl Street. Turn left on Plymouth Street; you will find the park on your right. Better yet, walk or bike over the Brooklyn Bridge and then walk north on Washington Street.
Editor's Note: This article was originally published when the Empire Fulton Ferry park was managed by New York State. It has since been taken over by Brooklyn Bridge Park and the piece has been updated to reflect those changes.