Are you one of the people who used to dream about living in New York City? It was probably an incredible experience. But what about now? With the skyrocketing living costs, overpopulation, and fierce competition, no one can blame you if you want to make your way out.
New York City has been the center of American commerce and culture for decades. But lately, New Yorkers are leaving the city in droves and settling down elsewhere. Some go because they feel like it's getting too expensive. Others hope to escape the Manhattan noise and start fresh with their families somewhere quieter and slower-paced.
If you're planning to relocate, here are six places that have already welcomed and embraced your fellow New Yorkers. One of them can be your new home too!
1. Maine
Nestled on the Northeast tip of the US, Maine offers the complete opposite of the bustling NYC environment. It's simple, quiet, and graciously affordable—the perfect escape if you're looking to slow down and free yourself from a hectic lifestyle.
For starters, the average home in Maine costs only $292,125, which is more than $400,000 cheaper than the NYC median. This stat alone should give you an idea of how affordable it is. But that's not the only thing that'll make you fall in love with the state.
Maine is a nature lover's paradise. You'll find tons of hiking trails in locations like Acadia National Park and Baxter State Park to help take your mind off things. You can also camp at night and watch the Milky Way unfold before your eyes. And if you're a fan of water activities, the state has twelve designated coastal areas where you can fish and relax at the beach!
Maine's low cost of living does come with some drawbacks. It can be challenging to find a high-paying job. Plus, it may be hard for your kids to get into good schools. But if you're looking for peace and safety, this place is meant for you.
2. Washington DC
What could be a better place to house a previous New Yorker than the country's capital itself? Washington DC offers a more relaxed pace of life. On top of that, it's only a 3.5-hour ride away from New York City by train. This short commute means you can still spend leisure time in the Big Apple whenever you want.
If NYC is wealthy in finance, DC is rich in creativity and history. If you're an artist, you'll get to enjoy the wide variety of national galleries and museums as well as numerous theaters that showcase different talents.
More importantly, the education in DC is top-notch. From preschool to tertiary levels, DC institutions always leave a mark on nationwide performance ratings. But it's not a surprise considering the people who run the country live there.
3. Florida
Leaving NYC but don't want to say goodbye to the lively city life? Then Florida is for you. With several bustling metro areas and diverse cultures, this state won't disappoint those who love a good time!
The Sunshine State may not have many mountains or lakes like Maine, but Florida's year-round warm climate makes up for it. The adventure never stops with all its beaches, amusement parks, and festivals.
Featuring a robust tech scene and finance industry, Florida offers the opportunities of NYC minus the insane cost of living! However, it's important to remember that while its economy is snowballing, you should expect a considerable decrease in your salary compared to the Big Apple. Wall Street's financial prowess is too challenging to beat.
4. Texas
People like to say that everything is bigger in Texas. That is true, and that includes the number of New Yorkers moving into the Lone Star State. Austin and its progressive tech scene continue to attract migrants from NYC as well as California. Newcomers enjoy the city's diverse job market, the abundance of amenities, and housing options that can be considered affordable compared to New York standards. In addition, you also get to enjoy many outdoor activities paired with almost 300 days of sunshine. Spend a day lazing around Zilker Park, cycle through miles of Hill Country trails, fish the state's crystal-clear waters, and create memories you never got to experience in NYC!
5. The Carolinas
Another region blessed with stunning natural beauty; The Carolinas offer a satisfying life for those who love the outdoors. Forget those days surrounded by a jungle of concrete in NYC and breathe in new scenery filled with fresh air and wildlife. Beautiful beaches, mountainous terrain, and coastal wetlands—these three things perfectly describe South Carolina. As for the North, you'll find lush forests, bountiful rivers, and lakes dotting the landscape. The Carolinas are perfect for those looking to escape NYC at a cheaper rate while enjoying everything life has to offer!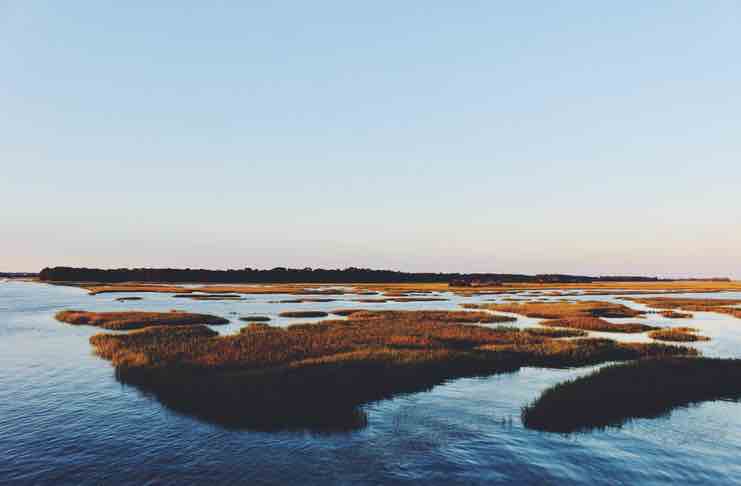 6. California
California might be thousands of miles away from NYC, but hordes of New Yorkers make the leap to the Golden State each day. With an abundance of natural beauty from mountains to beaches, plus cosmopolitan cities like San Francisco and Los Angeles, it's easy to see why many people want a piece of California for themselves. It's like a mirror of NYC but with better views and a promising tech scene. If you don't mind a higher cost of living in exchange for a more laid-back lifestyle and plenty of remarkable sceneries, Cali isn't a bad choice.
Before You Go
Many people who move out of the Big Apple don't know where to start. According to this popular NYC moving company, most of them either overspend or mess up the process of trying to relocate on their own. To save you time and money, don't be afraid to invest in hiring professionals who can make your transition fast and easy.
Want to read more of our latest posts? Check out the best things to do in Dumbo.
Alex is a computer geek, programmer, who loves traveling. Not the usual mix, but Alex is always with his laptop – no matter how high the mountain he's hiking on. On every peak he reaches, he writes a story that captures it all.