Searching for useful camping tips? In this post, we discuss the key things you should do when you arrive at your campsite.
Camping has always been an excellent way to deal with stress for most people. Studies show that 40 million Americans go camping every year alone. Among the statistics are those who camp in tents, cars, RVs, and backyards.
Whether you're camping at one of the best campgrounds in your area, camping in the countryside, or a park near your home, you should understand camping basics: what to bring, what to do, and how to ace the experience. Here's a starter guide to keeping your camping journey more memorable and fun!
What To Do Once You Arrived At the Campsite: 5 Camping Tips
Whether you've been camping for years or starting, there are several factors to include on your to-do lists while outdoors. Backpacking has a different approach to RVing. While some stuff all their essentials for a day camp on their backpacks, camping with an RV and hitting the road has a different story.
There are several preparations when you arrive at the campground which need to be taken care of. Whether a seasonal or regular camper, leveling your RV with blocks or other camping equipment like a stopper or chocks can secure your motorhome in its place when parked in the campground.
If you are pitching your tent, you'll need to arrive on the camping ground on time, where there is still enough daylight for you to clear the area from debris and adequately set up your tent. While you can still do most of the activities at night, the challenge will be twice as expected.
So if you'll be camping in an unfamiliar location, best to arrive while the sun is up and explore later on. Here's what you'll need to do:
1. Ensure all camping things are ready for setup
Anticipating that you'll have a late arrival at the campsite can help you plan accordingly. If you'll arrive and it's already dark, setting up your tent should be less challenging. This means whether you'll arrive late or early, packing the right gear can save you time and improve your outdoor experience.
Organize your camping gear in sections (backpacking) or boxes (RVing) and must be readily available when needed. Access the most important one first. You don't want to scramble all your essentials looking for the tent poles.
Ensure you know where everything is, what you need, and that it's accessible.
2. Ready the camp light
You need a reliable light source when you're in the wilderness and with limited access to energy supply. It's no fun setting up your camping essentials while it's dark. Camping lanterns and flashlights are a must-have. Make sure that your light source is packed in your camping gear.
Tip: Let other campers bring their flashlights or light source during a camping trip.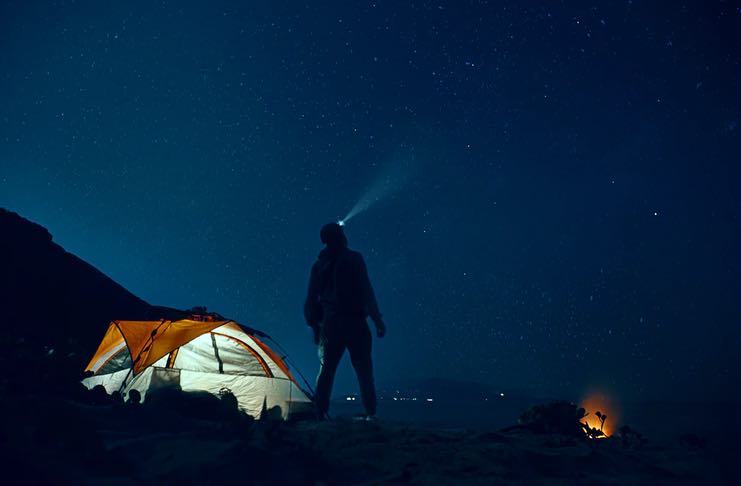 3. Setup your bonfire
This is probably the most fun of all camping tips. Bonfires are one of the best highlights of a camping trip. Tired after a long drive, the bonfire is a must-try for every camper—however, remember to check with the campground rules or policy when setting up a bonfire. If you don't know how to set up a bonfire, learn it from a guide beforehand.
Besides a reliable light source, it keeps the camping spirit burning. This also improves your mood, and if you need to prepare a quick meal, the fire can serve its purpose aside from keeping you warm at night.
4. Give tasks to other co-campers
Setting up your camp can be a significant task unless you divide the tasks with everyone. If you'll be setting up a camp and it's already dark, you'll want to do it as fast as possible. To succeed, you'll need assistance from everyone.
You may be responsible for pitching the tent, while others can unload the camping essentials, set up the kitchen, prepare the foods, and more. Everyone should be accountable for their camping essentials.
5. Mind the neighbors
This is one of those camping tips that usually gets ignored and then leads to unnecessary quarrels (and even fights). After a tiring day, everyone wants to enjoy the outdoors and relax. You'll need to be mindful of your neighbors and avoid making unnecessary loud and bothering noises (unless you'll be camping alone in a remote area). If you arrive late at night, be mindful of everyone on the campsite trying to enjoy the quiet night or prefer sleeping after a long drive.
Planning A Camping Trip Like A Pro
The best way to improve your camping experience is to plan ahead of time. This will help you identify what is essential. There are several factors to help you out, including:
Deciding what to bring and activities to do during your camping.

What activities to do

Backpacking or RVing

Camping in style or freestyle rough camping

Solo or with someone
Campsite reservation is essential. Check top suggestions

Read campsite descriptions to manage expectations.

Call the site for details, concerns, or address

Availability and accessibility
Packing all essentials

Check camping essentials

Temporary shelter—tent

Sleeping situations and essentials—pillows, sleeping bags. mats, mattresses, and more
Final Words
I hope you enjoyed these camping tips above, and that you'll remember to implement them. You should know what to do first when you arrive at your campground. Arriving early or late, you should be considerate of other campers. Bringing with you the right camping essentials and gear can improve the quality of your camping experience. Additionally, it's essential to take advice from someone who has experienced the wilderness and camping close to nature to help manage your expectations.
Want to read more of our camping posts? Check out our tips on how to get your family excited about nature while camping.
Alex is a computer geek, programmer, who loves traveling. Not the usual mix, but Alex is always with his laptop – no matter how high the mountain he's hiking on. On every peak he reaches, he writes a story that captures it all.