Planning a camping trip but struggling to get the kids excited about it? Although most children revel at the idea of spending time in the outdoors, there is also a small fraction of tots that find camping boring or unappealing. If you're looking for ways to get your little one stirred up about nature, then this is the article for you. Today, we have a look at 7 ways to get your family excited about nature while camping, so read on to find out more!
Family Camping Tips To Get Your Kids Excited:
1. Involve Them in The Planning
One of the best ways to get your kids excited about their trip to the wild outdoors is to involve them in the planning stages of your family camping trip. Giving your little ones the autonomy to pick their favorite campsite is one of the best ways to get them excited about their outdoor adventure. Select your top three choices and then let the kids make the final decision on your camping destination. You could even let them pick their favorite tent, camping equipment, sleeping bag, and snacks to bring along on the trip to keep them feeling involved and enthusiastic about the great outdoors.
2. Bring Some Friends Along
Kids love sharing experiences with their friends, and bringing a few of your child's buddies along is one of the best ways to get them excited about their outdoor adventure. Do keep in mind that you will need to keep other parents informed of your plans, location and activity schedule in order, and don't forget to make it easy for them to get in touch. Alternatively, you could plan for a shared camping trip with another family which will offer double the fun for all. Exploring through nature and taking in the sights and sounds of your chosen campsite will be that much more exciting for your kids with the company around!
3. Teach Them How To Build a Fire
Building a fire is a camping skill that everyone should master, and the same goes for your children. By teaching your little ones how to build a fire from scratch (and without the help of flint or a lighter), you'll not only be giving them a science lesson but you'll also get them to understand the wonders and beauty of nature.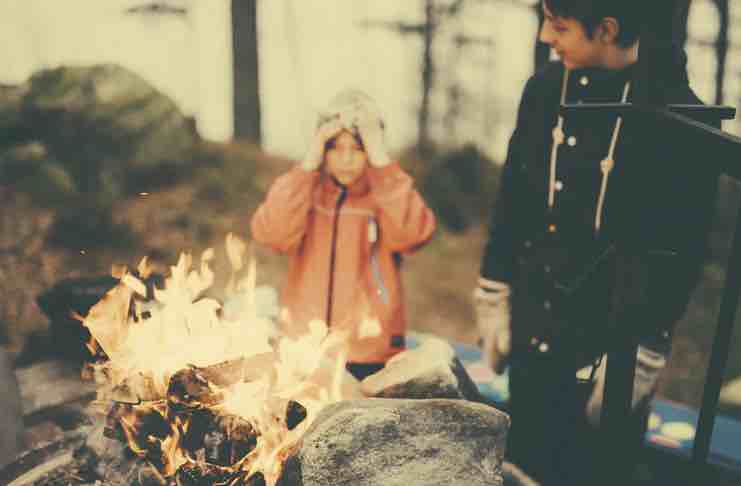 4. Plan A Treasure Hunt
A nature-oriented treasure or scavenger hunt is something that almost every child is sure to love. Children naturally have the urge to explore, and coming up with ideas on what to search for on a scavenger hunt is a simple job that will reap a bounty of benefits.
When planning your scavenger hunt, remember to keep the kids' interest a high priority. With a little help from the adults, your team of scavenger hunters will be both entertained, engaged and full of wonder until every item gets checked off the list!
5. Plant Something
Part of enjoying nature is also understanding the ecosystem. By allowing your kids to plant something on their family camping trip, you'll be able to teach them about plants, life, nature and stewardship. Bring a couple of seeds, a small spade and a few other bits and bobs and then let the kids go wild. By giving them the responsibility of watering their seedlings during the entire duration of your camping trip, you'll also be instilling a sense of responsibility and pride when they witness their plant growing.
6. Utilise Photography
Kids these days cannot live without technology, so why not kill two birds with one stone and allow your child to explore their photography talents on your camping trip. If you're wary about letting your child handle your phone during the trip, purchasing a disposable camera is a fantastic alternative. Tell your kids to take photos of any interesting plants, trees, or animals they see and create a scrapbook at the end of your trip that they can feel proud of!
7. Choose A Good Time Of The Year
Poor weather has the potential to dampen the mood for kids and adults alike, which is why picking the best time of the year to go camping with the kids is so important. The ideal camping experience should be during a time when there is plenty of sunshine and no signs of rain, heavy wind or snow. Ensure that your camping site of choice isn't too hot or too cold and be sure to have contingency plans should the weather shift all of a sudden.
___________
Getting the family excited about nature while camping isn't as daunting a task as it may seem. We hope that this article has equipped you with a few new ideas that will get your kids excited for their glorious family camping adventure.
Want to read more of our latest articles? Check out our list of foods and drinks you should try when you're in Queens.
Alex is a computer geek, programmer, who loves traveling. Not the usual mix, but Alex is always with his laptop – no matter how high the mountain he's hiking on. On every peak he reaches, he writes a story that captures it all.