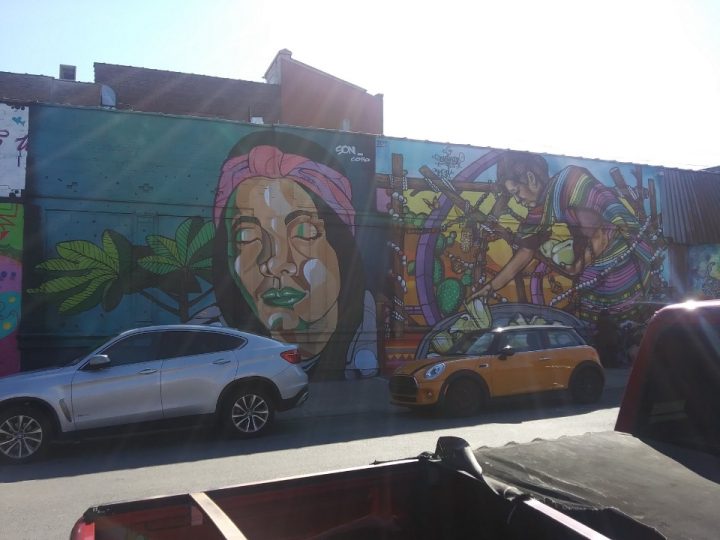 On a warm Sunday afternoon in the beginning of March, I stand on the subway platform at 14 Street and 6th Street in Manhattan, waiting for the train to take me into Brooklyn. Despite the normal 20-minute delay characteristic of the L-train on weekends, luck is on my side, as I only have to wait for five until the beaten-down silver set of cars comes rattling down the track.
Little did I know such trains were the stepping stone of the development of street art in the late 1980s. I would find out soon enough, though, as I step off the train at Montrose, only a 15-20 minute ride away from Manhattan.
Graff Tours kicks off in a run-down art studio in the middle of the industrial area of Bushwick, where street art prospers to this day. A strong smell of paint fills the air as I enter the small room, where I am greeted by Eddie and Gabe, the two organizers of the tour, both of whom happen to be artists themselves. The former will be my tour guide, while the latter will stay behind at the studio and conduct a street art workshop, a feature unique to Graff Tours.
After a brief introduction to the history of street art in New York, during which the aforementioned train art is emphasized, Eddie takes us out into the street, where we are immediately greeted by a number of murals. We do not move much for the first twenty or so minutes of the tour, because there is simply no need to: the entirety of Montrose Street provides different examples of street art, from stencils to free spray paint and tagging.
The very first piece we see is a rather haunting image of a clown on a wall done by Eddie himself, with the fire alarm conveniently making up the clown's big round red nose. We move on to a high up mural featuring a multicolored woman; she embodies every color of the rainbow from red to purple.
Further down the street is a mural commemorating the advocacy of LGBTQ rights, created to celebrate the 50th anniversary of Gay Pride Day in 2019. Gigantic block letters spell out "love" next to a heart that is outlined by a rainbow.
We venture a bit further on our Brooklyn Street art tour and see another mural by Eddie, a collaboration between him and a couple of other artists. Eddie's characteristic Grim Reaper image is adorned with his tag "Staff 161," covering the entire wall space of the small deli that flanks it. The Grim Reaper was one of the first characteristic images to be drawn on the subway trains back in the 80s, and, according to Eddie's Instagram, reflects the uncertainty of life and death that everyone has to go through every day, regardless of who they are.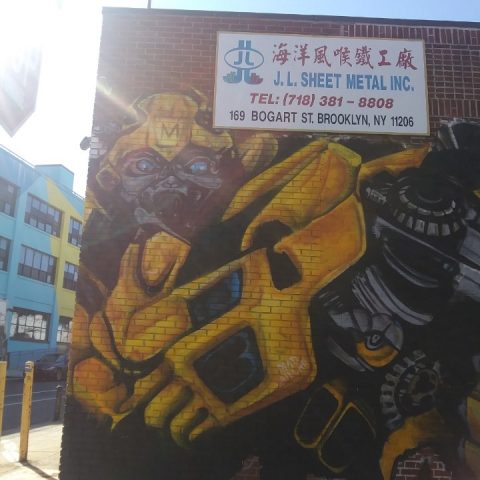 Eddie then takes us further away from Montrose Street, stopping to admire a painting of a camera on a tripod, which was drawn by using different sized nozzles to emphasize the details, every line, and every shadow. We also see a mural depicting the popular Transformers character Bumblebee, which naturally pulls a lot of attention.
As the tour goes on, we drop by Bogart Street, where three artists are currently working on a mural while blasting Latin music from their speakers piercing the otherwise quiet Bushwick neighborhood as we pass them. We also pass a couple of large square buildings, which Eddie says is loft space for aspiring artists.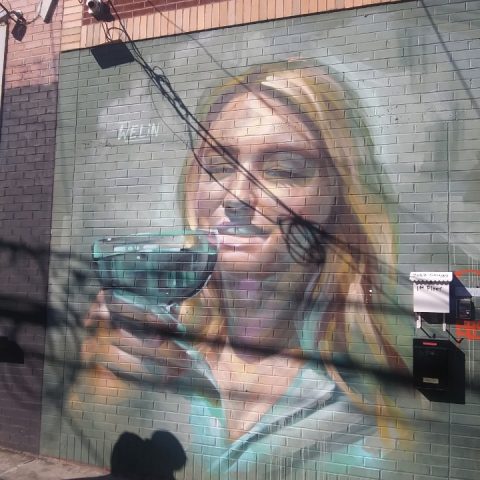 The final twenty or so minutes of the tour is spent looking at characteristics that set different pieces of art, and artists, apart. One painting is that of two hands that are split by using tape, which I assume is a form of stenciling, a technique that is quite common in the Brooklyn street art scene. Another uses different shades of paint to illustrate the image of a blonde woman bathed in the glow of sunlight.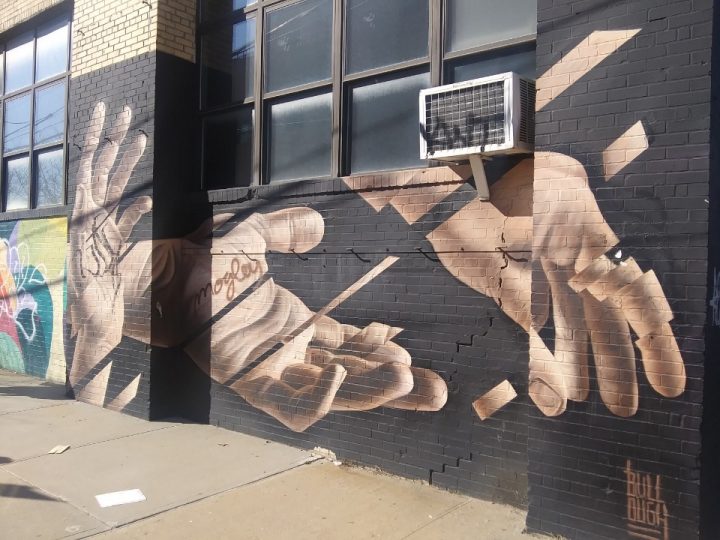 We round off the tour with a couple of my favorites: an image of Captain America which was done by a hired artist for commercial reasons, and one depicting a gigantic Hercules beetle, whose big horns I am quite fond of.
Finally, Eddie takes us back to the studio, after letting us take in a lot more street art than I have ever seen in my entire life. As I thank him and embark on my journey home, I find myself noticing the sheer number of murals that dot the short walk to the subway station.
Fast forward an entire week, and I am still noticing street art in various forms and colors all around the city wherever I go. That tour in Brooklyn was anything but forgettable, and I learned a lot from it that I wouldn't have been able to elsewhere. Where would I have learned the difference between vandalism and art, or the various techniques that are used to produce the latter? Yes, the internet may teach me some things, but sometimes a picture is worth a thousand words, and those pictures can be found in a quiet neighborhood in Bushwick.
Enjoyed this post? Love Art like we do? Check out these posts:
LUMA: A Projection Art Festival Lights Up Binghamton
A Walking Tour of Poughkeepsie's Art Scene
Baltimore's Light City Festival Shines
Teddy Son is a writer who's dabbled in a variety of different fields; local news, museum exhibits, luxury establishments, sports, and so on. Travel has always been a passion of his: he's been to eight different countries in three different continents, and has loved exploring everything different places have to offer. Outside of writing, he hails from the glorious nation of South Korea, and is a huge FC Bayern Munich fan.