Boarding the Vermonter in NYC, it may be hard to resist hopping off in Waterbury or Burlington. Yet at the line's terminus you'll find yourself in the quaint and quirky city of Saint Albans.
From the moment you step off the train, the town's history as "Rail City" is on display in the architecture of its 19th century train stations, curated selection at the local bookstore and museum exhibitions.
Yet, history is only a part of what makes Saint Albans special. The city honors craft beverages through coffee, beer and mead, offers an eclectic shopping experience, and is the home to arguably the best kettle corn in the country.
Worth a trip up North, Saint Albans offers a weekend getaway filled with shopping, history, and the great outdoors.
What to do in Saint Albans, Vermont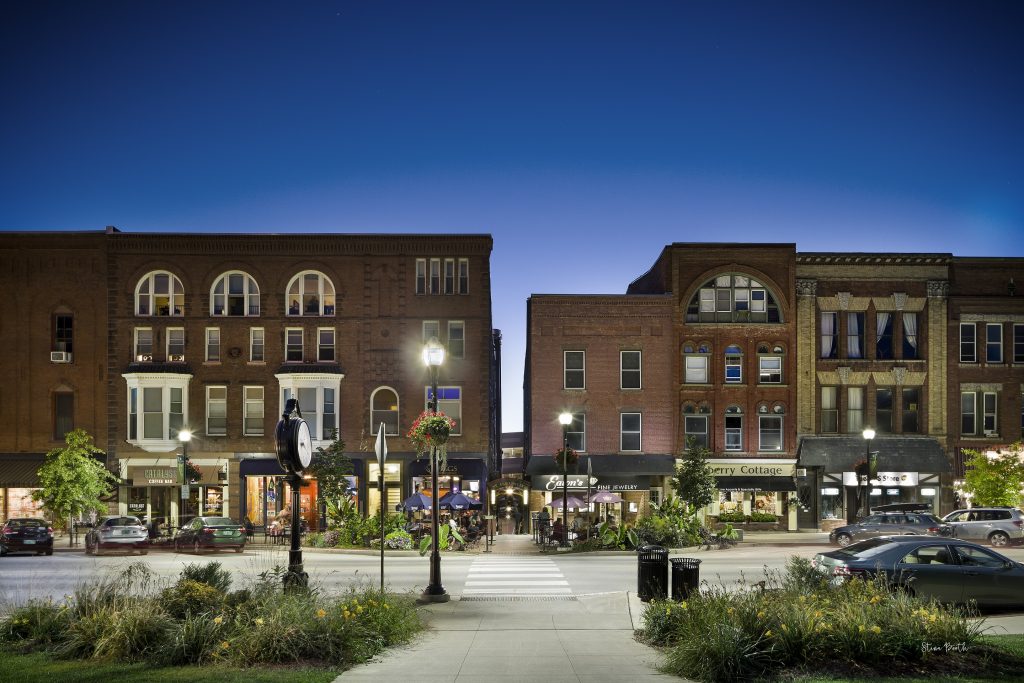 No matter the season, there's always a reason to get outdoors in Saint Albans. At Hard'ack Recreation Area,running races, a small ski hill and even guided hikes are offered throughout the year. And the well-maintained Missisquoi Valley Rail Trail begins in Saint Albans and heads Northeast for over 20 miles to the border with Canada at Richford, Vermont. If you are hoping to take on this human-powered adventure by bicycle, make sure to bring your own bike on Amtrak (insert hyperlink here?)
For a more leisurely exploration of the area, head to the Saint Albans Museum ($6/adults, $3/children) for a primer on the military, social and economic history of the region. From exhibitions on the Civil War's Saint Albans Raid to the area's long love-hate relationship with the railroad, you will be sure to take home a deeper appreciation for the town and its car-free access. While the museum's main exhibits are only open seasonally from June through October, they do offer lectures and other programming throughout the year.
The local art community of St. Albans is on display at the Artist in Residence Gallery on Main Street (Tuesday through Saturday ?10am-5pm). Each month, the gallery highlights a handful of local artists of various disciplines. Those visiting on the first Thursday of the month can join the artist's receptions for free!
Saint Albans' Shopping
Wandering downtown and popping into the local shops is a fantastic way to not only find a classic Vermont keepsake to bring back to the city, but also to meet local shopkeepers and truly get a sense of the community. At the Eloquent Page, you'll be able to explore both new and old titles stacked high on the town's cozy bookstore. Crowded with boots and beads, consignment shop Fashion $centz offers an ever-rotating array of fashion finds, even if it does require a bit of rack digging. If you're looking for home goods, head to As the Crow Flies for colorful mugs and lively aprons or Vintage Therapy for one of a kind pieces, hand-picked by the owners. The most unique shop in town, the Frozen Ogre, is a joyful experience for the mind and stomach. Browse their shelves of games and toys, grab a frozen yogurt, or stay awhile and play a hand in their game room.
Saint Albans' Restaurants & Eateries
Start your day in Saint Albans with a strong cup of locally brewed coffee at The Traveled Cup on Main Street. For those looking to talk the details of roasts, beans and brews alongside your espresso, head to Catalyst Coffee Bar. Catalyst is conveniently adjoined to Red House Sweets for your morning croissant. For a spot with both baked goods and fresh sandwiches head to Evelyns On Center where local ingredients make up for the lack of seating.
For dinner, head to the Old Foundry which serves up elevated comfort food in a pub setting or Mimmos Italian, where homemade pizzas and pastas offer an affordable, but no less delicious dinner option.
And of course, a trip to Vermont isn't complete until you've stopped by a local brewery. 14 Star Brewing, located right downtown, is where you'll find creative flavors and recently awarded brews. Taste a few of their craft brews as part of a flight, enjoy a full pint or take home a growler or crowler of your favorite beer.
Insider's Tip:
While you're in town, stop by the seasonal farmer's market to try to nab the unbelievably delicious Green Mountain Kettle Corn and locally-brewed Groennfell mead. If you can't make it, Rail City Market offers local products including the kettle corn.
Where to Stay in St. Albans
If you can, book a room at the Back Inn Time Bed & Breakfast for a night in a cozy Victorian inn with friendly hosts and delicious home-cooked food. The physical building is unique and the entire experience filled with Vermont charm. Families will enjoy the multi room suite called "The Loft" ($149 to $235 per night plus tax.).
Hilton Honors members will enjoy the Hampton Inn Saint Albans, which is conveniently located across the street from the train station and offers all the usual amenities like free breakfast and a fitness center. Both spots sell Groennfell mead on-site.
Take the Vermonter from NYC
Take the Amtrak Vermonter from Penn Station to its terminus at St. Albans.
For more ideas on where to stay and what to do, head to VermontVacation.com.
Sarah Knapp is a Brooklyn -based entrepreneur whose love for the outdoors and community building led her to the October 2013 creation of OutdoorFest. She has a BA in History, is a Wilderness First Responder and a NY state hiking, camp and boating guide. Her proudest achievement to date is reading the Aeneid in Latin.