For six days in 1969, young lesbian, gay and transgender individuals demonstrated in response to a police raid made on the Stonewall Inn — a staple bar in the underground gay community — in Manhattan's West Village. Later known as the Stonewall Uprising or Stonewall Riots, the raid and subsequent rebellion was a major statement in which the LGBTQ community stood up for their freedom.
This June marks the 50th anniversary of the Stonewall Uprising. For the first time in the US, WorldPride 2019/Stonewall50 will be paying homage to this turning-point in our nation's history. During the course of the month, over 50 events will draw people from around the globe to learn, celebrate, have fun and make a statement in a time where equality is not a certainty.
While the epicenter of the official events slated for WorldPride 2019/Stonewall50 is in New York City, there are also plenty of satellite events planned across New York State. Many are family-friendly, presenting parents with an opportunity to inspire a passion for human rights and social justice for all people, including the LGBTQ community.
Family-friendly Pride Events on Long Island: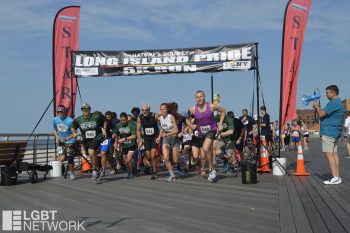 Long Island, the birthplace of Harvey Milk, celebrates Pride on the Beach from June 21–23 when 30,000+ people will flock to the beachfront destination for dozens of LGBTQ events. On June 22, there's a 5k Pride race on Long Beach's boardwalk, which is is easy to reach via the LIRR. On June 23, Long Beach will also host the 29th Annual Long Island Pride Parade alongside the Pride Market Fair, featuring hundreds of vendors selling their wares all day.
On June 25, head straight from the beach to the vineyard for Pride on the Vines. This one-day event on the North Fork's picturesque wine country will include tours, tastings, receptions and parties.
Pride Events in Westchester: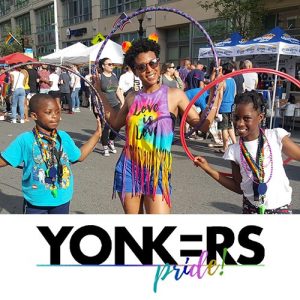 An easy day trip from the city, Westchester County is hosting two festivals and special events for Pride. White Plains' Westchester Pride Festival (June 2) and the 2nd Annual Yonkers Pride (June 7-8) will both feature family-friendly entertainment, food, vendors, advocacy booths and more. Caramoor Center for Music and Art and Hudson Valley Shakespeare Festival have teamed up to offer ticket discounts and an LGBTQ+ Night, while Hudson River Museum kicks off Pride month with a special reading of Doric Wilson's groundbreaking Street Theatre.
WorldPride in the Capital Region:
If you haven't visited Albany, the time is ripe to discover its charms.
Presented by the Albany Symphony, Sing Out! New York is a music festival of free and ticketed events honoring equal rights.
The five-day American Music Festival, scheduled for May 28-June 2 in Troy, will feature performances by David Del Tredici's Pop-Pourri, as well as John Corigliano's Symphony No. 1, "Of Rage and Remembrance," a tribute to those lost to AIDS. Both Del Tredici and Corigliano are fierce advocates for gay rights as well as renowned composers.
The Sing Out! New York Festival also includes a regional tour of free, outdoor concerts from June 6-9, which will highlight events like the Stonewall uprising, WorldPride 2019 and the women's suffrage movement, showcasing New York State's role in social justice movements.
Celebrating Civil Rights in the Hudson Valley:
On June 27, reflect on global civil rights at Picnic with the Roosevelts: A Human Rights Celebration in Hyde Park, just north of New York City in the Hudson Valley. The event will feature self-guided tours of the President Franklin D Roosevelt National Historic Site, FDR Presidential Library and Museum and the Eleanor Roosevelt home at Val-Kill.
A talk about Eleanor Roosevelt's life and human rights work and a Hot Dog Summit Lunch, a recreation of a 1939 dinner at which the Roosevelts served hot dogs to King George VI and Queen Elizabeth of England, are highlights.
Metro-North makes it easy to get here.
Pride at Niagara Falls:
Celebrate WorldPride and Stonewall 50 at a natural wonder, Niagara Falls. Pride at the Falls on July 5 features a free concert by the Buffalo Philharmonic Orchestra, along with fireworks and the Falls lit in rainbow colors.
You can ride Amtrak from Penn Station to Niagara Falls.
WorldPride in Buffalo, NY:
Buffalo's Pride Festival is set for June 2 from 1-7 pm. Food, activities, live performances and more are scheduled to take place Canalside. You can ride Amtrak to Buffalo.
Images courtesy of Visit Westchester and Discover Long Island.
Allison is a native New Yorker, who has lived in Rome, Tuscany, Melbourne, Toronto and Los Angeles. She frequently contributes travel pieces to Family Travel Forum, using her own children as guinea pigs as they travel the globe. She is fluent in Italian and Spanish and laughably adequate in French. Her background as an Early Childhood Educator gives her an added understanding of what it takes to travel with kids in tow. She firmly believes that the most important part of education takes place outside of the classroom, on the road, around the world. She never misses a chance to sample local delicacies, as her love for travel goes hand-in-hand with her love for food and wine. Follow Allison at @gourmetrav.