Albany has long been associated with power and grandeur. Since 1797, the capital city has been home to famed politicians and writers who have made their mark on both state and national history.
Yet, Albany isn't a place stuck in the past, but rather a city that honors its history while cultivating contemporary events, exhibits and active transportation. Revolutionary War-era sites can be viewed as you pedal between breweries, and a tour of the city's most famous building — The New York State Capital — can be paired with a viewing of an original Jackson Pollock piece.
It's this mix that makes Albany so special. The historic architecture and bustle of the state assembly remain but now serve as the backdrop for a city full of modern art, seemingly limitless events and adventures around every corner.
The Art of Albany
A free tour of the New York State Capital is the best place to start discovering art in Albany. As you learn about the history of the local government, you'll ascend a majestic stone-carved staircase and stand underneath an impressive mural by painter William de Leftwich Dodge.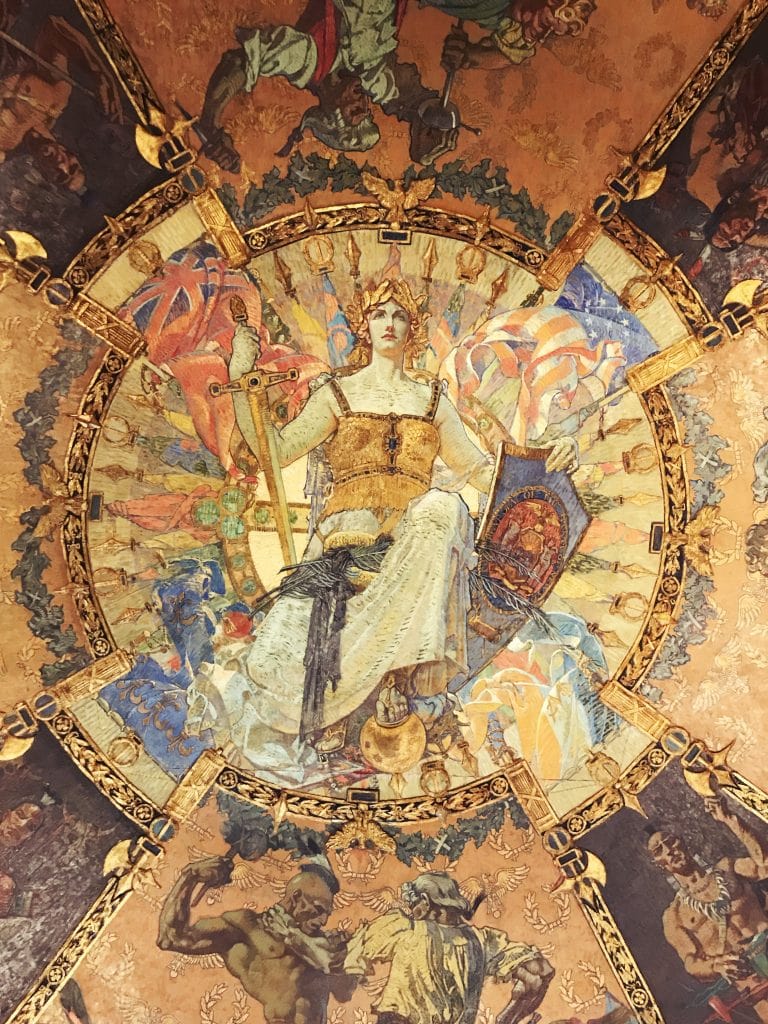 You don't even have to step outside as you transition from 19th to 20th century art. As you walk down the main concourse of the Empire State Plaza Building (home to the Capital), you'll start to notice that the walls become less stark and bare. The state's collection of abstract impressionism includes over 92 pieces and is even home to a striking Jackson Pollock. Free and open to the public, the Modern Art Collection of Empire State Plaza also extends to a second floor where paintings make way for indoor and outdoor sculptures.
For a more formal art education, head to the Albany Institute of History & Art , where ongoing exhibits include an entire wing of Hudson River School paintings and a section dedicated to Ancient Egypt. The second oldest museum in the country is also home to other rotating exhibits; currently a series of shadow drawings, formed by meticulously hung wire sculptures. Shape and Shadow: The Sculpture of Larry Kagan (who is, notably, an Albany native) is worth a visit upstate on its own.
Incredibly, the Albany Parking Authority also has its hands in bringing art to the public and has, in coordination with Albany Center Gallery, taken the helm in commissioning street art throughout the city. Currently, eight parking garages in the city are adorned with murals by artists such as UK-based Nick Walker.
Eat & Drink
Fuel up for your jam-packed days in Albany with a stop at Stacks Espresso Bar where a large, airy cafe awaits with aromatic espresso, pastries, and art-adorned walls. For those visiting on a weekend, Albany's go-to brunch spot is the Iron Gate Cafe. Here you'll find elevated versions of your breakfast favorites like an egg scramble that includes spicy cornbread or french toast with brie. For dinner, head to the most famous restaurant in town, Jack's Oyster House which offers exquisitely prepared surf and turf in a historic setting.
Craft beverage drinkers should head to the Warehouse District, located just a little over a mile from downtown Albany and accessible by foot, bike or the CDTA 22 bus. Here, you'll find Fort Orange Brewing Co., The Albany Distilling Co. and Nine Pin Cider. The cidery regularly offers 18 taps with everything from their classic Ginger Cider to experimental limited edition mixes with seasonal ingredients. Notably, 100% of their apples come from New York State with a focus on sourcing from the Capital Region & Hudson Valley.  In the warmer months, use two wheels to visit Nine Pin and receive a pedaler's discount on your drink.
For those trying to taste and drink it all, grab a passport to the Capital Craft Beverage Trail where you can earn prizes for visiting multiple affiliated breweries and distilleries.
Year Round Events in Albany
Ongoing:
The New York Writers Institute at SUNY Albany is the city's go-to spot for lectures, workshops and readings dedicated to elevating writers and creating a community around literature. The programming mixes traditional structures, like lectures, with more relaxed events such as their new Moby Dick Book Club, which offers book discussions alongside Melville inspired beer. Come one, come all, at the Writers Institute, culture is for everyone.
Spring: Noted as one of the best spring events on the East Coast, the Albany Tulip Festival offers a way to dive into the season with tulip displays, live music, Dutch history and (hopefully) warm weather.
Summer: One of the key spaces for summer programs in Albany is the gorgeous Empire State Plaza, where locals and visitors alike can enjoy outdoor movie screenings, live performances and farmers markets for free.
This summer, Albany is making it easier to connect with the history of Alexander Hamilton through their new Hamilton in Albany series. Head to Schuyler Mansion State Historic Site for a tour or check out "The Schuyler Sisters and Their Circle" exhibit at the Albany Institute of History & Art, which focuses on the sister's impact on American politics.
Fall: Launched in 2018, the now annual Albany Book Festival, takes over the University at Albany every fall. Last year brought 5,000 people and over 100 authors to a weekend of events and this year (September 14th) promises to be even more robust.
Sleep
Check in to the Morgan State House, a bed and breakfast set in a historic brownstone in the Washington Park neighborhood. At this inn, stately furniture is complemented by high speed wifi, giving it an elegant yet modern feel. The inn is an excellent place for travelers looking to connect with other visitors, as the parlor and dining area offer comfortable spaces to chat and relax.
For an easy place to lay your head, try the Holiday Inn Express, which has the notable designation of being the first (and currently only) hotel in the city that offers a free shuttle back and forth from the Amtrak station. Those taking the bus from NYC can actually walk to the hotel from the bus depot. Meanwhile, downtown Albany is a few minutes walk from the hotel. Their free shuttle also offers rides within 5 miles of the hotel, making your car-free weekend even easier.
Get Around the City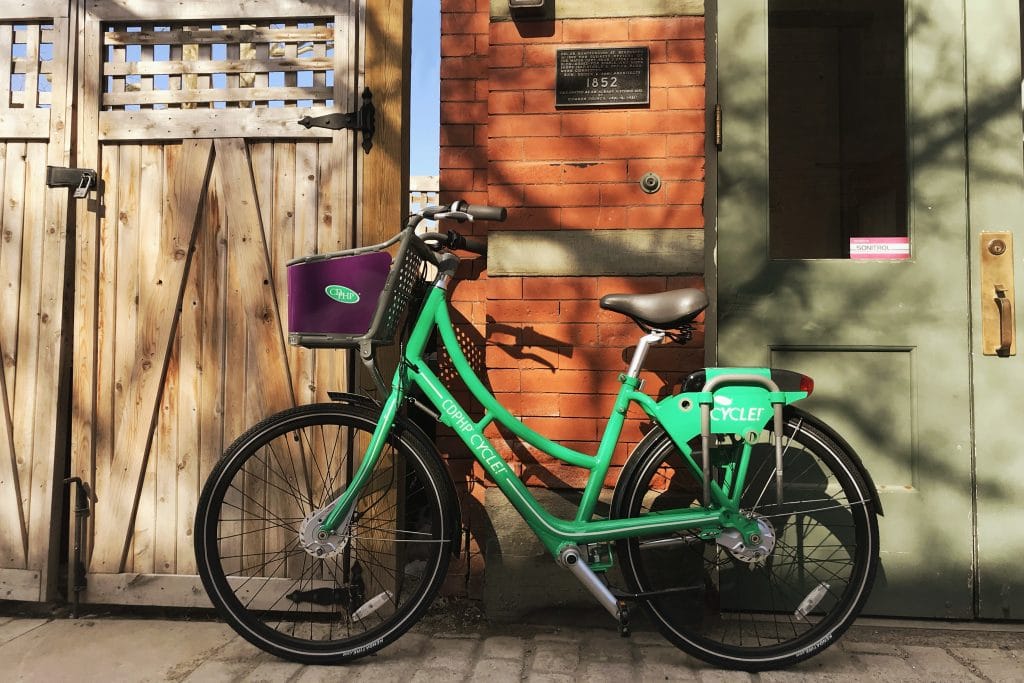 In the summer, the CDPHP Cycle program offers $5 an hour bike rentals throughout the city. Their app allows you to find bikes and park them anywhere within the city radius when you're finished. A newer initiative in town is the free Capital City Trolley, which runs Thursday-Saturday 5:00pm – 12:30am and connects visitors with key dining and drinking establishments downtown.
Take Public Transit from New York City to Albany
Take Amtrak from Penn Station to Albany Rensselaer approximately 2.5 hours. Tickets start at $50 each way. Greyhound also has a New York City to Albany route for $20.
From Rensselaer, head to downtown Albany by cab or Lyft (approximately $15 and 10 mins) or take the bus  ($1.50, 30 mins). Those who are  staying at the Holiday Inn Express can get a free shuttle ride from the station to the hotel.
For more ideas and itineraries, visit Discover Albany.
Sarah Knapp is a Brooklyn -based entrepreneur whose love for the outdoors and community building led her to the October 2013 creation of OutdoorFest. She has a BA in History, is a Wilderness First Responder and a NY state hiking, camp and boating guide. Her proudest achievement to date is reading the Aeneid in Latin.