If you're looking for a clean, accessible beach less than an hour from Manhattan, hop on the LIRR to Long Beach. The five miles of pristine Long Island sand attracts big crowds, so pack your towel and sunscreen and join the party.
Get Outdoors
If you want to learn to surf, Long Beach should top your list. The waves are cleaner, less crowded and better than in the Rockaways. Although the surf is small in the summer, the crumbly waves are ideal for beginners to learn the basics before large swells roll in around early September–when distant hurricanes create the ideal conditions–and you can really start to enjoy the show.
Skudin Surf has a tent down on the beach with private and group lessons offered throughout the summer. One-day surf camps for adults are $105, and include pop-up stance instruction on the beach, ocean safety, and surf etiquette; five-day sessions are $445. Groups with less than four people pay $75 each for just over an hour.
Eats + Drinks
The town is filled with good places to eat, just steps from the LIRR station. Your new favorite slice is Gino's Pizza, which is just as good as anything you'll find in Brooklyn (sorry). If you want to maximize your time in the sun, hit the Shoregasboard, a group of food trucks from various well-loved Long Beach restaurants including SwingBellys BBQ, Lido Beach Kosher Deli and many others. It's located off the boardwalk at Riverside Blvd. When you feel the need for caffeine, Gentle Brew Coffee has a cart on the boardwalk serving up some delicious cold brew coffee. Check out our Guide to Drinking Like a Local on Long Island.
Insider Tips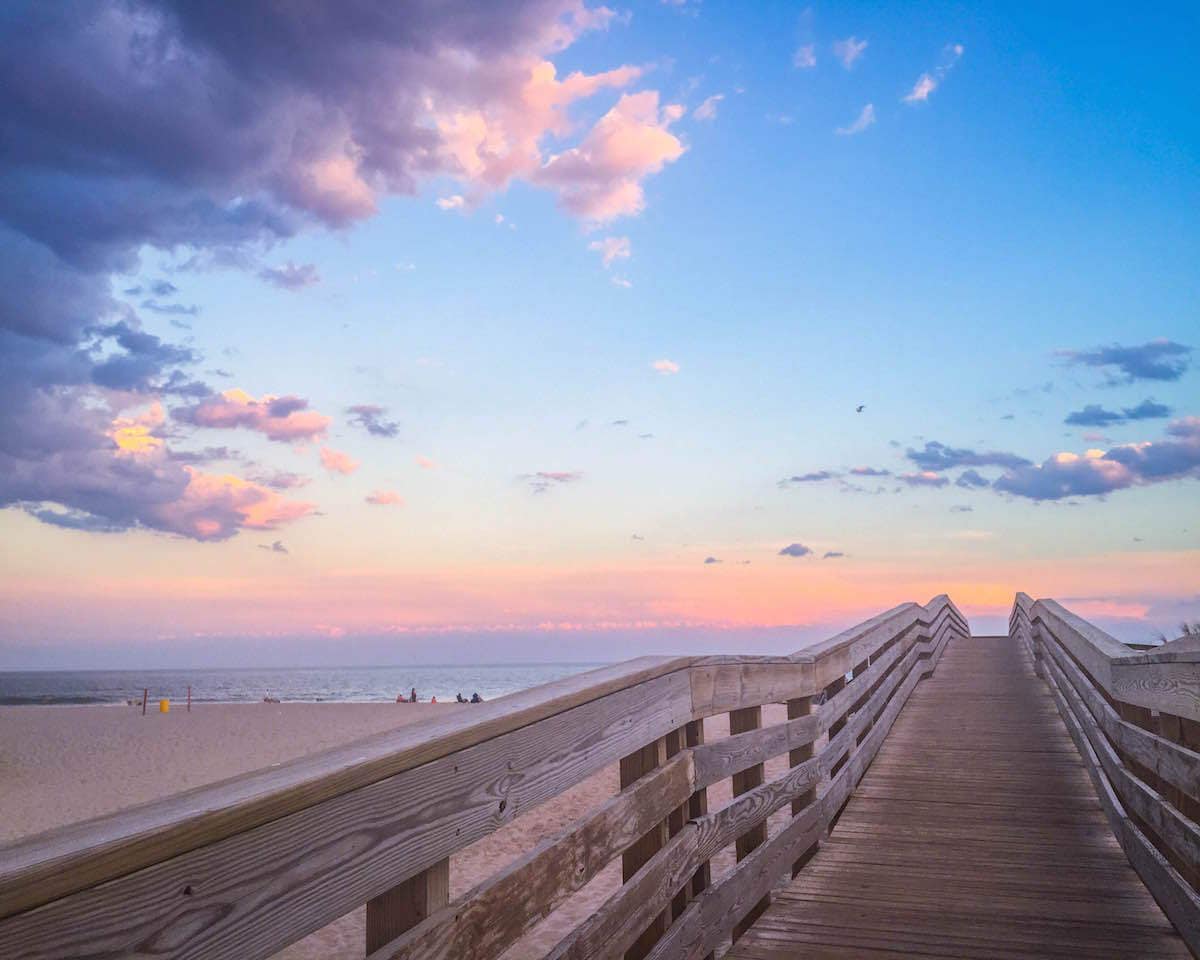 Once a sleepy suburb, Long Beach has been undergoing a transformation in recent years. Spend the night at the sleek Allegria Hotel and you'll get ocean views along with modern comforts. Catch one of the 40 film screenings at the Long Beach International Film Festival, held each August. Cyclists will be delighted when they see the newly renovated boardwalk with ample space for a breezy ride on a SoBi bike share cruiser.
How to get here on the LIRR
Take the LIRR from Penn Station or Atlantic Avenue to Long Beach. The trip takes a little under an hour and it's a short hop to the beach from the station. A day pass for the beach costs $15, which might seem steep but guarantees you a debris-free and barefoot-friendly day out. The National Resources Defense Council ranked Long Beach among the cleanest beaches in the U.S. (and the best in New York). Beach passes are payable on arrival or through the LIRR, which sells a combined rail and beach pass for $26.25. For more details on where to enter the beach, visit the Long Beach website.
For more aquatic adventures near NYC, check out our car-free beaches guide.
Photo credits: Allison Arnone and Brian Shannon
Gordon Macrae is a travel writer based in Brooklyn. He is currently writing a travel guide to the beaches of New York City and around. He is less Scottish than you think.