Long Island's beaches, parks, historical attractions and culinary options draw visitors year-round. When it comes time to enjoy your favorite beverage, the entire island is a hotbed of breweries while the East End's vineyards are producing some very respected wines.  The LIRR is a comprehensive public transportation network making car-free travel as smooth as fine whiskey.
Cocktail culture is well developed on Long Island with enough bars to keep locals more than satisfied. For those who enjoy a potent potable, we've rounded up five Long Island towns perfect for a car-free bar-hopping, each well worth leaving the city limits to explore.
Whatever cocktail floats your boat, Long Island has a bar with your name on it.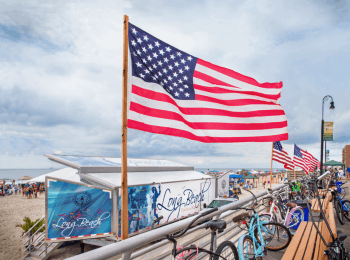 While Long Beach's 2.2-mile boardwalk, sandy beach and surfable waves are its best known treasures, head away from the sand and surf to get acquainted with several fine stretches of bars.
Just across the street from the Long Island Rail Road station are nearly a dozen bars, including Junction, Half Moon Bar & Grill, and Brixx & Barley.
Use Long Beach's bike share program, Social Bicycles, and pedal over to the West End. It's where you'll find Das Biergarten, a Bavarian-style establishment with excellent cuisine and fine German brews. Furthest east is venerable Shine's. Located between Das Biergarten and Shine's is the Knights' Pub, a 25-and-over, cash-only spot with an indoor corn-hole court. Wherever you wind up in Long Beach, plenty of late-night food options are available.
Freeport's Nautical Mile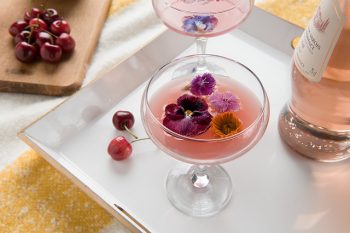 Less than a 10 minute taxi ride from Freeport's Long Island Rail Road station is the historic district known as The Nautical Mile. A combination of bars, restaurants, shops, marinas and fishing boats, this water-centric area is unique from the rest of Freeport. The fishing boats leave from the part closest to Merrick Road, while the opposite end of the Nautical Mile is more focused on bars and restaurants.
E.B. Elliot's is a popular upscale dining spot with a panoramic second floor balcony. Otto's Sea Grill has outdoor seating and live music. The BrewSA Brewing Company is a newish brewery with plenty of natural light, a digital jukebox, picnic-style seating and games. Mini-golf and food trucks can also be found along the Nautical Mile.
Huntington's New York Avenue
If Huntington looks familiar, it may be because you're watching too many reruns. It has been the setting of popular sitcoms such as Growing Pains. Celebrities, including Mariah Carey, Ralph Macchio, and Harry Chapin, have called Huntington home.
Huntington is a major hub on the Long Island Rail Road. The train station is a 5 to 10 minute cab ride from New York Avenue. It was recently named "Long Island's trendiest downtown" by the Long Island Press, so the word is out.
The Paramount is a bustling live music venue with a special members-only Founders Room bar. Billy Joel, Elvis Costello and comedian Kevin James have performed here.
Finley's, which has dozens of craft beers on tap and many more in bottles, is a good nearby option for beer lovers.
When hunger strikes, the restaurant scene is robust, so it's easy to find whatever you've got a hankering for.
Sag Harbor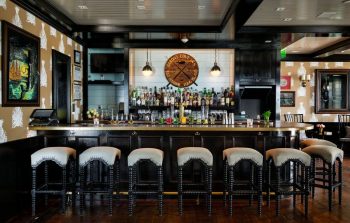 Ride the Jitney to Sag Harbor, a Suffolk County village on the East End. Once you've arrived in this walkable town, you'll find bars galore. Savor a glass of Long Island wine at the patrician and preppy bar at Baron's Cove, where the fireplace welcomes on chilly evenings. The hotel is a fabulous place to spend the weekend.
The American Hotel is another gracious spot offering food and libations in an upscale, old-world setting. Live music adds the right touch.
Celebrity sightings are regular part of life in Sag Harbor. Yes, those guys who look like Jimmy Buffett and Billy Joel are Jimmy Buffett and Billy Joel.
For baseball fans, legendary New York Met player and current broadcaster Keith Hernandez lives here and often tweets his favorite spots for a nightcap, so sighting the slugger is a distinct possibility.
Rockville Centre
Arguably, there is no finer Long Island town for a car-less pub-crawl than Rockville Centre.
Located along the South Shore of Nassau County, it's a commuter-friendly community. Many notable entertainers have lived here, including Howard Stern, Amy Schumer, Dave Attell, June Diane Raphael, and Joan Jett. Rockville Centre was also the setting of much of the movie Eternal Sunshine Of The Spotless Mind and several films by director Ed Burns.
With a healthy mix of chain and independent restaurants, you can take the train from Penn Station and find dozens of bars to the North and South of Sunrise Highway.
Worthy contenders for a first drink include the Parlay Gastropub, Mexican-themed Mesita and the burger-centric Burgerology. Enjoy a pint of Guinness at Monaghans. Arooga's Grille House and Sports Bar is set to replace the long-standing Cannon's Blackthorn, while the new carnival-themed Bowery Bar & Fare is taking the place of Stinger's.
For more information, head to www.Discoverlongisland.com
Featured image: Jennifer Schmidt
Photo credits:  www.personalcreations.com,Todd Lappin, Baron's Cove, Steve Blau
Darren Paltrowitz is a New York resident (and Long Island native) with over 15 years of entertainment industry experience. He began working around the music business as a teenager, interning for the manager of his favorite band Superdrag. In the years following, he has worked with a wide array of artists including OK Go, They Might Be Giants, Mike Viola, Tracy Bonham, Loudness, Rachael Yamagata, and Amanda Palmer. Darren's writing has appeared in dozens of outlets including the Los Angeles Times, New York Daily News, Inquisitr, The Daily Meal, The Hype Magazine, All Music Guide, Guitar World, TheStreet.com, and the Jewish Journal.