With the 50th anniversary of the Woodstock Music and Arts Fair taking place this August, there is no better time to visit the historic festival's original location. Initially set to be held in New York's Hudson Valley, Woodstock ultimately took place on Max Yasgur's farm near Bethel, New York in the western Catskills. The star-studded line-up included the likes of The Who, Crosby Stills Nash & Young, Santana, Joan Baez, and Jefferson Airplane. The Star-Spangled Banner guitar whirlwind of Jimi Hendrix and the muddy campgrounds will forever go down in history. It was also a high point for the counterculture 'hippie' movement of the 1960s, with nearly half a million people convening in the spirit of peace and love without major conflict, despite local apprehension and state-level threats of the bringing in the National Guar
The festival grounds live on today as a venue and museum managed by the non-profit Bethel Woods Center for the Arts. The original farm has been beautifully landscaped with a permanent stage, walking trails, and museum. This summer is billed as A Season of Song & Celebration and dedicated to celebrating the 50th anniversary at the original festival location. There will be legendary shows by performers from the original festival like Carlos Santana alongside movie screenings and new museum exhibits making Anniversary Week at Bethel Woods the perfect long weekend getaway from New York City.
Anniversary Week at Bethel Woods

The Anniversary Week series of shows and events takes place from August 15-18 and is the highlight of the Season of Song & Celebration. During this series, many notable festival veterans will be returning to give legendary concerts, and pay tribute to the festival's roots. On Thursday evening, original Woodstock performer and folk legend Arlo Guthrie will be opening up the festival, followed by an outdoor screening of the award-winning documentary Woodstock. Friday will feature a performance by Ringo Starr and The Edgar Winter Band. The fun continues on Saturday with festival original and guitar virtuoso Carlos Santana as well as The Doobie Brothers. John Fogerty, a founding member of original festival band Creedence Clearwater Revival, closes out the weekend's performances on Sunday.
Before the shows, visitors will enjoy a visit to the on-site Museum of Bethel Woods, which highlights original festival art and musical instruments.The museum explores the cultural and musical backdrop of the 1960s in the exhibit We Are Golden: Reflections on the 50th Anniversary of The Woodstock Festival & Aspirations for a Peaceful Future. There is also a section about the Lunar 11 moon landing, which occurred July 1969 and was a ground-breaking accomplishment during the era. The museum and festival grounds are open 10am until 7pm every day this summer.
The Weekend Getaway
New Yorkers can turn a trip to the festival's grounds and concerts into a long weekend celebrating and enjoying the beautiful surrounding Catskill Mountains. Our partners, RMP Travel, are offering package options for Anniversary Week, which provide access to all four nights of the Bethel Woods programming and concerts, lodging at some of the area's nicest resorts, museum access and notably, transportation between the resorts and the concert grounds.
Enjoy music at a truly iconic venue, while taking advantage of the luxurious accommodations that are now offered in-lieu of the mud-filled camping spots that were slept in during the festival 50 years ago.
Where to stay
Anniversary Weekend packages offer lodging at nearby Honor's Haven, located in the Shawanagunk Mountains in Ellenville (starts at $1335) or Villa Roma Resort, located along the banks of the Delaware in Callicoon ($750 and up). Wake up each morning for breakfast, an outdoor adventure, yoga and even spa services before heading to Bethel Woods later in the day for all of Anniversary Week's activities.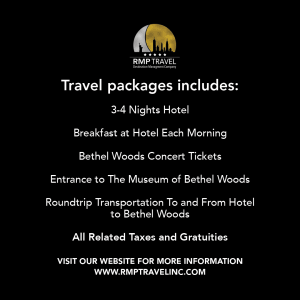 The all inclusive Villa Roma Resort is located in Callicoon, NY, close to the Delaware River to the west of Bethel Woods. Choose the Villa Roma Resort if you're looking for an added boost of outdoor adventure with activities climbing wall, go-Karts, zipline, horseback riding, and hiking trails.
Another RMP Travel option is staying at Honor's Haven in Ellenville, NY. Choose Honor's Haven for luxurious hotel rooms, a spa, outdoor recreation like golf and fishing, as well as indoor and outdoor pools. There are also wellness options like yoga, nature hikes, and meditation, all on site.
Getting to Bethel Woods from NYC
A CoachUSA Short Line bus provides car-free transportation from New York City's Port Authority directly to and from both resorts. Other options include taking the Metro-North Train from NYC to the Poughkeepsie station, and then renting a Zip-Car for the weekend. You can also take a Trailways bus from Port Authority to New Paltz and rent a Zip-Car within walking distance of the bus station. You could also rent a car in Manhattan and carpool with friends. Once you're at the resort, RMP Travel provides shuttles between the concert grounds.
About RMP Travel
RMP Travel also offers packages for many of this summer's Bethel Woods shows, like Dave Matthews Band, Jackson Browne and Chris Stapleton. They also have customizable New York City getaway trips including fly fishing in the Catskills and vineyard tours on Long Island. Groups will enjoy their turnkey trips, which go everywhere from Niagara Falls to Miami and beyond (they even offer international trips!).. RMP can help with coordinating a trip to anywhere in the world, and is happy to put together the perfect itinerary for outdoor sports enthusiasts, music lovers, groups of students, seniors or corporate teams. They can contacted at Operations2@rmptvl.com.