New York is full of great parks and promenades for making the most of a beautiful day. But if you want to escape the sounds and souls of the city while still enjoying a little car-free adventure close to home, the best place to go is Queens.
Yes, Queens. It may be the last place you'd imagine finding lush meadows, milk snakes, ospreys, and picturesque lagoons, but right off the subway yet a world away from town there is a 9,155-acre, under-the-radar wildlife refuge waiting for you.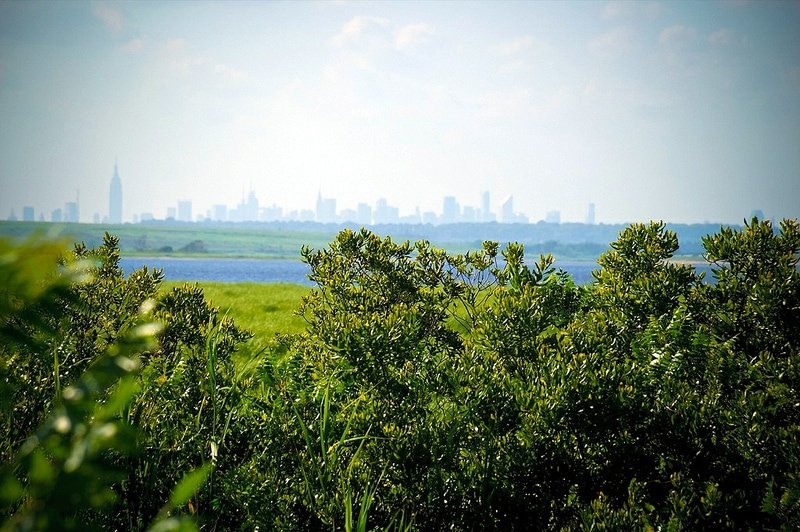 Your trip to Jamaica Bay begins on the A train. Ride the IND Rockaway Line to Broad Channel. Exit the station to the right and walk along Noel Road through two lights to Cross Bay Boulevard. Cross over to the far side of Cross Bay Boulevard and turn right. You'll find the trails about a mile up the road on the left and right.
Jamaica Bay has been in the spotlight this year due to the incredible strides taken by the New York City Department of Parks and Recreation and National Park Service, which formed the Jamaica Bay-Rockaway Parks Conservancy and the newly announced environmental research center Jamaica Bay Science & Resilience Institute. Before this area becomes a hot spot, now is the time to explore the peaceful 3.2-mile East Pond trail and 1.5-mile West Pond trail. You'll also discover there is much more to do here than hike. Try biking, boating, fishing, horseback riding, kayaking, archery, model airplane flying and even camping. Check the National Park Service website for more information and to book activities. The Brooklyn Bird Club offers great insights on some of the 300 migratory bird species you will encounter while hiking. Post-hike, take the bus or ride your two wheels 15 minutes east to cool off at Rockaway Beach.
If you'd like to take the family on an outdoor adventure around NYC, pick up AMC's Outdoors with Kids New York City. And for more getaways near NYC that feature hikes and beaches, join the AMC volunteer run/hike in Rye, New York or visit the AMC's Fire Island Cabin and take a hike in the Sunken Forest.

View Hiking in Jamaica Bay, NY in a larger map