While the tides are shifting in favor of a more bike-friendly society, New Yorkers who love to ride on two wheels still face many obstacles, from a lack of bike racks on buses to too few protected bike lanes.
This spring and summer, escape the confining city streets and set out for the vast (and even car-free) expanse of Long Island, where beach-perched hotel properties are offering great, green incentives to visit. These four spots—including a historic farmhouse and a posh, pet-friendly inn–are inviting guests to ditch the gas-guzzlers and explore the area on their complimentary bikes instead.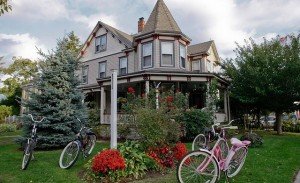 1. The Hotel: Ruby's Cove B&B | Greenport
The Bikes: Cruisers
Where to Ride: The George Washington-commissioned Horton's Point Lighthouse, a 30-minute trip.
Room Rate: From $225
How to get there: The Hampton Jitney is the most convenient means of transportation to and from Greenport, with several East Side Manhattan pick-up/drop-off locations throughout the day. An alternative to this is the LIRR. Both the Jitney and LIRR station is Greenport. Both stops are within a stone's throw of one another, located conveniently in the village center. (151 Bay Avenue, 631.477.1837)
2. The Hotel: c/o The Maidstone | East Hampton
The Bikes: Kronan; A Swedish Military Bike
Where to Ride: LongHouse Reserve, a 14-minute excursion.
Room Rate: From $225
How to get there: The Hampton Jitney will drop you in front of The Palm Restaurant on Main Street (Montauk Hwy 27).  From there head West (in the opposite direction whence you came) and the hotel will be on your right. (About a 10-minute walk.)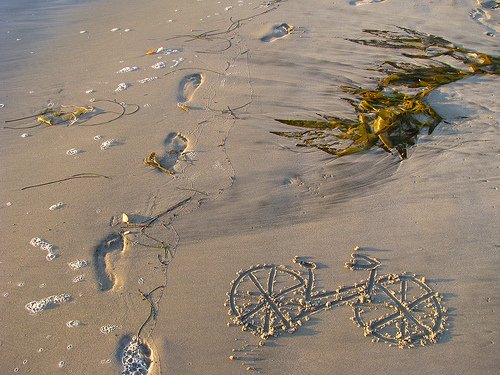 3. The Hotel: Clegg's Hotel | Fire Island
The Bikes: Cruisers
Where to Ride: Fire Island is car free so you can bike comfortably around the village of Ocean Beach (boasting a 36-mile stretch of surf-worthy coastline) and throughout the island.
Room Rate: From $160 midweek to $450 for a bay view room on weekends
How to get there: The Fire Island Ferry will take you to Ocean Beach right near the hotel.
4. The Hotel: Sunset Beach Hotel | Shelter Island
The Bikes: Mountain Bikes
Where to Ride: Mashomack Preserve, a 32-minute trip.
Room Rate: Mid-week rates from $345, weekend rates from $565
How to get there: Visit the hotel's location page for different travel options from NYC.

Photo: Courtesy of Ruby's Cove
The co-founder and editor-at-large at offMetro, Lauren is a sustainable travel specialist and freelance journalist with frequent bylines in National Geographic, Bicycling Magazine and Shape. Follow Lauren's adventures at @laurenmati.