There is the Snooki-poofed version of the Jersey Shore and then there is this one. The village of Spring Lake, NJ is located one hour and 15 minutes from NYC by way of the New Jersey Transit rails. Here, there are calm stretches of sandy beach, Victorian homes, the longest non-commercial boardwalk in the state, Shakespeare plays in a garden, an old pond-perched copper church, and charming inns right on the sea.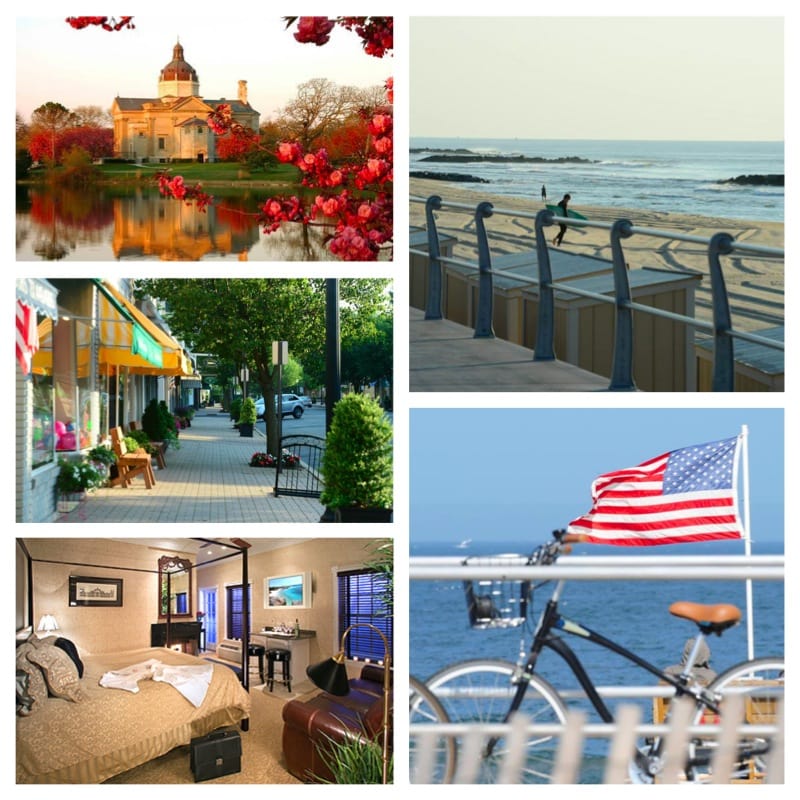 If you'd rather not schlep a bike on the train, you can rent one at The Chateau Inn (from $89/night in winter, $219/night in summer), built in 1888 and a winner for its luxurious parlor suites, sundecks, jacuzzis, free-wifi and passes to Spring Lake Beach. If this is just a day jaunt or you're staying elsewhere—such as the Hewitt Wellington Hotel, the Breakers or other historic b&b's like the Normandy Inn—beach badges are $8 for adults and free for children under 12, or $100 for the season.
The quaint downtown district includes a few gourmet delis and restaurants, gift shops and boutiques, and the St. Catharine's Church. Visit springlake.org for upcoming art festivals and events like Shakespeare by the Sea (currently showing "The Merry Wives of Vegas").
Bike away from the ocean towards a smaller body of water called the Old Mill Pond for some wasabi sesame crusted Ahi Tuna and a beautiful setting at the Mill at Spring Lake Heights. Guests dining after 8:30p.m. Thurs-Saturday will eat a complete meal for two for $89, including alcohol. During the day, stop by Joseph's Deli or Drews Market for picnic provisions.
How to get there: Check the NJ Transit schedule at njtransit.com and consult the map below for specific locations.
Things to do in Spring Lake, New Jersey

View Quick Trips: Things to do in Spring Lake, New Jersey in a larger map
Annie is a travel writer, environmentalist, and surfer based in Venice, CA. She heads up our West Coast team, keeps our grammatical errors in check, and makes sure our California writers always have a plan for their next adventure. Follow Annie's travels @annelisemcb.