Tucked down Astoria Boulevard, within a 15 minute walk of cultural hot spots like Socrates Sculpture Park and the Noguchi Museum, Astor Bake Shop opened its doors just under a year ago to the mouth-watering neighborhood locals. Sliced Red Velvet, Double-Chocolate, Carrot, and Coconut cakes sit in stands above the illuminated cooler. Within the cooler, Seasonal Baked Fruit tarts sit along Tahitian Vanilla Bean Éclairs, cupcakes, cheesecakes, Crème Brûlées, Valrhona Chocolate inspirations and a whole host of constantly changing upscale foodie-enticing sweets. Further down the Carrera marble counter, the best almond croissant I've ever tried mingles with muffins and biscotti.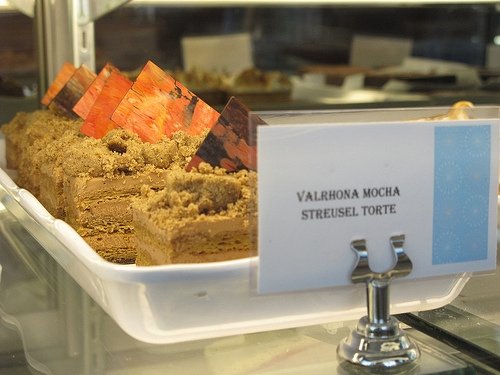 Astor is indeed a bakeshop, but it also offers an appetizing menu of savory soups, sandwiches, and brunch delights. Don't miss the slow-baked chicken sandwich cooked with Mediterranean spices and topped with caramelized onions, avocado, and Swiss cheese atop a house-baked Portuguese roll. The brunch Two Egg Sandwiches can be made on their Honey Herbed Buttermilk Biscuit, which can be served with Hog Case Pork Sausage, Applewood-Smoked Bacon, and a variety of cheeses.
Astor sources their java from Stone Street Coffees of Brooklyn, NY for you carbon-footprint conscience. Their house-made Gingerade will quench your thirst in the oncoming sunny weather. They've recently added a nice collection of beer and wine to the fold. The décor has an old European charm with exposed brick walls, open kitchen, vintage barbershop style floor tiling, and handcrafted tabletops made from reclaimed farmhouse wood. Proprietor and lead culinary specialist, George McKirdy has cut his teeth over 22 years as pastry chef at Regine's, TriBaKery, and more recently at Blue Fin. Everything about this place has such attention to detail and classy panache while retaining a truly relaxed, comfortable, neighborhood atmosphere. Meet with a friend, bring your family, or lug your laptop and enjoy the free Wi-Fi while you tour the never-ending delights on their menu.

How to get there: Astor Bake Shop is located at 12-23 Astoria Boulevard on the corner of 14th Street. Take the N or Q trains to the Astoria Boulevard stop. Walk down Astoria Boulevard till you hit 14th street just past the public library. For more information, visit astor-bakeshop.com.