PROVIDENCE'S EAST SIDE HAS ALWAYS HAD A GRITTY, URBAN HIPSTER ATTITUDE—one that makes it decidedly cool without trying too hard. Lately, its eco quotient has also been quietly rising, as more sustainably-minded individuals, artists, and foodies open up new spaces around the city's eastern streets. To explore its four centuries old past and ever-changing present, book a weekend trip and stick with this insider guide.
Start with Brunch in a Snug Spot
Duck & Bunny | 312 Wickenden St. | 401.270.3300 | theduckandbunny.com
Proprietors Daniel and Lauren Becker opened this modern "snuggery" (defined "a cozy and comfortable place") last year and filled it with sparkling chandeliers and posh bourgie decor. The menu features tasty small bites, such as tea sandwiches and scones, in addition to stand-out crepes, filled with sweet or savory fillings, and delicious omelets. Most of Duck & Bunny's ingredients are provided by Farm Fresh, a non-profit that culls fruits, vegetables, and cheeses from local farms, while the spreads, such as mustard and jams, come from Wicked Good based in Bristol. Arrive early, though, as there's usually a wait for a seat; if the weather's nice request a table in the ivy-covered outdoor garden in back.
Next Shop for Treasures From the Past
Benefit Street Antiques | 243 Wickenden St. | 401.751.9109 | benefitstreetantiques.com
Located at the intersection of Wickenden and Benefit streets, this neat and tidy antique shop specializes in vintage furniture, chandeliers, lamps, and design goods from a variety of decades. The owners buy from New England homes, picking out pieces with character and history, and often give them a fresh coat of paint or shiny finish that imbues a modern style. Besides, shopping for reclaimed items does the planet and a sparse corner of your apartment a favor, right?
Refuel with A Fair Roast
Coffee Exchange | 207 Wickenden St. | 401.273.1198 | sustainablecoffee.com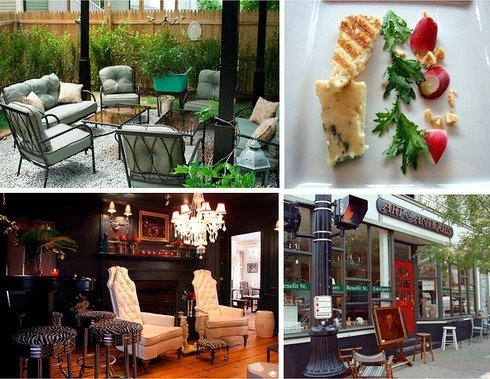 Rhode Islanders have an undeniable fondness for coffee—it's the rumored birthplace of coffee syrup, a sweet liquid made of water and sugar strained through coffee grounds that's often added to milky confections. Coffee Exchange has been sourcing organic, fair-trade harvested beans for years, roasting handfuls in small batches to draw out their defining flavors (the popular French Roast produces a bold smoky flavor with a heady aroma, while the Vienna Roast coaxes out the savory ambrosial quality of the bean). Decaf drinkers aren't snubbed here either, as the owners use an all-water method, called Swiss Water Process, to decaffeinate the beans without any chemicals. Consider this coffee paradise.
Head Up the Hill
Wish Salon | 120 Governor St. | 401.272.9474 | wishhairsalon.com
New York hairstylist Tara Siani recently opened up this tiny eco-conscious salon in a brownstone on Governor Street. Her team works with natural shampoos and conditioners from Phyto and skillfully paints on non-toxic dyes from Intelligent Nutrients. Book an appointment in advance (alas, there are only a few chairs) or drop in spur of the moment to pick up an organic hair mask or two.
How to get there: Get tickets at megabus.com or consult oM's public transportation guide to Providence. For hotel recommendations, consult oM's article: Little Kid, Mid-Sized City Part IV: Kids Activities in Providence. To explore Providence by bike, visit dot.ri.gov/bikeri for the best bike routes.

Photos: Courtesy of respective establishments. La Laiterie food shot by Jennifer Hess