When I realized a letterpress workshop would last six hours on my get-stuff-done Sunday, I was a little ruffled. But I had already signed up for The Arm, a recreational printing studio in Williamsburg, so catching up on the progress in the Middle East and that Russian novel for my book club would wait. "Who even takes a letterpress class in this era of e-cards and Kindles?" I asked myself on the L train to Bedford Avenue.
I arrived at the studio ready to be immersed in the mid-twentieth century techniques of hand-set type. I was met by a group of eight smiling students and Dan Morris, co-owner and founder of The Arm. While we sat waiting for stragglers, each of us shared our reasons for taking the class.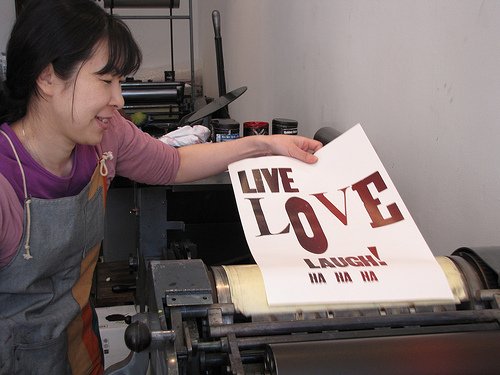 A woman in her late twenties with a tote bag made of woven tape measurers told us, "I'm getting married and am hoping to make my own invitations." A man with gentle eyes said, "My wife and I are working on an art project together and we'd like to incorporate letterpress techniques." A young woman with thick-rimmed magenta glasses offered up, "I'm just here to learn something new."
Then Dan, a hipster Ken Doll with flawlessly mussed hair and the perfect "Oh, this old thing?" sweater and cords, lead us to one of four Vandercook & Sons proofing presses at The Arm. The metal clunkers were intimidating, and it was hard to believe we'd know how to operate one before the day was done.
He applied a thin strip of thick red paint to a set of cylinders that sat at the top of the metal clunker, where a pillow would lie if the contraption were a bed. He flipped a switch and the cylinders started to spin in place, making a sound like a lawn mower being used by your next-door neighbor. Next Dan showed us how to use the machine to imprint an image using the first of three methods we'd learned: printing with photopolymer plates.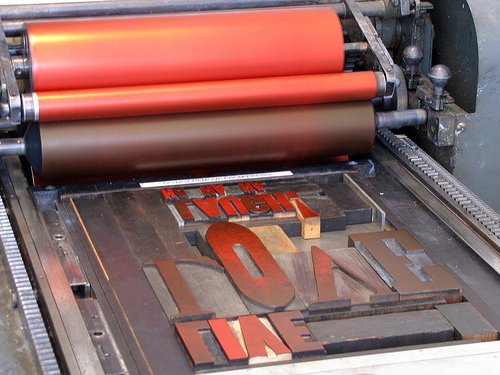 We worked with a plate that read, "The Arm Letterpress Studio" in what looked like angel hair pasta glued to a thin piece of plastic. Photopolymer plates must be made in advance by a specialty photo lab from a high-resolution image of your choice. Translation: this ain't no five and dime airplane you can piece together and play with later that afternoon. This particular method requires a lot of foresight, patience, and money.
Next, Dan began to explain how we were going to make posters to take home with us using the second technique of the day: wood-block printing. This seemed to be a more immediately gratifying technique since it didn't require as much time or planning to get your materials in order. Or so I thought.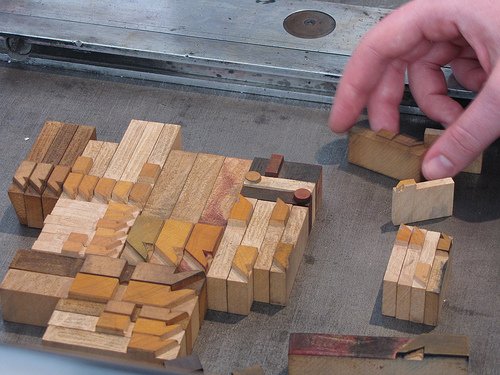 If you took every single Scrabble tile in the entire borough of Brooklyn and arranged it in one ten- by ten-foot space, you might have an idea of the alphabet soup going on in the front room of The Arm. There were comma blocks as big as your head. W blocks as small as your belly button. Boxy fonts. Swirly fonts. I-didn't-even-know-this-was-a-symbol-in-the-English-language fonts. But considering the immense selection, Dan had these blocks organized impeccably. Each family of fonts is stored in antique wooden cabinets with drawers two inches-deep stacked 20-high. The average drawer contains over 300 characters, and when I asked Dan if he'd ever dropped one he stared at me gravely. "Yes."
While students scurried to collect the letters one-by-one for their posters, I stood paralyzed by indecision and decided to hang back and watch as they pieced together their text-puzzles on the bed of the machines. There was a reminder to "Live, Love, Laugh," a mosaic of apostrophes, semicolons, and dashes, and a logo for a company a student was starting to help people stick to their side projects. The ink was laid, the paper was fed, and the posters were printed.
When Dan said it's time to break for lunch, my brain was so dizzy with text that I asked the cashier at the deli for the most popular sandwich so I didn't have to read the menu.
We returned to the studio, refreshed and refueled, and Dan walked us through the third and final technique of the day–metal-block pressing. It was very similar to wood-block pressing, only on a much smaller scale using a machine called a platen press. Because of the manner in which the machine transposes the blocks to the paper, letters must be arranged both backwards and upside down. A bubbly student who recently moved to New York from Atlanta attempted to make a set of coasters that said "drink up," only to find that her first attempt yielded a coaster that said "brink pu." As for me, I printed some business cards with my favorite quote from conservationist Terry Tempest Williams: "Be wary of answers."
The remainder of class was spent finishing our projects and cleaning up which, considering Dan's tidiness, was an intricate algorithm of finding the proper home for every little bit and bob we'd used. He told us that if any of us need more time, we could use the machines at a later date for $20 per hour plus a can of paint.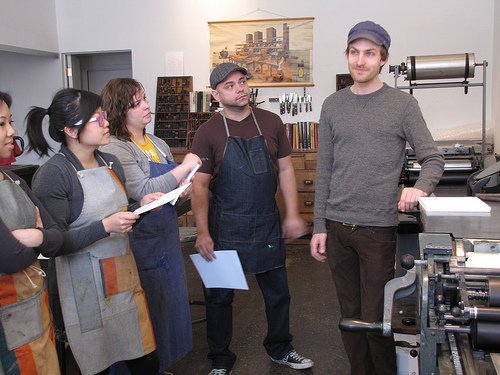 On my walk home, I started to think about the devolution of the printing press, from Guttenberg's enormously influential tool that spread knowledge to the masses to a now-defunct technology that's nearly obsolete, save for laborious artistic purposes.
But isn't that exactly why we met at The Arm that Sunday afternoon instead of treating the day like our personal to-do list? We wanted to learn a new skill. Or is it an old skill? Either way, you have to appreciate the machines for what they make possible: the building of ideas, piece by piece, with a sense of intention and ownership.
Everything about The Arm—from the indestructible canvas aprons hand-sewn by Dan's buddy to the six hours it took me to create 20 business cards I'll never be able to find anywhere else—suggests that just because a process is more efficient, doesn't mean it's producing something superior.
I took a detour and stopped at the grocery store to pick up ingredients to make fresh pasta. While checking out, I noticed the person directly behind me was reading from a Kindle. I pulled out one of my freshly minted business cards, placed it discreetly on the conveyor belt, and headed home to prepare dinner.
Beginner classes at The Arm start at $200. To learn more, visit thearmnyc.com or email your questions to bryan@thearmnyc.com.

How to get there: Take the L train to Bedford, then walk five minutes east on North 7th Street until you reach your destination. For a post-workshop activity, head a block north to the Brooklyn Winery at 213 N 8th Street.
(The Arm, 281 North 7th St., between Havermeyer and Meeker, thearmnyc.com)