I am a Manhattanite who regularly takes advantage of what lies off Manhattan. When I think about the best way to spend a relaxing spring afternoon in the city, I imagine myself sitting legs stretched out on the grass in Brooklyn Bridge Park next to my wife and daughter. We are all looking out at the holy-moly views of lower Manhattan. You could actually kill an hour staring at the three bridges, the harbor and circuit of boats, helicopters, and kayakers. Our city planners should be proud of this green oasis. And it's free.
There is a certain, often justifiable, smugness among Manhattanites, suggesting that we are the cultural center of the universe. In fact, it's true, but there are superb venues outside the island that frequently offer the same virtuosities at prices that we haven't seen in Manhattan for a dozen years.
Brooklyn Academy of Music and the Brooklyn Center for the Performing Arts at Brooklyn College are two of my favorite spots. Both offer first class performances in music, dance and theater in excellent facilities, and the subway lets you off just a few steps away from their front door. And if you insist on driving your hybrid to a performance, the parking at BAM is much less than half the cost in midtown and you can often get street parking at BCBC for free.
If you like any kind of Middle Eastern food, and are in need of picnic fixings, then you will want to head to Sahadi's (187 Atlantic Ave.) just a half block west of Court Street. If the smells don't get you, the vast array of olives, nuts, dates, coffees, spices, and specialty foods will overwhelm you in the best way a person can be overwhelmed. Sahadis, home of the best babaghanouj in the United States, has been a fixture in the neighborhood for more than 50 years. They are often crowded, but lots of friendly and knowledgeable staff make the experience one you will want to repeat every time you are close by.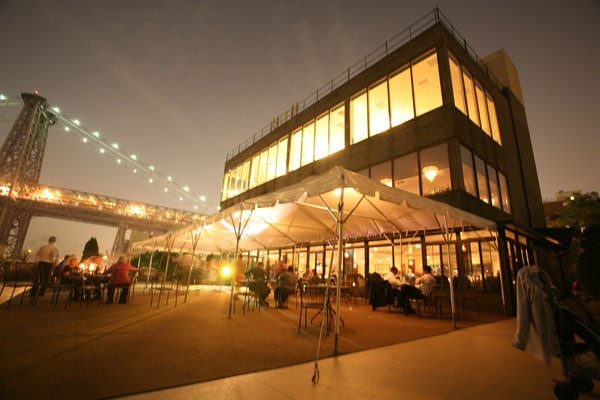 Speaking of the best of something, I had an unanticipated treat the other night when I met a friend at a new restaurant just a couple of blocks west of Sahadis. The Colonie (127 Atlantic Ave.) opened in February. Aside from serving local and sustainable ingredients wherever possible, they know what great food is all about. I ordered their scallops with kabocha squash and red cabbage, and what I was served was simply the best scallops I have ever eaten in a lifetime of eating scallops. Distracted by each morsel, I hardly noticed what my dining partner was doing. He ordered the skirt steak with fries, chili aioli, and braised winter greens. We both noticed that we had completely cleared our plates when he commented that the steak was fantastic, but "the fries were the best I have ever eaten." Any restaurant that can serve two people with varying tastes two quite different meals that result in the best I have ever had comment deserves a visit. In addition to the diverse, reasonably-priced menu—try a few of the exotic cheeses made in West Pawlet, Vermont—The Colonie has a great regional beer selection, like Ommegang and Sixpoint Oatmeal Stout on draft, and Flying Dog Gonzo Porter. You can also count on quality wines from the Finger Lakes and the North Fork of Long Island.
There is another Brooklyn establishment that deserves a call-out: Giando's on the Water in Williamsburg (400 Kent Ave.). Five people with sophisticated palates ordered five different entrées (we shared three salads and two desserts) and were all delighted at the beautiful presentation, the superb flavors, and the generous portion size. This is a high-quality kitchen. Did I mention that the restaurant is perched thirty feet above the East River with unobstructed views of all of New York City? The vistas alone would be worth the trip, but add the excellent food, outdoor riverside space, and smooth professional service, and you get a winner for anything from an intimate dinner for two to a bash for a couple of hundred people.
Photo: Paul S