For an afternoon getaway with an artistic and historic pedigree, look no further than Hastings-on-Hudson. Just north of Manhattan in Westchester County, the charm of its streets and the remnants of this village's industrial past are immediately apparent. To really appreciate Hastings, however, one must slow down, chat up the locals, have a little sustainable fare and explore à pied.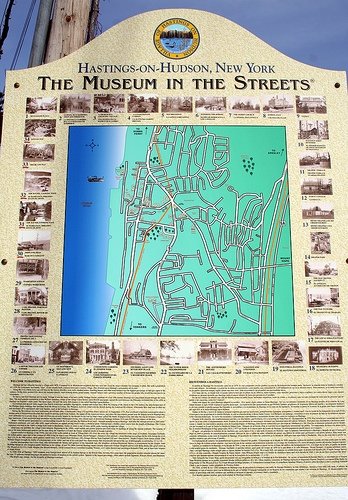 The first taste of this quirky community comes upon entering the old depot, now the Hastings Station Cafe. This bright and airy space merges old fixtures with new elements and features rotating art showings, a reading corner complete with works by local authors and a fantastic cafe mocha. Once you've caffeinated, you'll be ready to embark upon The Hastings Historical Society's Museum in the Streets self-guided walking tour, aided in no small part by informative signs erected on the village's sites of historical significance.
The creativity and history of the community does not end with the street's historical markers; they merely serve as an introduction. On view through March is Memory Lane, a public art installation of structures resembling birdhouses by artist Marie-Claude Giroux. A stroll by the old ravine reveals Ever Rest, the historic homestead of Hudson River School painter Jasper Cropsey. The house is open from 10am-1pm Mondays through Fridays and tours are available by appointment.
With views like these, it's easy to tap into your own creative inspiration. Try a hike along The Old Croton Aqueduct to get the creative juices flowing or pack your paint box and easel for some time spent at MacEachron Waterfront Park. If you're inclined, you can try your hand at jewelry making. CU Designs Studio often holds adult classes; e-mail the studio for details.
Walking up Southside Avenue, it's hard to miss the Municipal Building and the Hastings-on-Hudson Public Library. The Municipal Building frequently showcases small art exhibitions sponsored by the Hastings Art Council and is worth a visit. The community library boasts the most impressive reading room view in the Hudson River Valley. Whether you choose to read, write or watch the river, you won't be disappointed. An added bonus: the sculpture out front of the library is by cubist artist Jacques Lipchitz who made his home and studio in Hastings in the 1950s.
Harkening back to those halcyon days is the Hastings double feature movie house on Warburton Avenue. Now converted to shops, here you will find the Thomas Coffee and Tea Shop that has welcomed the likes of Susan Sarandon and Yo-Yo Ma. Also on Warburton is the ice cream counter at Greenleaf Pharmacy, where you can grab a scoop while you scope out the town. If you'd like a souvenir, consider filling out your antique collection with a find scored at Suburban Renewal.
Should you be in the market for some wearable art, local artist Linda Angel creates intricately inlaid jewelry with a Victorian aesthetic at her new studio boutique Art Transcending Time located at 1 Spring Street. If you prefer acrylics, oils, watercolors or photography, browse the gallery at Spring Street Studio just next door. I stumbled upon the unmarked studio of artist Gordon Fearey on Main Street. The wall-mounted sculptures of woven and painted aluminum flashing called to me from the street and I was enthusiastically greeted by Fearey himself. For spontaneous local performance art happenings on subjects ranging far and wide, check progressive arts organization 12 Miles North.
In the event all this culture has made you hungry, consider partaking of the culinary creativity at Juniper, a new American restaurant with a delightful French twist. Maud's Tavern, a tried and true standby, offers solid pub fare and gluten-free menu options. Harvest on Hudson remains a romantic gastro-destination, featuring well-prepared Italian-based dishes and stunning sunset views. The walk to the station from all points is reasonable and the trip home on Metro-North takes under 45 minutes. Don't be surprised if you decide to come back. Like any work of art that speaks to the viewer, it may inspire you to return again and again.
How to get there:Take Metro-North's Hudson Line train to Hastings-on-Hudson. The village of Hastings is small and easily walkable.