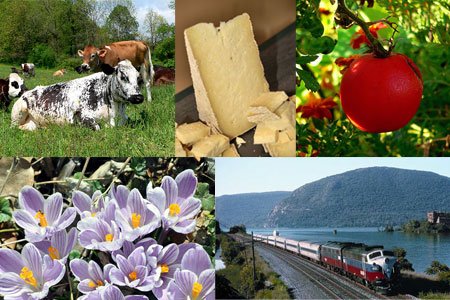 Dutchess County's orchards, vineyards and bucolic pastures are bursting with sublime flavors and colors at this time of year. The area is home to more than 650 farms, mostly family-owned, and is deeply committed to sustainable agriculture. This fall, enjoy a car-free culinary adventure that begins in Poughkeepsie, following a scenic 105- minute ride on Metro-North's Hudson line from Grand Central Station.
What: Fall Harvest Wine, Cheese & Apple Picking Weekends
Where: Dutchess County, NY
When: Day trips are offered on October 2, 3, 9, 10, 23 and 24
Why: For those of us who embrace a car-free lifestyle, the farm-fresh experience is often impossible to see first-hand. Ironically, to reach the health and environmentally conscious pastures of individual and family-owned farms, a vehicle is usually required. Not any longer. The sensible folks of Dutchess County have teamed up with Metro-North to present a car-free way for people to visit the rolling hills of the Hudson Valley with Farm Fresh Getaway packages. You depart Grand Central Station at 7:47 a.m. on Metro-North's Hudson line to Poughkeepsie and arrive at 9:34 a.m.
From the station, the Farm Fresh Link shuttle will launch your daylong celebration of autumn's bounty for only $5. First stop is Sprout Creek Farm, a model of sustainable agriculture, where delectable farmhouse cheese is produced. Other stops include a visit to a local winery (wine tasting available for an additional $7) and a stroll around the charming Village of Millbrook. Finally, it is on to Terhune Orchards in Salt Point. The convivial owners are sure to be on hand, Richard at the helm of the hayride and Jan overseeing the mouth-watering smells emanating from the onsite bakery. Pick as many crisp, juicy apples as you can carry before the shuttle brings you back to Poughkeepsie for your train home.
You need to reserve your seat on the Farm Fresh Getaway shuttle at least 48 hours in advance (reserve online or call 845.463.4000 or 800.445.3131). Once you have made your shuttle reservation, you can purchase your Metro-North rail and shuttle ticket package at a Metro-North station ticket office or full-service ticket machine.
For more info on Metro North's fall weekend getaways, visit mta.info.com
Allison is a native New Yorker, who has lived in Rome, Tuscany, Melbourne, Toronto and Los Angeles. She frequently contributes travel pieces to Family Travel Forum, using her own children as guinea pigs as they travel the globe. She is fluent in Italian and Spanish and laughably adequate in French. Her background as an Early Childhood Educator gives her an added understanding of what it takes to travel with kids in tow. She firmly believes that the most important part of education takes place outside of the classroom, on the road, around the world. She never misses a chance to sample local delicacies, as her love for travel goes hand-in-hand with her love for food and wine. Follow Allison at @gourmetrav.