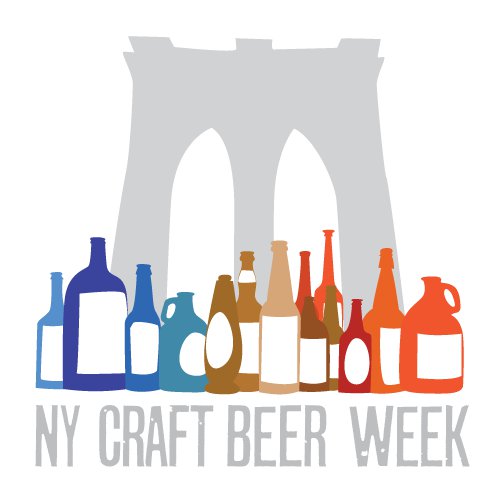 What: 3rd Annual New York Craft Beer Week
Where: All five boroughs
When: Friday, Sept. 24– Sunday, Oct. 3rd
Why: From a beer bike ride to an IPA sailing voyage and a walking tour through Williamsburg's craft beer history, what better way to welcome Fall than with ten days of drinking the best locally produced hops on tap. Josh Schaffner, founding director of the NY Craft Beer Week, has compiled a multi-borough beer crawl where breweries and beer joints are also cultural destinations. The Passport, a guide to over 80 participating venues, allows you to purchase featured beers for $3 plus tip. In addition to last year's featured locales check out these seven events for a little consumption and spirited conversation.

LIC Craft Beer Festival | September 25th | 12:30 p.m. – 4 p.m.
Attend Long Island City's 2nd Annual Beer Festival where more than 25 breweries will sample over 50 beers. RSVP's are required.
Bike Brooklyn Beer Blitz | Sept. 25th, Oct. 2nd | 1p.m. – 4 p.m.
Cyclists Unite! Take a beer bike tour through Williamsburg and Bushwick visiting former and current breweries. There will be a mid-tour drink stop with a final surprise at Evergreen Cemetery.
Fermented NY Beer Crawl | Sept 26th, Oct. 2nd | 12:30p.m. -3:30 p.m.
Creating craft beer is a rising art form. Take Urban Oyster's educational walk through Williamsburg and taste over a dozen beers. You'll learn the how-to's of food and beer pairing too. The team at NYCBW called this a "pub crawl with a purpose."
Wii Mondays at The Creek and the Cave | Sept 27th | 7- 9 p.m.
Ease away the Monday blues with a little free Wii Action Rock Band at this Long Island City bar and comedy clubhouse. Their Mexican fare and beer menu is a great reason to Wii your way through the night.
Brewed in Brooklyn | Sept 29th , Oct. 1st | 4:30-8 p.m.
History buffs will enjoy this tour that chronicles craft beer dating back to the 1800's, shows buildings of the 19th century, and visits Brooklyn's modern day brewery presence. With beer and food along the way, this tour is definitely worth its weight in the glass.
Voyage of the IPA | October 2nd | 4:30-6:30 p.m.
Hop on the sailing ship "Clipper City" with Brooklyn Brewery Brewmaster Garrett Oliver for an India Pale Ale. The historic voyage from England to India is worth a few swigs, followed by a tasting of three neighborhood Brooklyn IPA's.
Astoria Suds | October 2nd | 4:00-9:00 p.m.
Tour the suds-makers of Astoria, where brews go beyond the borough's popular beer gardens. Spend the day and garden hop to venues like Hell Gate Social, Sunswick, and Rest-au-Rant for a world craft experience.
So, what are you waiting for? Get your passport and start stamping your book with outer borough destinations.
How to get there: All places are accessible by subway and bike. For a full list of venues and events visit nyccraftbeerweek.com