You have finally gotten used to lugging your tyke's stroller down the subway stairs, maneuvering his or her giant backpack through mid-town traffic at rush hour. Now it's time to give your self a break from the big city.
In the last of our four moderate-sized city guides that support a kinder, gentler pace, perfect for family travel, Providence offers weekend fun for everyone—free hands-on workshops and gallery tours at the Rhode Island School of Design, a behind-the-scenes look at Big Nazo, a Jack O'Lantern Spectacular—with a rhythm that will be just right for the pint-sized members of your crew.
Here is our guide to kids activities in Providence.

Why It's a Fun Family Field Trip
The arts are more then alive and well, they are thriving in Providence, home of the well-respected Rhode Island School of Design. The RISD Museum of Art has a vast collection spanning from ancient to contemporary, that is child-appropriate and a must see for parents. Free-For-All Saturday is a free event held on the last Saturday of each month from 11am-4pm. Interactive, hands-on workshops and guided gallery tours are held throughout the day and offer an engaging way to introduce kids to the museum's collection.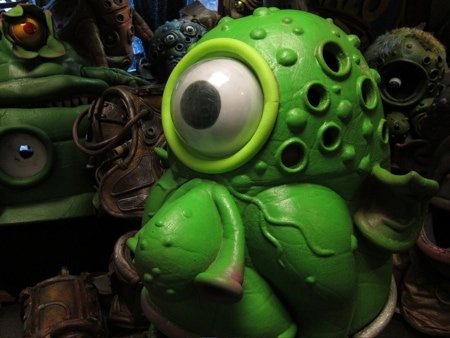 If you have never seen the giant creations of Big Nazo, get ready to be wowed. Visitors large and small are welcome to drop by the studio space, where otherworldly puppets are created. Explore the studio's nooks and crannies and marvel at how much labor goes into creating these green, googly-eyed gems. The non-commercial vibe here is appealing and genuine. The puppets perform regularly around town, as well as throughout the U.S. and internationally.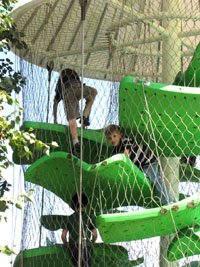 The Providence Children's Museum is not to be missed. Play is the specialty here, and the newest exhibit, Play Power is a vibrant, hands-on celebration of the importance of children's play. Savvy parents will applaud this, as cutting-edge research currently emphasizes the importance of open-ended play in this age of the over-scheduled child. The Children's Garden is a new outdoor exhibit, which offers year-round imaginative play opportunities. Native Rhode-Island materials have been used in its construction, and a variety of local flora create a sense of Zen. The Climber, a one-of-a-kind climbing structure, is visually appealing and a fun to romp on. The museum is free on the first Friday of each month, from 5-8 pm.
Animal-lovers will want to venture out to the Roger Williams Park Zoo, located in leafy Roger William Park, where the rotating exhibits are divided according to geographical location, be it Tropical America, the Farmyard, or the Plains of Africa. October is a big month for the zoo, with the Jack O'Lantern Spectacular running nightly from October 7-31. Thousands of intricately carved, illuminated pumpkins are on display, making this a family hotspot. Take the RIPTA bus from downtown to the entrance to the park at Elmwood Avenue. Come back for another visit in 2011, when the Rhode Island Public Transit Authority will have installed a fleet of trolleys to take people from downtown Providence to the zoo.
Where to Snuggle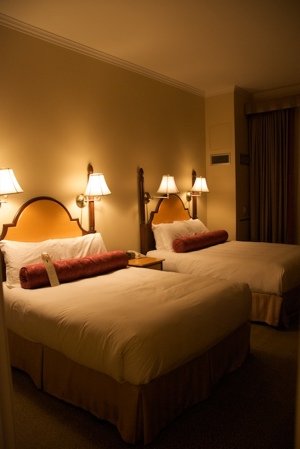 Hotel Providence (from $169), a boutique property located in the downtown arts and theater district, is a homey, entertaining option for the family. There are fall Artistic Workshops (photography, creative writing), jazz concerts, a pooch-friendly policy, free wifi, lobby art exhibits from neighbor RISD, rooms with views overlooking Grace Church, and a new Portuguese-Italian-American fusion restaurant Aspire—plus a green certification to make the stay even more comforting.
Hampton Inn & Suites Providence Downtown (from $179) is centrally located, and has a good breakfast buffet, included in the room rate. Thrift-minded families can snag a few free Grab and Go Breakfast sacks on the way out for a day of sightseeing. These paper bags include water, muffins, fruit and granola bars, to fill up those tiny tummies while you take in the sights.
What to Eat

No visit to Providence would be complete without a meal on Federal Hill, the town's Little Italy. Come with an appetite, as the pasta is good and portions are large in this neighborhood. Blue Grotto serves Italian-American favorites like spaghetti with clams and tiramisu in an old-world style dining room, where the waiter will make a big deal over the kids. The over-21 members of your party will applaud the fine wine list, voted one of Wine Spectator Magazine's best.
For more ideas of things to do and where to eat in the Creative Capital of Rhode Island, read A Closer Look at Providence's Cultural and Culinary Attractions
How to get there: Megabus's new thrice-daily service to Providence makes getting there cheap, easy, and eco-minded.  A seat on the top level of the double decker bus and Free WiFi should help the just over three-hour trip up the I-95 pass quickly. Consult offMetro's public transportation guide to Providence for travel alternatives.

Allison is a native New Yorker, who has lived in Rome, Tuscany, Melbourne, Toronto and Los Angeles. She frequently contributes travel pieces to Family Travel Forum, using her own children as guinea pigs as they travel the globe. She is fluent in Italian and Spanish and laughably adequate in French. Her background as an Early Childhood Educator gives her an added understanding of what it takes to travel with kids in tow. She firmly believes that the most important part of education takes place outside of the classroom, on the road, around the world. She never misses a chance to sample local delicacies, as her love for travel goes hand-in-hand with her love for food and wine. Follow Allison at @gourmetrav.