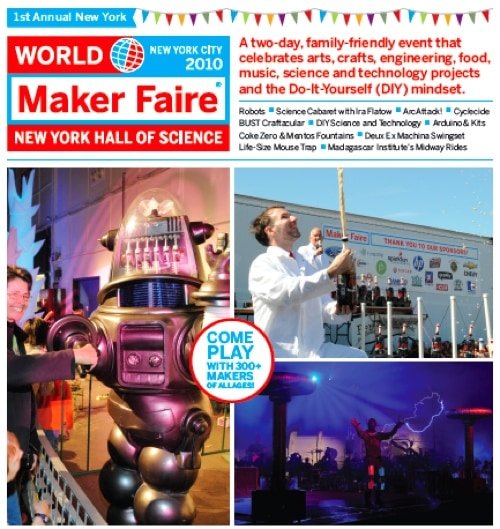 What: Inaugural World Maker Faire
Where: New York Hall of Science, Corona Park, Queens
When: Saturday 25, 10am–7pm; Sunday 26, 10am–6pm
Why: Consider MAKE magazine's two-day event in New York's most international borough to be an inventor's paradise. More than 300 projects and performances will showcase hands-on technology, exhibits in applied science, and inventive craft pieces.
The family event is intended to showcase "curiosity, creativity and inventiveness," said Margaret Honey, NYSCI president and CEO. Center Stage panels will include a Scientific American presentation of Scientists-Makers in Action when researchers will discuss everything from bamboo bicycles to green technology and hacking the human brain. The Maker Square Stage will present creative-project-incubator Kickstarter with Revealing the Inner Artist and Innovator to empower talented visionaries to build and sell their ideas. Science minded kids and adults will enjoy the Rocket Stage for a live stage presentation by Thinking as a Scientist on the joys of scientific discovery.
Other event highlights: Cyclecide Pedal Powered Rodeo will bring bikes, music and comedy together. Non-Newtonia will ask participants to walk across a pool-filled oobleck in order to set a world record. BUST Craftacular will be craftacular. DIYBIO will have a mobile science lab powered by solar power, wind turbines, waste vegetable oil, and a green roof.
Cost: $25 adults, $10 kids, $20 seniors, $15 students
View the full two-day schedule at makerfaire.com
How to get there: Take the 7 train to 111th Street Station. Walk three blocks south. (New York Hall of
Science, 47-01 111th Street, nysci.org)