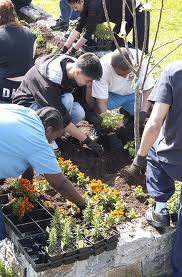 What: Earth Day Volunteering
Where: Socrates Sculpture Park
When: Friday, April 18, 9:00 am–2:00 pm
Why: Socrates said, "Let him that would move the world first move himself." We've all tried to make a difference in the environment, either by recycling, bringing our own canvas bag to the grocery store, or by turning off unnecessary lights around our apartment. Just a tiptoe's distance away from Manhattan, there's a chance to make an impact on a local level. This wonderful community event kicks off volunteer season at Socrates Sculpture Park, adjacent to the recently featured Isamu Noguchi Museum. Is there a more perfect way to celebrate Earth Day than by giving back to your community? The park provides a day of training for future community program volunteers who will participate in a day of learning specialized skills in gardening and landscaping, such as weeding, planting and pruning. A community vegetable garden will also be planted and the park's first compost unit will be built. Find an hour or two to lend a hand for the environment.
How to get there: On Sundays only, there is a shuttle-bus service between Manhattan and the Noguchi Museum – just two blocks from Socrates Sculpture Park. It picks up in Manhattan in front of Asia Society (725 Park Avenue at 70th Street) at on the hour between 12:30 pm and 3:30 pm. Return trips depart hourly from The Noguchi Museum between 1 pm and 5 pm.

When this service is not available, take the N or W train to the Broadway station in Astoria and walk eight blocks along Broadway toward the East River. Use the HopStop link below for exact directions from your point of departure.
The park is open 365 days a year from 10am to sunset, and admission is free. (Socrates Sculpture Park, 32-01 Vernon Blvd., Long Island City, 718.956.1819, socratessculpturepark.org)
Photos: Courtesy of Tara Sansone and Socrates Sculpture Park