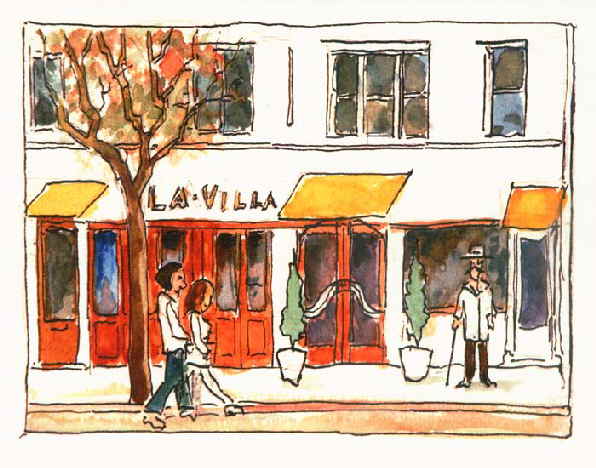 A walk down Fifth Ave often conjures up the standard New York icons: Saks, the Plaza, sidewalks teeming with camera-toting tourists. But Brooklyn's parry to the Manhattan madness lies in the home-grown staples of Park Slope. You'll find La Villa Pizzeria amongst the organic coffee shops, kids' clothiers and quiet cafes that the area is known for. With its warm wood decor and inviting atmosphere, La Villa (rightfully) gives off the aura of a true neighborhood eatery, with all the class and none of the pretension of its brother-borough counterparts.
The dishes are simple and savory, with traditional tastes dominating the menu. The parmigiana dishes are a local favorite while the rigatoni alla vodka is recommended by almost everyone in the restaurant. Coupled with an aromatic basket of warm bread and a basic but reasonably priced wine list, La Villa is the perfect place to linger over a meal, a weekly night out, or an afternoon espresso.
But the restaurant is really known for is its true passion: the pizzas. Concocted with the freshest ingredients and baked in a fiery wood-burning oven, La Villa offers more than a dozen varieties. Diners can't go wrong with the basic Margherita pizza – the crust, light and crispy with the texture of a pita, is covered with zesty tomatoes and whole or buffalo milk mozzarella that's made on the premises. At only $12 a pie, every slice is a steal.
For adventurous eaters, the Speciale pizza is the edible version of a meat-lovers manifesto: sausage, pepperoni and meatballs meld with mushrooms, onions and roasted red peppers for the ultimate omnivore experience. These thin crust creations, along with the Foccacia della Nonna ("Grandma's Pizza"), are topped with an array of cheeses and sprinkled with the best olive oil Italy has to offer. Don't be dissuaded by the labeling—the "small" easily feeds more than one empty stomach.
The staff is attentive but doesn't hover—unless of course you're a regular, then be prepared for the all-star treatment, complete with a knowledge of your "usual" and a sprinkle of neighborhood chatter. It may not draw the A-listers and gliterrati but this Brooklyn favorite serves up a solid slice of homestyle heartiness no matter who you are.
How to get there: Take the R Train into Brooklyn and get out at the Union Street stop. Walk one block east to 5th St, and walk south until you reach your destination. Click on the HopStop logo below for exact directions from anywhere on Manhattan. (La Villa Pizzeria, 261 5th Ave., Brooklyn, 718.499.9888, lavillaparkslope.com)
Photos: Courtesy of La Villa Pizzeria and Christina Therrien (bottom photo).