Nova Scotia, or "New Scotland," bears a striking resemblance to its namesake, both in its landscape—defined by lush highland hills, rugged cliffs and crashing seas—and in its culture, which still clings to Scottish roots, nearly 400 years after Scottish nobleman Sir William Alexander was granted his plot of land. In this post we'll delve into the Nova Scotia Culture.
Though Gaelic culture may sometimes feel like a rarity in the modern world, in Nova Scotia it is alive and well. Here, you'll find tartan shops and Gaelic welcome signs, weekend céilidhs (traditional Gaelic music and dancing parties)—mixed in with some Acadian French traditions.
Dance a Jig in Cape Breton

Cape Breton Island is the Celtic heart of Nova Scotia. The rugged highlands may call out to you through their beauty alone, but what sings even louder is the toe-tapping Celtic music that streams from kitchens, pubs, and community centers, and infuses the entire island with a unique and infectious vitality.
First on your list of to-dos in Cape Breton: find a Ceilidh—and that should not be hard to do. Just follow the music to the nearest concert hall or kitchen, and get to grooving. Then, if it's possible to get your fill of fiddles, head to Chéticamp to get a taste of the Acadian-style tunes.
If you're looking for a good hotel in Canda – for a good price – check out these deals on Kayak.
For a little back-story on Celtic music and other Gaelic traditions, make a trip to Highland Village, the only living-history museum for Gaelic folklife in North America, where costumed guides will lead you through a historic village. Then visit Fleur-de-lis and Marconi Trails and in Metro Cape Breton, where the Fortress Louisbourg will show you what 18th-century life was like on the French side of the island.
To fully experience both Gaelic and Acadian, simply follow their trails: adorable Acadian fishing villages dot the Fleur-de-lis and Marconi Trails, while the lively Celtic music rings along the Ceilidh Trail. To really immerse yourself in the music, try to make it up for Celtic Colours, a roving music festival that draws top musicians from around the world every October.
Hang your hat at Creignish Bed and Breakfast, a 'recycled school house' cum guesthouse—and, if you wish, art school. With only four rooms, this rustic, seaside spot is both homey and happy, with easy access to hiking and biking trails, and inspiring scenery all around—hence the offering of art workshops ($45 per night).
Live History in Halifax

Pirates and Indians and colonialists, oh my. If it's history you seek, Halifax has you covered. The province's capital has been defined by its waters since the Mi'kmaq dubbed it Che-book-took, which translates as "great long harbor."
Today, it is still a major port city and naval base, plus a college town and a treasure trove of cultural enjoyments.
The heart of Halifax is a meanderer's dream, its tree-lined streets, populated with galleries, tempting restaurants, libraries and a myriad of museums. The waterfront is bustling yet tranquil and the historical landmarks abound.
Since the main significance—and appeal—of this seaside town lies in its port, any visitor must make a pilgrimage to the Maritime Museum of the Atlantic to explore the port's history, from shipwreck treasures to its role in helping rescue those aboard the Titanic.
For a more modern historic experience, visit the specialty shops in Historic Properties, which were once the warehouses of 19th-century privateers. And by warehouses, they mean gorgeous Victorian-Italianate façades, not some cement eyesores.
But the most visited historic site in Canada is Halifax's Citadel National Historic Site, a key naval station of the British Empire, dating back to 1828. The star-shaped masonry structure is anything if not impressive: both for its incredible architecture and idyllic grounds, and for its role in Canada's evolution from colony to nation.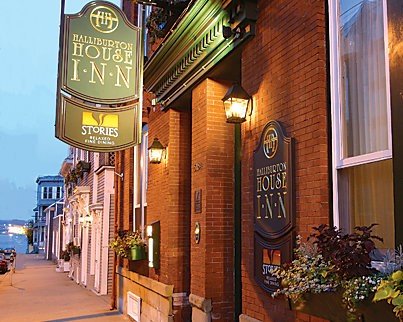 A trip back in time would not be the same at a new-fangled resort. The Waverly Inn, an antique-festooned Bed and Breakfast in an 1866 home has entertained such luminaries as Oscar Wilde, P.T. Barnum, and George Vanderbilt (starting at $129 per night).
The Haliburton House Inn has a more modern feel to it, but its 29 rooms—housed in three heritage houses—maintain an air of the unique in everything from their varying sizes to their layouts and décor (around $165 per night).
Seek Out Ghosts in Annapolis Royal
Annapolis Royal, was Canada's first permanent European settlement. Originally dubbed Port Royal, it was founded in 1605 by French explorer Samuel de Champlain. The British won the settlement in 1710, and changed the town's name to Annapolis Royal in honor of Queen Anne.
The tiny town is marked by flowing rivers, verdant open spaces, and the romance of a long history. Fort Anne, which marks the heart of town, is Canada's oldest national park, once one of the most embattled territories in the history of the New World, and now one of the most serene, surrounded by peaceful countryside and refined town. A museum in what was once the quarters of British officers tells the tumultuous history through trinkets and relics.
Saint George Street runs parallel to the waterfront, and then winds past to the other end of town, crossing Prince Albert Road, which is a segment of Route 1, the famous Evangeline Trail, which parallels the Bay of Fundy Coast. The natural beauty is astounding, but it's the long history that really sticks.
It seems everything in this hamlet has some historical significance, and in such a place there is heritage to be found, and ghosts as well. If you're the type to be captivated by the ethereal, don't miss a chance to tour the oldest English graveyard in Canada with Candlelight Graveyard Tours.
The Dragonfly Inn, an 1870 home on a lush plot of land on the Evangeline Trail, is as adorable as it sounds, and a breath of fresh air (rooms start at $119). In town is the Garrison House Inn, a circa 1854 heritage property with comfortable rooms, cool sea breezes and an elegant restaurant (rates start at $79).
How to get there: Fly into Halifax International Airport. There are shuttles from the airport to many hotels. Since the province is so large and taxis can be a bit pricey ($50 from the airport into Halifax, this is one place where it might make sense to rent a "green" car for navigating between the regions.
The bright side is that once you reach whatever destination you have in mind, you won't be needing much of the car, since there are so many places to walk and bike and hike.
Photos: Nova Scotia Tourism Board, ra1000