TRADITIONAL SEAFOOD IN THE GERMAN SEAPORT OF HAMBURG
On our trip to Europe, we stopped in the German seaport of Hamburg. This is the story of our visit to Schiffborse.
This is traditional German cooking. This is not a fancy place, with highly-priced food. This is traditional the way you expect. Having worked in Germany for a long time I expected a restaurant like this with the traditional food you expect. That was here. And it is what I planned on having.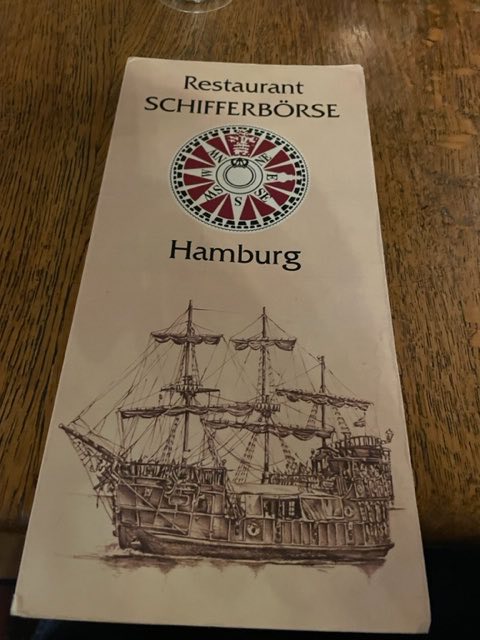 We walked into the Schifferborse at the right time. We were able to get a good table in the corner where we could see everything. Within an hour the place was packed. There were tourists here. But if you looked in the quiet spots you found the locals. That is where to be.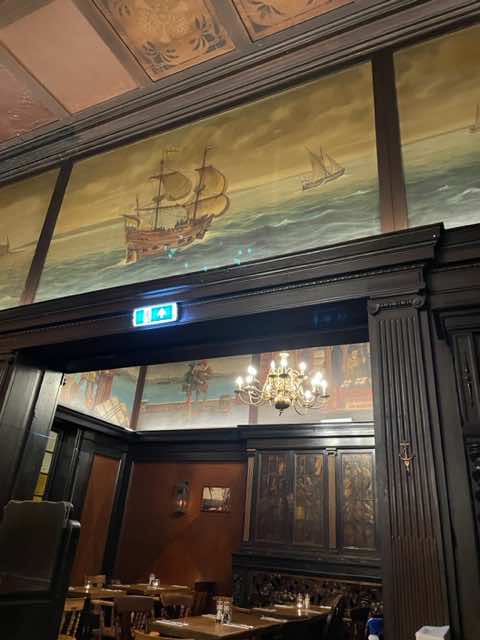 NORTHERN GERMAN FOOD FOR TODAY.
The seaport of Hamburg is over 350 years old. That came first. The meals created were fresh seafood for the area and used by the sailors. Those meals were created in a style that is still used today. It is simple. It is fresh. It is tasty and ideal. It still goes on today when you decide.
You can order from the menu and you can order items you do not see or expect. That is why I chose to sit by the wall. You get more and pay less. Knowing that this place is famous for seafood, that is what we ordered. It was an excellent choice.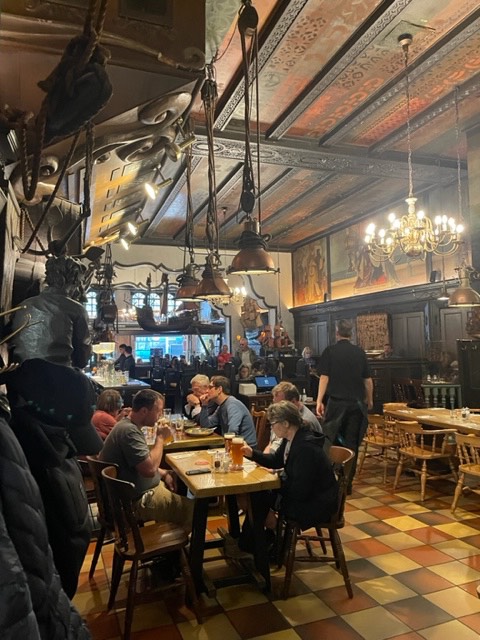 Where to begin? The simple way to start is to order a beer. You are in Germany and that is what to expect. Being here for seafood I decided to order a pint of Pilsner. It is a good, and lighter German beer to start with. It was ideal when having fish for dinner. The half-pint was the perfect size that night. The first sip and it is time to look at the menu. And there was so much to consider. Our waitress did speak English and could help us select.
The food is all fresh and current. This is what was expected today. So, it did give us much to select from.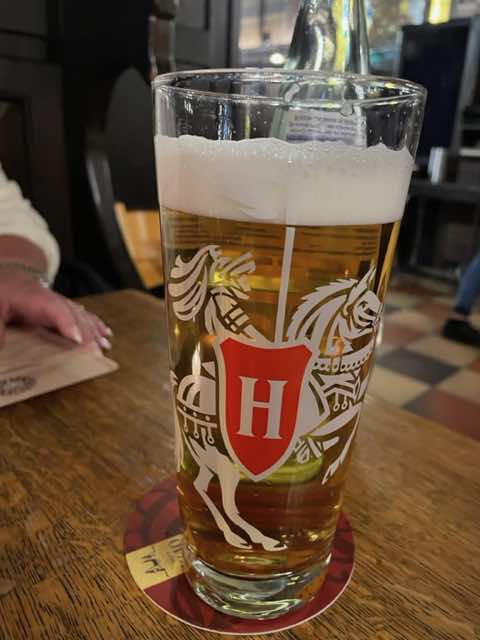 The Cauliflower Cream Soup
We started with some soup. A very traditional way to start with a German meal. In this case, we started with Cauliflower Cream Soup with Salmon Strips. Similar to the concept of a Clam Chowder this had salmon instead. It was ideal. Rich, thick, and creamy. The fresh taste was ideal. Identical to a soup I would have grown up with a German Grandfather. This was as he made it. I knew this well.
The Fresh Bass over a Beetroot Risotto
Next, I tried something different. Fresh Bass over a Beetroot Risotto. That was unexpected and was enjoyed. It was placed on top of grated goat cheese and herb salad. It also came along with a beetroot risotto you never would have expected. Fresh. Tasty. The right flavor is a touch. It was excellent. And not the way you would imagine a risotto. That alone could have been a meal to itself.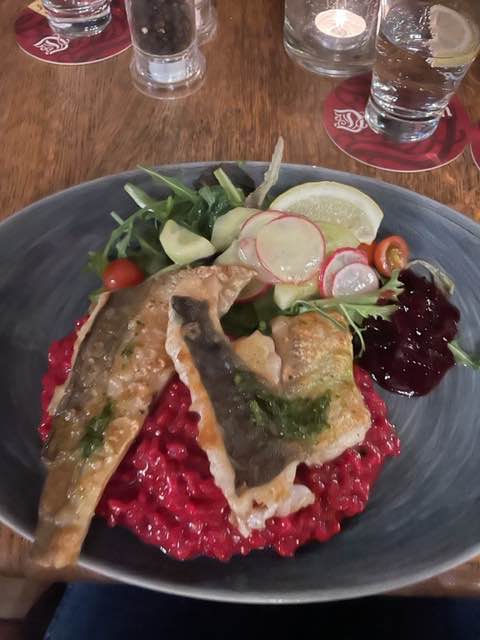 The Pork Rib Roast
We also had an order of Pork Rib Roast over potato salad (German style) and warm red cabbage. Excellent. It also was served with a sauce of creamy mushrooms with a flavor to compliment the ribs. This is not BBQ. This is the German style of cooking. It is different and enjoyable. The meal even came with a small salad. Perfect.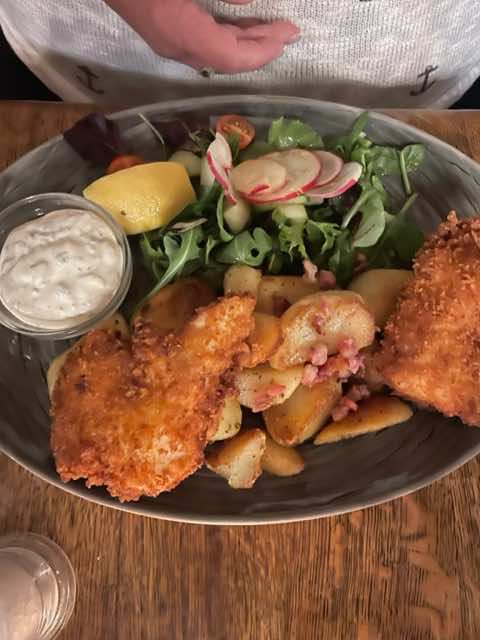 Naturally, we did have one side dish to share. Again, it was traditional and what I remembered growing up. It was a Creamy Spinach. Fresh and seasoned with some pepper. It, too, could have been a meal in a good portion.
NOTHING WITHOUT A TRADITIONAL DESSERT.
After dinner, we had to have an Apple Strudel. That is a tradition and something we would always have for the holiday or an event. But this time it came with fresh cream and vanilla ice cream. The ice cream had been made that day. It was like real ice cream should taste. As for the strudel, I could have had more. It was excellent and worth every bite. I just wanted to have more.
In the end, the price was right. The team was excellent and helpful. Our waitress spoke some English and that did help us. As for the restaurant itself, it was different. The restaurant has been around for many ages. It was renovated in the 1970s. The parts and pieces came from old ships that sailed more than 100 years ago. The parts were taken when the ships retired and used to create the establishment. Some of the equipment is over 350 years old, and was meticulously collected and combined into an impressive, almost unique restaurant setting.
All rooms are fully furnished with antiques and convey a special flair of historic Hamburg and seafaring. It is something to see while you are there.
It made you look all over the place as you took each bite from the plate.It was enjoying the past as you enjoyed the recipes today.
I will return next time I am back in Hamburg! Perfect.
Danke. Prost
LOCATION:
Restaurant Schifferbörse
Church Avenue 46
20099 Hamburg
Phone +49 40 24 52 40
Want to read more of our latest posts? Check out these 5 amazing road trips in West Virginia that you should try, or read about our visit to Marcantoni in Rome, Italy.
5 Beautiful Road Trips in West Virginia You Should Try (with Videos!)