Paris, the City of Lights, is a metropolis that begs to be explored on foot. Its charming streets, elegant boulevards, and quaint neighborhoods are best enjoyed at a slow pace, allowing you to savor the city's artistic and architectural masterpieces. If you're yearning for a unique Parisian experience, a walking tour might be just what you need.
Why Choose a Walking Tour in Paris?
Choosing a walking tour in Paris offers a multitude of advantages that enhance your exploration of this captivating city. By immersing yourself in the streets of Paris on foot, you'll experience unparalleled authenticity, allowing you to soak up the charm and atmosphere at your own pace. Walking tours provide an intimate connection to the city, as knowledgeable guides share fascinating insights into its history, art, and culture. Moreover, you'll have the opportunity to stop at your leisure to admire the views, and uncover hidden gems and local discoveries that are often overlooked by traditional tourist routes. The flexibility and freedom afforded by a walking tour enable you to truly engage with Paris, creating an unforgettable and enriching experience.
Famous Walking Tours in Paris
Historical Paris Walking Tour
The Historical Paris Walking Tour offers an immersive journey into the city's past. Explore iconic landmarks like the Louvre, Notre Dame, and the Sainte-Chapelle, while your guide regales you with tales of kings, queens, and revolutionaries. It's a walk through time!
Watch this cool video to get a glimpse of what you'll see:
Montmartre Walking Tour
The Montmartre Walking Tour takes you to the bohemian heart of Paris. Roam the hilly streets, admire the stunning Sacré-Cœur Basilica, and visit the former haunts of Picasso and Van Gogh. It's the perfect place to capture the artistic spirit of the city.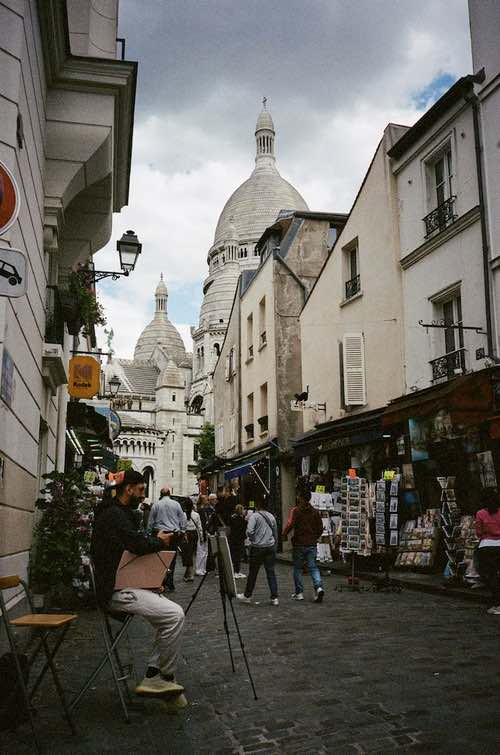 Paris Food Walking Tour
Foodies, this one's for you! The Paris Food Walking Tour allows you to taste your way through the city's gastronomic scene. Visit bustling markets, taste decadent pastries, and learn about the city's culinary traditions. Remember, in Paris, love might be in the air, but it's the smell of croissants that will steal your heart!
Check out this video to learn about the best street food finds in Paris:
The Latin Quarter Walking Tour
The Latin Quarter Walking Tour lets you delve into the intellectual hub of Paris. Discover the historic Sorbonne University, explore the picturesque Luxembourg Gardens, and browse the stalls of the iconic Shakespeare and Company bookstore. It's a cerebral journey that will leave you enlightened!
Watch this video to learn more about the Latin Quarter:
The Marais Walking Tour
The Marais is one of the most historic and picturesque neighborhoods in Paris. A walking tour of this area will take you through narrow medieval streets lined with beautiful mansions and trendy boutiques. You'll see the stunning Place des Vosges, one of the oldest planned squares in Paris, and visit the Musée Carnavalet, which tells the story of the city's history. The Marais is also home to a vibrant Jewish community, and a visit to the Rue des Rosiers will give you a taste of traditional Jewish cuisine.
Watch this video by Rick Steve's (one of our top favorite tour guides) to get a glimpse of The Marais:
The Secret Passages of Paris Walking Tour
Paris is home to many hidden passages and arcades that date back to the 19th century. These covered walkways were once bustling shopping arcades and are now home to quaint boutiques and cafes. A walking tour of these secret passages will take you off the beaten path and show you a different side of Paris. You'll visit the Passage des Panoramas, the oldest covered passage in Paris, and the Galerie Vivienne, known for its beautiful mosaic floors.
Watch this video to get a glimpse:
The Père Lachaise Cemetery Walking Tour
Père Lachaise Cemetery is one of the most famous cemeteries in the world. A walking tour of this peaceful oasis in the heart of Paris will take you past the final resting places of many famous figures, including Jim Morrison, Edith Piaf, and Oscar Wilde. The cemetery is also home to stunning sculptures and mausoleums that are works of art in their own right.
Watch this video to get a glimpse of the cemetery:
The Seine River Walking Tour
The Seine River is the lifeblood of Paris and a walking tour along its banks will give you a unique perspective on the city. You'll see famous landmarks like Notre Dame Cathedral and the Eiffel Tower from a different angle and discover hidden gems like the Île Saint-Louis. A stroll along the river at sunset is particularly magical.
Watch this video to learn more:
Tips for a Great Walking Tour
Remember to wear comfortable shoes – the cobblestone streets of Paris can be unforgiving. Dress in layers as the weather can change throughout the day. Carry a water bottle to stay hydrated, and don't forget your camera – you'll encounter numerous photo opportunities along the way!
Conclusion
Walking tours offer a unique way to explore Paris, allowing you to experience the city from a local's perspective. Whether you're a history buff, an art enthusiast, or a food lover, there's a walking tour for you.
Check out reputed companies like Discover Walks for the best experience.
So, are you ready to take a walk on the Parisian side?
FAQs
1. How long do walking tours usually last?
Walking tours can last anywhere from 1 to 4 hours, depending on the tour.
2. Do I need to book a walking tour in advance?
Yes, it's usually recommended to book your tour in advance, especially during peak tourist season
3. Are guided walking tours in English?
Most walking tours in Paris are offered in several languages, including English.
4. Are the walking tours kid-friendly?
Yes, most walking tours are suitable for families with children. However, it's always best to check with the tour provider.
5. Can I customize my walking tour?
Some tour operators offer customizable tours, allowing you to select which sights and neighborhoods you wish to visit.
Want to read more of our latest posts? Check out our post about trips beyond Paris by rail.