Marcantonio is off the beaten path of a tourist-type place. This is where we can find something that is more local than expensive. It is a few blocks next to the Vatican and our hotel. It is your local Italian Restaurant. And being Italian out of the US it is something that we look for and will remind us of home.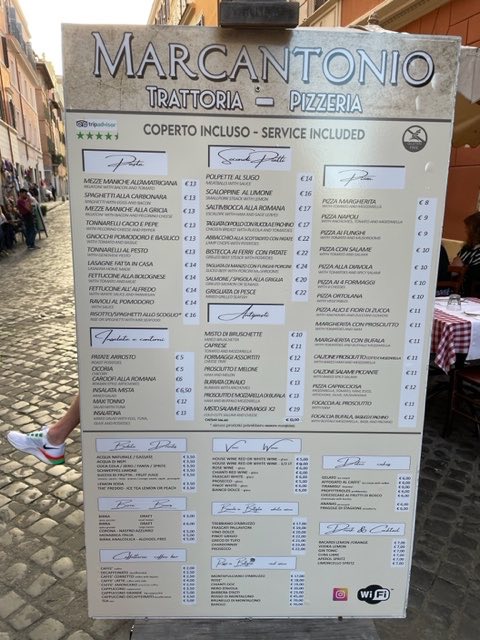 Marcantonio was a special place. The first time I passed by after looking at the menu. I did speak with the waiter who invited us in. But we passed and said the next night. And that is what we did. All day we thought of going and what to have. When we stopped by he invited us in and was prepared for what we wanted to try. There was no mistake. This was even better.
A TIME TO EAT. AGAIN
It is artichoke season in Italy and that was special to start with. And we did. It was not like we see at home. This is as he would make it. And it was more than I expected. It was fresh and tasty. Fried and cooked in olive oil. It was easy to eat and enjoy. A meal could have been made just of this.

Next, we had Mozzarella and Tomato. Again, not like we had at home. The tomato was firm and fresh. Just picked. The mozzarella was made in the morning. Furthermore, a pound of it at least. Fresh. With a bit of oil and balsamic. Nothing else was needed. The way to eat it.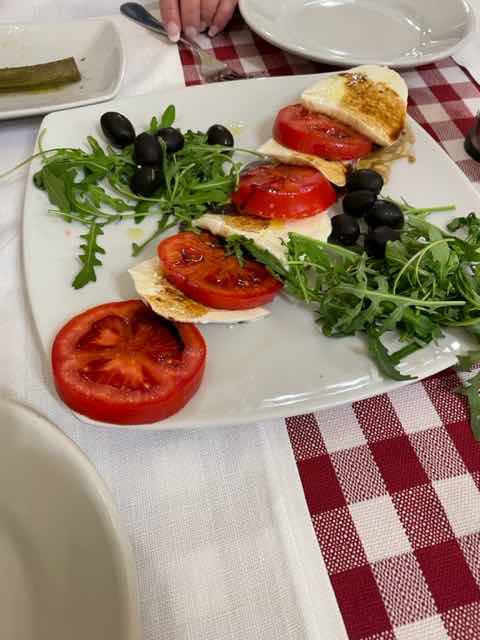 Naturally, we had to have pasta and pesto. Every place makes it different, but it is the same. This is home cooking with a different flare for each establishment. And a good portion to enjoy or share.
We also had Pasta Carbonara. You might not have tried it, but having had it before I look for a place that can make it properly. This is one of them. It was ideal to try and enjoy.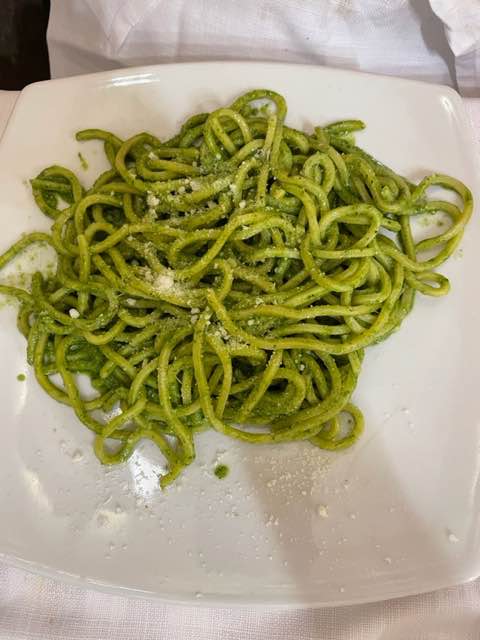 SOMETHING TO EAT. SOMETHING TO DRINK
Of course, we did have house wine with the meal. Once again we do not order special. We ask for their recommendation and try that. And it does not cost much. For what we pay it would cost more for a coffee in some places in NYC. As for the coffee I got an espresso.
Here in Italy, it is not what we get in the US. This is authentic coffee as they make it. Ideal for someone who likes real coffee you can not buy from a chain store of coffee shops around the world.

Overall prices are ideal. It is cheaper than eating at home. The service is wonderful. The meal is what we would hope for.

We liked this so much that we did go back again before we left. It was being invited to their kitchen as if we were home eating with family!

Grazi!
LOCATION:
Trattoria Marcantonio a Roma (RM)
Borgo Pio, 146
00193 Roma RM, Italy
PHONE: +39 06 686 1413
Want to read more of our latest posts? Check out our short guide to the best beaches in Miami.