London, the vibrant and diverse capital of the United Kingdom, is a city steeped in history and culture and a hub of creativity and trends. London offers endless things to do and many epic locations for TikTok enthusiasts seeking the perfect backdrop to captivate their audience. From iconic landmarks like Tower Bridge and Buckingham Palace to trendy neighborhoods like Shoreditch and Camden Market, the city provides captivating settings for creating awesome TikTok videos.
In this blog post, we'll take you on a virtual tour of 10 must-visit spots in London that will elevate your TikTok game and leave your followers wanting more. So, grab your phone and get ready to explore the 10 epic locations for TikTok videos in London!
1. Tower Bridge
Start your TikTok adventure by visiting the iconic Tower Bridge. Its majestic architecture and breathtaking views of the River Thames make it a popular spot for capturing stunning videos. Whether you're dancing against the backdrop of the bridge's striking towers or showcasing the bridge lifting for passing boats, this location will impress your followers.
Tower Bridge, one of London's most iconic landmarks, should be at the top of your list when creating TikTok videos. With its majestic architecture and stunning views of the River Thames, this bridge offers an irresistible backdrop for captivating content. Dance against the backdrop of the bridge's striking towers, showcasing your moves while the elegant structure stands tall behind you.
Tower Bridge combines grandeur and beauty, making it an ideal location to impress and engage your audience on TikTok.
Watch this excellent video to get a glimpse:
2. Covent Garden
Immerse yourself in Covent Garden's vibrant and lively atmosphere, a neighborhood that never fails to captivate both locals and visitors. This bustling area is brimming with character, entertainment, and an array of TikTok opportunities waiting to be explored.
Wander through the cobblestone streets and immerse yourself in the charm of the historic market buildings. Capture the hustle and bustle of street performers showcasing their talents, from musicians and magicians to acrobats and dancers, adding a touch of magic to your TikTok videos.
Explore the quaint shops and capture unique finds, whether stylish fashion boutiques, quirky antique stores, or artisanal crafts. The energy of Covent Garden is infectious, and it offers endless possibilities for creative videos that will engage and entertain your followers.
Covent Garden has established itself as a popular hub for events, attracting both locals and visitors from around the world. The district's iconic Piazza serves as a focal point, hosting a multitude of events throughout the year, from street performances to live concerts and festivals organized by pros like EMS Events in London, and others. These events are fabulous for making TikTok videos.
One of the reasons why Covent Garden is highly sought after for events is its historical charm and architectural beauty. The area is steeped in history, with its elegant buildings, cobbled streets, and the stunning Covent Garden Market. These picturesque surroundings provide a captivating backdrop for all kinds of gatherings, creating a unique and memorable atmosphere.
Watch this video tour of the Covent Garden to understand more:
3. Notting Hill
Indulge in the enchanting ambiance of Notting Hill, a neighborhood that has become synonymous with charm and creativity. Known for its pastel-colored houses, Notting Hill is a dream location for TikTok content. Take your followers on a visual journey along the lively Portobello Road, where the bustling market scene unfolds. Explore the vintage shops and capture the nostalgia of bygone eras.
The stunning architecture of Notting Hill provides a perfect backdrop for your TikTok videos, whether you're showcasing the vibrant mews, charming doorways, or picturesque gardens. And let's not forget the iconic pastel-colored houses that line the streets; dance in front of these Instagrammable facades to create memorable moments that will undoubtedly leave your followers in awe.
4. Camden Market
For an alternative and edgy TikTok experience, head to Camden Market. This bustling market is renowned for its vibrant street art, unique fashion stalls, and diverse food options. Let your creativity shine as you showcase the electric atmosphere and the quirky finds that make Camden Market a must-visit location.
Watch this video by Traveling Solo Logs to get a glimpse:
5. The Shard
For breathtaking views of the city, make your way to The Shard. As the tallest building in the United Kingdom, this architectural masterpiece offers unparalleled panoramas of London's skyline. Record your dance moves against the stunning backdrop of the city spread out below, or capture a time-lapse video as the sun sets over the metropolis.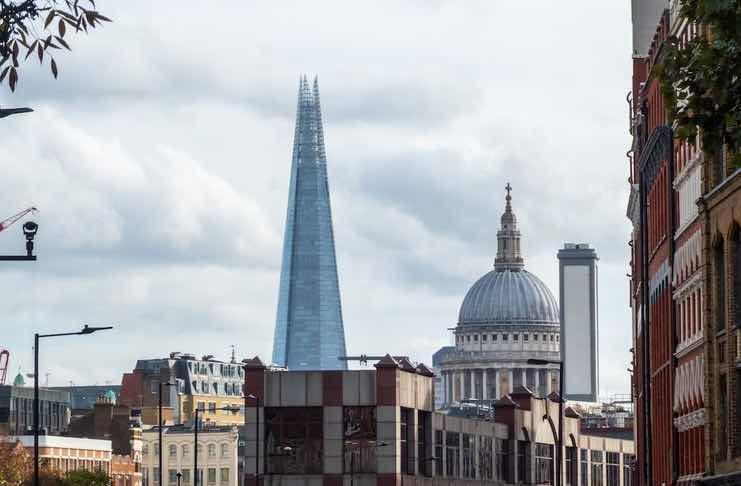 6. Buckingham Palace
A trip to London would be complete with a visit to Buckingham Palace, the majestic residence of the British monarch. Capture the awe-inspiring beauty of the palace's stunning architecture, complete with its grand facade and intricate details. This iconic landmark is a treasure trove for creating stunning TikTok videos with grandeur and regal charm.
Buckingham Palace offers a unique opportunity to capture the essence of British heritage and create unforgettable TikTok moments that will make you feel like royalty. Timing your visit right will allow you to witness the spectacular Changing of the Guard ceremony, a centuries-old tradition showcasing the British monarchy's pomp and pageantry. Record and share this majestic event with your followers, immersing them in the regal atmosphere and leaving them in awe of your royal content.
7. Shoreditch
To inject urban coolness, venture into Shoreditch, London's trendiest neighborhood. Shoreditch is known for its street art, hipster cafes, and vibrant nightlife and offers endless possibilities for unique TikTok videos. Explore the colorful streets, interact with local artists, or capture the perfect coffee shot in one of the area's stylish cafes.
Watch this video to get a glimpse:
8. The British Museum
Delve into history and culture at the renowned British Museum. With its vast collection of artifacts and artworks worldwide, this location provides a visually stunning backdrop for educational and entertaining TikTok videos. The British Museum is a treasure trove of content ideas, from ancient Egyptian mummies to Greek sculptures.
9. The South Bank
Stroll along the South Bank of the River Thames, where you'll find many attractions and Instagrammable spots. Capture the iconic London Eye, walk across the Millennium Bridge, or showcase the colorful street performers that add a touch of magic to this vibrant area. The South Bank is a perfect blend of modernity and tradition, making it a must-visit destination for TikTok creators.
Watch this video to get a glimpse of the South Bank:
10. Primrose Hill
To conclude your epic TikTok journey in London, visit Primrose Hill, a serene and picturesque spot that offers breathtaking panoramic city views. Ascend to the hill's summit and be rewarded with a mesmerizing vista that stretches across London's iconic skyline. Capture stunning time-lapse videos as the sun sets or the city lights begin to twinkle, creating a magical atmosphere that will leave your followers in awe.
Take advantage of the serene surroundings and lush greenery to create captivating content that showcases your creativity and style. Whether dancing, performing a yoga flow or simply sharing your thoughts against the stunning backdrop, Primrose Hill provides the perfect setting for creating captivating TikTok moments that will transport your followers to a place of beauty and tranquillity. Let your creativity unfold amidst the natural splendour of Primrose Hill, and watch as your TikTok videos captivate the eyes and hearts of your audience.
Conclusion
London is a treasure trove of epic locations for creating captivating TikTok videos. From iconic landmarks like Tower Bridge and Buckingham Palace to trendy neighborhoods like Shoreditch and Camden Market, the city offers a diverse backdrop to elevate your content. Whether you're capturing the vibrancy of Covent Garden, the charm of Notting Hill, or the breathtaking views from The Shard, each location presents an opportunity to showcase your creativity and entertain your followers.
London is waiting to be the backdrop for your following viral TikTok videos, so go out! So, grab your camera, charge your phone, and embark on a TikTok adventure through London's most epic locations. Let your imagination run wild, dance like nobody's watching, and create content that leaves your followers in awe.