Greenwich, located in London, is a vibrant and historically significant borough that offers a plethora of attractions and activities for visitors to explore. From its beautiful parks and museums to its iconic landmarks, Greenwich is a must-visit destination. We covered the British capital before, including a post about the best Museums in London that cannot miss. So in this article, we will delve into the 10 best things to do in Greenwich this year, providing you with valuable insights and information to plan your visit. So, let's embark on a journey through the top attractions this remarkable borough has to offer.
Explore Greenwich Park
A Glimpse into History and Nature
Our first stop on this Greenwich adventure is Greenwich Park, a majestic green oasis steeped in history and natural beauty. As one of the largest green spaces in London, this park offers a range of attractions that will captivate visitors of all ages.
Greenwich Park is also home to the renowned Royal Observatory, a site of astronomical significance and the location of the Prime Meridian Line. As you explore the park, make sure to visit the Royal Observatory to learn about the history of timekeeping and gaze at the stars in the planetarium.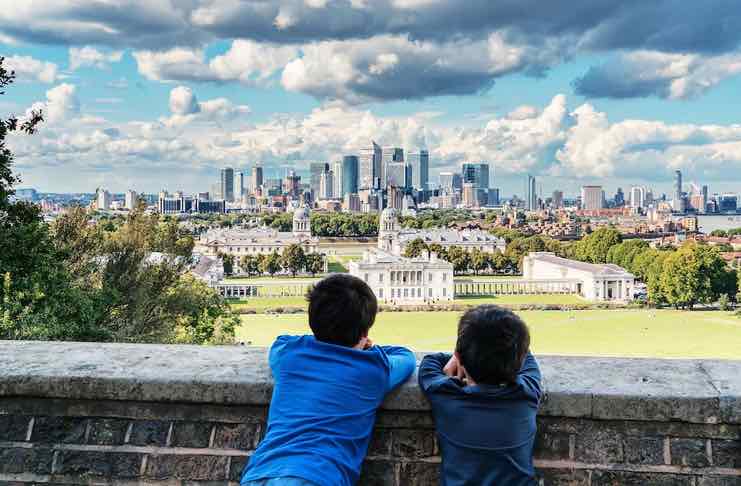 Unforgettable Sights and Activities
Apart from the Royal Observatory, Greenwich Park also boasts breathtaking views of the London skyline, making it an ideal spot for a picnic or a leisurely stroll. As you traverse the park, you'll come across ancient trees, manicured gardens, and serene pathways that lead to hidden treasures.
Visit the National Maritime Museum within the park is also a must for history enthusiasts. Discover the maritime history of Britain through fascinating exhibitions and interactive displays. Moreover, learn about legendary explorers, naval battles, and the significance of the Thames River in shaping London's destiny.
Statistical Data
According to the Office for National Statistics (ONS), Greenwich has experienced an increase in tourism over the past few years, with a steady rise in visitor numbers. The borough's rich historical heritage and wide range of attractions also contribute to its popularity among both domestic and international tourists.
Watch this video by Visit London to get a glimpse of what you can do there:
Visit the Cutty Sark
An Iconic Maritime Landmark
The Cutty Sark, an iconic clipper ship, beckons visitors to embark on a journey back in time to the golden age of sail. This marvel of maritime engineering has been meticulously restored and transformed into a fascinating museum that tells the story of its illustrious past.
History and Exhibits
As you step aboard the Cutty Sark, you'll be transported to the era of 19th-century trade and exploration. Immerse yourself in the ship's rich history and marvel at its graceful design and intricate details. Explore the various decks and cabins to get a glimpse into the lives of the sailors who once called this vessel home.
The Cutty Sark Museum also houses a vast collection of artifacts and interactive exhibits that bring the ship's story to life. Learn about the ship's record-breaking voyages, its cargo of tea and wool, and the daring adventures of the sailors who navigated treacherous waters.
Watch this video by Experiencing London to see it for yourself:
Featured Snippet Points
The Cutty Sark is the world's only enduring tea clipper and one of the greatest and fastest ships of its time.

The ship was built in 1869 and was primarily used for transporting tea from China to Britain.

The Cutty Sark was retired in 1954 and was later restored and opened to the public as a museum in 1957.

The ship's name, "Cutty Sark," is derived from a Scottish term meaning "short nightdress" or "short shirt."
Discover the Royal Observatory
Timekeeping and Astronomical Wonders
The Royal Observatory, located on a hill in Greenwich Park, is a symbol of astronomical research and scientific advancement. This historic site holds great significance as the birthplace of Greenwich Mean Time (GMT) and the Prime Meridian Line.
Step into the observatory and embark on a journey through time and space. Dive into the history of timekeeping and the ways it shaped our modern world. Learn about the famous astronomers who made groundbreaking discoveries and also the instruments they used to unravel the mysteries of the universe.
Watch this video to get a glimpse:
The Prime Meridian Line and Unique Experiences
The Prime Meridian Line, which delineates the boundary between the Eastern and Western Hemispheres, is one of the Royal Observatory's most recognizable features. Take a memorable photo here while standing with one foot in the east and the other in the west.
Visitors to the Royal Observatory can also enjoy a range of unique experiences. Explore the interactive exhibits that showcase the wonders of astronomy, witness a mesmerizing planetarium show, or attend a fascinating talk by renowned scientists. Moreover, don't forget to visit the Octagon Room, which houses the remarkable Great Equatorial Telescope.
Statistical Data
According to the Visit Greenwich Annual Report 2018-19, the Royal Observatory is one of the most popular attractions in Greenwich, attracting a significant number of visitors each year. The report also highlights the positive impact of tourism on the local economy, with increased spending in accommodation, dining, and retail sectors.
Visit a Spa in Greenwich
Relaxation and Wellness
Amidst the exploration of historical landmarks and vibrant markets, take some time to pamper yourself and indulge in relaxation at the Meridian Spa in Greenwich. This luxurious spa offers a sanctuary where you can rejuvenate your mind, body, and spirit.
Services and Facilities
The Meridian Spa provides a range of wellness services, including soothing massages, rejuvenating facials, invigorating body treatments, and tranquil relaxation areas. Escape from the bustling city and immerse yourself in an oasis of calm as skilled therapists attend to your well-being.
Experience Bliss in Greenwich
Located in a serene setting, the Meridian Spa offers a serene environment that also promotes relaxation and rejuvenation. Whether you opt for a deep tissue massage to release tension, a revitalizing facial to nourish your skin, or a luxurious body scrub to invigorate your senses, the spa ensures a blissful experience tailored to your needs.
Website and Contact Information
To learn more about the Meridian Spa in Greenwich, including their services, facilities, and booking details, visit: Meridian Spa. You can also contact them directly for any inquiries or to make a reservation.
Experience the National Maritime Museum
A Tribute to Britain's Maritime Legacy
Nestled within the grounds of Greenwich Park, the National Maritime Museum pays homage to Britain's rich maritime heritage. This world-class museum invites visitors to explore the captivating stories of seafarers, naval battles, and also global trade that have shaped the nation's history.
Engaging Exhibitions and Collections
Step into the museum's grand halls, and you'll be greeted by a treasure trove of artifacts, artworks, and interactive exhibits that bring maritime history to life. From intricately designed ship models to historical maps and navigational instruments, the museum showcases a diverse range of items that chronicle Britain's seafaring past.
Temporary and Special Exhibitions
The National Naval Museum also conducts a number of temporary and special exhibitions every year in addition to its permanent collection. These exhibits offer unique insights into specific aspects of maritime history, such as explorations of famous shipwrecks, the lives of notable naval figures, or the impact of maritime trade on global economies.
Visitors can also engage in interactive displays and immersive experiences that allow them to navigate a ship, test their maritime skills, or even experience life on board a vessel during different time periods. Moreover, with engaging activities for both children and adults, the National Maritime Museum also ensures an enriching and enjoyable visit for all.
Watch this video to learn more:
Featured Snippet Points
The largest marine museum in the world is the National Marine Museum.

More than 2 million artifacts from Britain's maritime history are also kept in the museum.

Some of the notable collections include paintings, ship models, maritime artifacts, and navigational instruments.

The museum offers free entry, allowing visitors to explore its vast collection without any admission fee.
Take a River Cruise along the Thames
Scenic Beauty and Iconic Landmarks
The Thames River, the lifeblood of London, weaves its way through Greenwich, offering a unique perspective of the city's iconic landmarks and stunning scenery. Embarking on a river cruise along the Thames is a memorable way to soak in the beauty of Greenwich and its surrounding areas.
As you glide along the gentle currents of the river, you'll be treated to panoramic views of London's skyline, including renowned landmarks like the Tower Bridge, the Shard, and the Houses of Parliament. Snap photos of these architectural marvels from a different angle and also appreciate their grandeur against the backdrop of the river.
Watch this video to see how that will be like:
Leisurely Cruises and Sightseeing Options
There are numerous river cruise alternatives to suit different tastes and budgets. Whether you prefer a leisurely sightseeing cruise with informative commentary or a luxurious dining experience in a floating restaurant, there's a cruise for every taste.
Some river cruises also offer themed experiences, such as jazz or sunset cruises, adding an extra layer of charm to your journey. Sit back, relax, and let the gentle motion of the boat transport you to different eras of London's history in addition to enjoying the enchanting views along the Thames.
Featured Snippet Points
The Thames is the longest river entirely in England and stretches over 215 miles.

River cruises in Greenwich offer picturesque views of landmarks like the Cutty Sark, the Old Royal Naval College, and the Queen's House.

Cruises often provide informative commentary about the history and significance of the sights along the river.

Some river cruises offer hop-on-hop-off options, allowing you to explore different parts of London at your own pace.
Enjoy Greenwich Market
A Vibrant Hub of Shopping and Culinary Delights
Greenwich Market, nestled at the heart of the borough, is a bustling and vibrant marketplace that entices visitors with its eclectic mix of shops, food stalls, and artisanal crafts. This historic market also has been a hub of activity for centuries, attracting locals and tourists alike.
Diverse Shopping Experience
Greenwich Market also offers a diverse range of shopping experiences, making it a paradise for avid shoppers and treasure hunters. Stroll through the market's covered walkways and browse through stalls brimming with unique items, including handmade jewelry, vintage clothing, artwork, antiques, and much more.
You'll also find a variety of specialty shops and boutiques within the market, offering everything from artisanal chocolates to sustainable fashion. With its emphasis on independent and local businesses, Greenwich Market also provides a refreshing alternative to mainstream shopping destinations.
Culinary Delights and International Flavors
One of the highlights of visiting Greenwich Market is undoubtedly the food scene. The market's food section offers a tantalizing array of global cuisines, street food favorites, and gourmet delights. From freshly prepared sandwiches and savory pies to exotic dishes from around the world, there's something to satisfy every palate.
Moreover, Indulge in aromatic Thai curries, savor the flavors of authentic Spanish paella, or opt for mouthwatering vegan and vegetarian options. With the market's emphasis on fresh, locally sourced ingredients and innovative culinary concepts, you're always in for a treat that will delight your taste buds.
Watch this video to get a glimpse of the Greenwich Market:
Vibrant Atmosphere and Entertainment
In addition to the shopping and culinary experiences, Greenwich Market is known for its lively and vibrant atmosphere. Street performers and musicians also often grace the market, entertaining visitors with their talents and adding to the overall festive ambiance.
Also, keep an eye out for special events and themed markets that take place throughout the year, such as artisan craft fairs, vintage markets, or seasonal celebrations. These events also offer an opportunity to discover unique creations, meet local artists, and immerse yourself in the vibrant community spirit of Greenwich.
Statistical Data
According to the Visit Greenwich Annual Report 2018-19, Greenwich Market continues to be a major draw for visitors, with high footfall and increased visitor satisfaction ratings. The report also highlights the positive economic impact of the market, supporting local businesses and contributing to the borough's tourism revenue.
Immerse in Greenwich's Historic Architecture
Architectural Gems and Rich Heritage
Greenwich is a treasure trove of historic architecture, boasting a remarkable collection of buildings that reflect its rich heritage. From grand palaces to elegant churches, the borough's architectural gems provide a glimpse into its illustrious past.
One of the standout landmarks is the Queen's House, a masterpiece of 17th-century architecture. Designed by renowned architect Inigo Jones, this elegant building showcases the classical Palladian style and houses an impressive art collection. Explore its regal rooms along with marvel at the breathtaking beauty of this royal residence.
Iconic Landmarks and Notable Structures
Another iconic structure in Greenwich is St Alfege Church, a striking parish church known for its stunning architecture and historical significance. Built in the 18th century, the church has witnessed significant events throughout history, including the birth of Henry VIII and also the wedding of Princess Margaret.
Historical Significance and Cultural Heritage
Greenwich's architectural heritage is also represented by the Old Royal Naval College, a magnificent ensemble of buildings that served as a naval hospital and training establishment. Designed by Sir Christopher Wren, this UNESCO World Heritage site is a testament to the borough's maritime legacy and is renowned for its stunning Painted Hall and Chapel.
As you wander through Greenwich's streets, you'll also encounter a multitude of well-preserved Georgian and Victorian townhouses that add charm and character to the borough. These architectural gems also serve as a reminder of the changing history of the borough as well as a window into the lives of the people who formerly called Greenwich home.
Featured Snippet Points
The Queen's House is an architectural masterpiece designed by Inigo Jones in the 17th century and is known for its classic Palladian style.

The 18th-century St. Alfege Church is a major historical site and a representation of Greenwich's cultural legacy.

The Old Royal Naval College, designed by Sir Christopher Wren, is a UNESCO World Heritage site that showcases stunning architecture and hosts various events and exhibitions.

Greenwich is home to numerous well-preserved Georgian and Victorian townhouses, providing a glimpse into the borough's architectural evolution over the centuries.
Conclusion
Greenwich, London, offers a captivating blend of historical landmarks, natural beauty, cultural richness, and leisure activities. From the serene Greenwich Park and its iconic Royal Observatory to the immersive experiences at the Cutty Sark and National Maritime Museum, there are endless opportunities for exploration and discovery.
Moreover, Indulge in the vibrant atmosphere of Greenwich Market, savor international flavors, and appreciate the borough's architectural splendors. And when you need a moment of relaxation, the Meridian Spa in Greenwich provides a haven of tranquility.
With its rich history, diverse attractions, and undeniable charm, Greenwich promises an unforgettable experience for visitors. So, plan your visit, immerse yourself in the wonders of this remarkable borough, and create memories that will last a lifetime.