Are you a lover of history and art? Are you looking for an unforgettable experience in London? Then look no further! There are some brilliant museums in the city that will leave you feeling inspired. From world-renowned institutions to hidden gems, here's our guide to 10 of the best museums in London that you must visit.
1. The British Museum
The British Museum is one of the most renowned museums in London (see the featured image above!). It houses a plethora of artifacts, sculptures, and other items collected from around the world, making it an excellent spot for art lovers. The museum's collection covers various topics, including ancient civilizations, modern artworks, and much more. Visitors can explore its vast galleries to discover interesting facts about different cultures and their history.
Aside from its remarkable collections, the museum also offers educational programs like workshops and lectures suitable for all ages. These activities provide excellent learning opportunities for young minds to learn about diverse aspects of culture and history. Moreover, there are also wonderful temporary exhibitions that allow visitors to have a unique experience each time they visit.
Here's a short clip about the museum:
2. The National Gallery
The National Gallery in London is a must-visit for anyone looking to explore the history of art and culture. Home to over 2,300 works of European painting from the 13th century all the way up until 1900, it's one of the most comprehensive collections anywhere in Europe. Visitors can admire masterpieces from renowned artists, including Da Vinci, Monet, Titian, and Turner, as they wander through this world-famous museum.
In addition to its extensive collection, The National Gallery also offers special exhibitions throughout the year that take place both indoors and outdoors – giving visitors an even more immersive experience. Regular talks and guided tours are also available, so you don't miss any details when exploring these incredible works of art.
These are the top paintings you'll find there:
Overall, The National Gallery should definitely be included on your list if you're hoping to get a taste of iconic artwork in London. With something new always showcasing alongside its permanent collection, it makes for an enlightening trip into centuries past.
3. Tate Modern
Tate Modern is one of London's most renowned museums and is a must-see for anyone visiting the city. Housed in an old power station, it has been transformed into a modern gallery with works by some of the world's greatest artists. It also hosts interactive installations that allow visitors to explore art in new ways.
Take a look at this clip to see what to expect:
The collection at Tate Modern includes pieces from worldwide, spanning centuries of artistic movements. From classic masters like Monet and Michelangelo to contemporary street art, there's something here for everyone to appreciate. The museum also offers fascinating educational activities and exhibitions which offer insight into different aspects of art history. So whether you're an experienced art lover or just getting started, Tate Modern is sure to impress!
4. Victoria and Albert Museum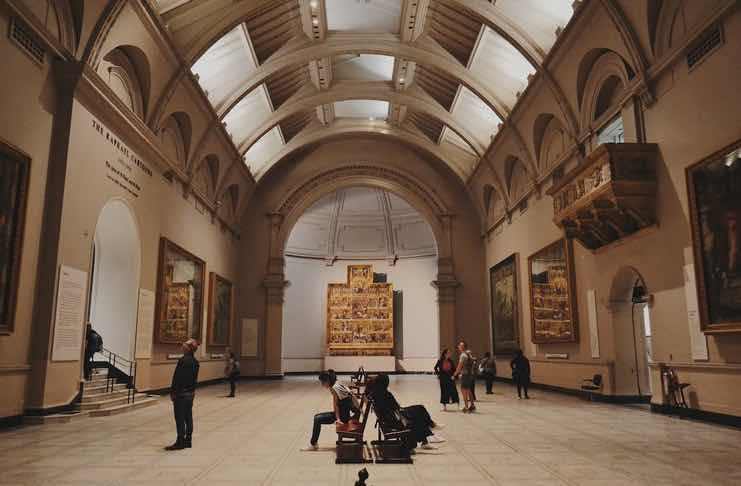 The Victoria and Albert Museum often referred to as the V&A, is one of London's premier cultural institutions. It was founded in 1852 and has grown into an incredible repository for art, design, and performance worldwide. The museum houses over 4.5 million objects dating back centuries, making it a wonderful place to explore the history of visual culture.
Visitors can wander through galleries devoted to textiles, fashion, sculpture, photography, furniture, glassware, ceramics, and more. The collections are constantly being updated with new works from artists both past and present – so there's always something interesting to find!
Watch this to get a glimpse:
There are also regular events such as lectures and workshops that focus on topics related to the museum's collection or larger issues in contemporary art. From its inception until now, the V&A offers an incomparable experience for anyone looking to delve deeper into art and design.
5. Imperial War Museum
The Imperial War Museum is an excellent destination for anyone exploring the history of armed conflict. It's located in Lambeth, London, and offers a wide range of exhibits and displays related to war and its impact on society. As well as permanent collections, they often host special exhibitions focusing on specific conflicts or topics.
Visitors can learn about modern wars, such as Afghanistan and Iraq, along with historical events like World War I and II. There are also interactive sections where visitors can experience what life was like during wartime for soldiers, civilians, and even prisoners of war. In addition to galleries, there's a library that houses documents from past military campaigns, plus audio-visual archives with footage from significant battles over the years.
Check out this slow walk tour of the place:
At this museum, you'll gain a unique insight into how warfare has shaped our world – making it an essential stop for any visitor interested in global politics or military history.
6. Design Museum
The Design Museum, located in London's Kensington district, is an amazing destination for design enthusiasts. Home to a range of permanent exhibitions and events featuring the best of contemporary architecture, fashion, product design, and graphics from around the world, it offers something for everyone.
Watch this virtual tour of the museum:
It features objects that tell stories about their makers and users – ranging from iconic pieces such as Terence Conran's S-Chair to everyday items like washing machines or calculators. There are also short film screenings exploring the creative process behind some of our favorite products and designs, making it easy to appreciate how they were designed and made.
7. National Maritime Museum
Visitors can enjoy an array of exhibitions, from permanent and special temporary collections. The galleries showcase historical maps, artworks, navigational instruments, ship models, and photographs that bring alive stories from Britain's maritime past. There are also activities for kids, including hands-on workshops, which makes it perfect for families looking for something educational but fun at the same time.
Watch this to get a glimpse:
This museum offers something unique compared to other museums in London – its focus on maritime culture allows visitors to gain insights into how trade routes have changed over time and their impact on global economics. Additionally, plenty of interesting events are held here, so keep an eye out if you'd like to participate!
8. The Courtauld Gallery
The Courtauld Gallery houses the world's most extensive collection of impressionist and post-impressionist paintings and some great sculptures and photographs from around Europe. Located in Somerset House, this gallery offers an incredible insight into art history.
Visitors can take part in guided tours to learn about the artists and their works or simply wander through the galleries at their own pace. The building itself is a work of art, too – it was designed by William Chambers in 1780, with its elegant neoclassical architecture providing an impressive backdrop for the artwork on display inside.
Check out this tour of the Courtauld:
There are also plenty of events hosted here throughout the year, so there's always something new to see and experience at The Courtauld Gallery.
9. Museum Of London
The Museum of London is a great place to visit if you're looking for insight into the history and culture of this amazing city. This museum covers over 2000 years of London's past, displaying artifacts from all parts of the city's history that help tell its story. It also offers various interactive activities and exhibitions that bring the stories alive.
Here's some of what you can expect:
Visitors can explore how people lived in ancient Roman times, delve into medieval life or go on a journey through Victorian England – it's easy to lose yourself in the fascinating tales here! In addition, there are galleries dedicated to exploring specific themes, such as 'Londoners at War', which takes visitors back to World War One and Two.
10. Sir John Soane's Museum
Sir John Soane's Museum is located in the City of Westminster; it was once home to renowned British architect Sir John Soane and now contains an array of his original collections from around the world.
From paintings by famous artists such as Canaletto and Turner to architectural models, sculptures, prints, and drawings – including work by Piranesi – this museum offers visitors an insight into the life and works of one of Britain's most celebrated architects.
Watch this to get a glimpse:
The museum has been carefully preserved since its opening in 1837 and remains largely unchanged. Visitors can explore three floors within the house which have been kept exactly as they appeared when Soane lived there; these include the Picture Room, Library, and Drawing Room. The highlight of a visit here is the atmospheric basement rooms, where you will find many fascinating items that were collected during Soane's lifetime.
Conclusion
There you have the ten must-visit museums in London, but there's so much more to explore. If you want to experience the city on a deeper level, be sure to visit at least one of these incredible places. London has something for everyone, no matter what kind of museum experience you're looking for! So, if you're dropping by just for a day or so – use London luggage storage – so you're able to tour freely, prepare for an educational adventure, and make some memories in London that will last a lifetime.